You can throw virtual tomatoes at your screen right now. Why would I show you images and ramble on about a bag that is sold out? Well, it is gorgeous. And while it is unfair to anyone who wants to buy this bag, I would like you to cross your fingers and hope Net A Porter will re-stock this color of the PS1.
The Proenza Schouler PS1 continues to garner attention, being loved for its casual chic and everyday wearable vibe. The only difference we can start to see is in the material and colors being produced. That is the same thing we look forward to from other brands like Balenciaga, that continue to release the exact same design just in new colors each season. Proenza Schouler has been implementing the same idea as Balenciaga, producing a bag that is highly loved in new colors. We love this idea; creating a classic and only re-inventing the colors. The color of choice today is sea-blue.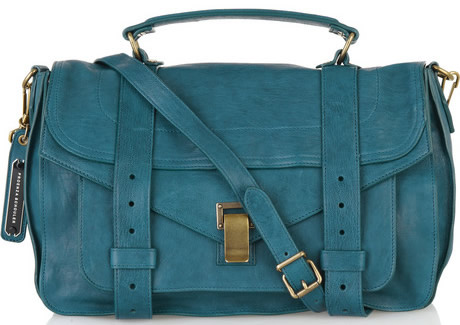 Now comes the part where I tell you that it is sold out. And I am not sure if they will restock it. I would like to think that it will pop back onto NAP for everyone who wants this color. Why is this color perfect? It is not deep blue and it is not light blue, it ranges in that bright yet subdued yet eye-catching blue that will not look bland against jeans and truly offer a pop of color. I love a color that can pop without it having to be too edgy and bold. The Proenza Schouler PS1 in Sea-blue is one of those bags that has the right look with the right color.
The PS1 has not stopped being in the spotlight. The bag appeals to a crowd that wants a long strap, everyday bag. There of course is now the structured PS11, more suited for certain occasions that everyday-throw-everything-in-your-bag-and-go wear. But my heart still sits with the PS1. We will be bringing you more Spring PS1 colors soon! Check back for this version in sea-blue, which is $1595 via NAP.