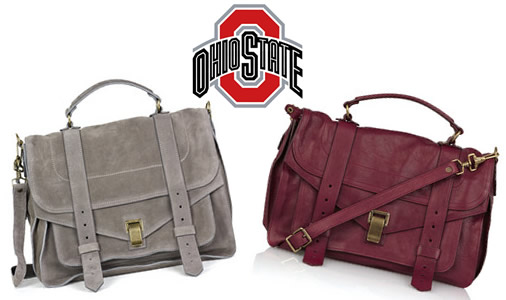 Right now there are a few things I know for certain: 1) Vlad and I just spent a week in the middle of nowhere Ohio for a family reunion with zero internet access. It was both delightful and frightful, 2) I am still obsessed with the Proenza Schouler PS1, and 3) Amanda is going to be really mad to see this post with an Ohio State logo.
You see, Amanda and I are always going back and forth about college football teams. She is an alumnus of THE University of Georgia while Vlad and I are alumni of THE Ohio State University. And we all love college football. A lot. Which brings me to this post. Right when I saw Net-A-Porter stock scarlet and grey colors of Proenza Schouler bags I jumped for joy. Why thank you NAP for not only knowing my college colors but also putting them on your site together on the same day! I appreciate it greatly.
I can't even say much else about these Proenza Schouler PS1 bags other than I love them. The medium sized raspberry leather version is really a deep and sultry red, doesn't look nearly as bright or light as a raspberry (I'd label it more of a wine color). The light grey large suede satchel is a nice light neutral. The bag itself truly does not even need much more dissecting from me. I have covered it and talked about it countless times. Buy Proenza Schouler bags via Net A Porter.
I must end this post with Go Bucks! What are your Alma mater colors?