When I can not seem to stop talking about a certain bag, it is quite evident that I want it… badly. It must be beyond evident for you all to see my love for Proenza Schouler bags, namely the highly coveted PS1. I know a two things for certain: 1) I will own a PS1 at some point and 2) I have no idea what color I want!!. The PS1 is similar to Balenciaga in that it is all about the colors. Sometimes I feel like I am awaiting a color that may never arrive, and when you ask me what color I am waiting for I actually have no idea. I just have this feeling it will come, whatever it is. But I need to learn that sometimes sticking with the basics is the way to go.
I continue to be drawn to the brown luggage colored leather Proenza Schouler PS1 and it might just be the color choice for me.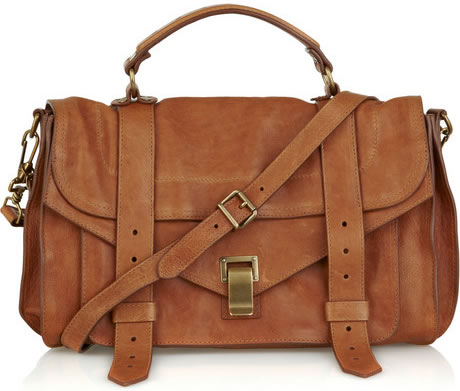 Bland you say? Well, sure, it isn't a super invigorating color. But it is a great neutral color and a great brown color. I am very picky about the brown color family. I tend to go for black versus brown. But I am clearly craving a brown bag (remember my whole Balenciaga ordeal, follow up post to come).
Too bad about 3 days after this PS1 popped up on Net-A-Porter it was also sold out. The Proenza Schouler craze has yet to slow down. Do you think opting for a classic brown is a good way to go for the style of this bag? Buy via NAP for $1,595.