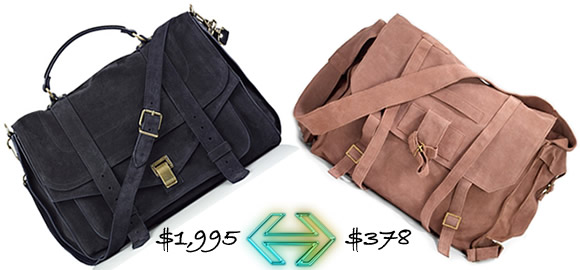 My love and admiration for the Proenza Schouler PS1 has not ceased. In fact, it is going strong. So strong that there is a thread with over 1,000 responses on the PS1 on the PurseForum. But really, how could you not adore this laid-back chic school-style bag? It strays from the structure that so many bags bring and gives an everyday wearable vibe that is at the height of the want-it list.
Not everyone is sold on Proenza Schouler Bags, some find the bag to be over-priced and over-hyped. If you fall into that category, but find this hidden yearning for the look of the PS1 in the back of your mind, we have a look for less for you!
You all very well know the Proenza Schouler PS1 Bag. The look for less equivalent is the Joie Pepper Leather Messenger Bag with its similar features and school-pack feel. Here is why the bags are similar (granted just comparing photos will show you why). The Joie bag has faux buckled straps with its crossbody design. Very similar to the PS1 but it may possibly be more accessible than the PS1. The long messenger strap along with the shape of the design is reminiscent of one another. The differences come in the price. The PS1 is $1,995 while the Joie Messenger bag is on sale for $346.50 at Saks.
Do you like the Proenza Schouler PS1 or the Joie Messenger bag look for less?