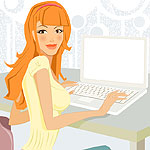 As our website and forum continue to grow (and become one of the most active forums on the web!), we are receiving more recognition in the international press. Lara Mai Landa wrote a piece for Elle Canada titled Online Shopping Guide which covers some of the great online boutiques and our website and forum.
Thank you to Lara for putting the piece together and for all of you, our members and readers, for making our site what it is today! We will continue to do our best to keep The Purse Blog one of the most visited fashion blogs today.
SHOPPING AIDS:

The Purse Forum is where die-hard worshippers assemble to discuss all things handbag. Be it a lively debate over the latest "it bag," verifying a handbag's authenticity on ebay, or asking for help choosing a purse from other like-minded enablers, TPF is handbag heaven. College sweethearts Megs and Vlad (Meaghan Mahoney and Vladimir Dusil) founded the site in 2005 after meeting on swimming scholarships. Of special note: www.purseblog.com where Megs features the latest and greatest handbag discoveries. Be sure to check out the sub-forums for in-depth deconstruction of your favourite brands. Best of all, (not to mention highly dangerous to the wallet) the "Deals and Steals" forum proves a godsend for finding great sales and killer coupon codes.
Article found at Elle Canada here.