You must be thinking – haven't we mulled over the Prada Galleria enough times already? After all, it's been around for nearly 15 years now; how long do I plan to rehash content about older handbags? Well, that's just the thing about classics – you're cursed to live with them forever! JUST KIDDING!
Now, when we last took a peek at the Galleria during my quest to find the ultimate "Power Bag," you might remember that I couldn't stop rambling about how I'm always expecting the user to whip out a gun from inside it à la Léa Seydoux in Mission Impossible. Today, however, I'd like to speak about the renewed appreciation for the Galleria and how the purse (and its much-imitated silhouette) fares now, more than a decade into its release (spoiler alert: it's still a classic). Is there a reason it continues to be the bag of choice for women worldwide? Let's take a look!
The Inception of the Galleria
At this point, it's difficult to find anybody who's into fashion but not acquainted with the Galleria. What few people know, however, is that the Galleria came into being at a time when the handbag market had possibly peaked in terms of being the flashiest. The year I'm talking about is 2007 – the first iPhone had just come out and the recession still seemed like a far-off nightmare. It was also the year Miuccia Prada released a highly not-of-the-moment style – a Saffiano carryall featuring the now-famous double zip construction, an open central compartment, and an exceedingly minimal doctor bag-esque aesthetic with nothing but the triangular Prada logo and a removable clochette by way of embellishment.
Named after the Galleria Vittorio Emanuele II shopping arcade in Milan, where Miuccia's grandfather, Mario, opened the very first Prada store way back in 1913, the Galleria is truly an heirloom – and, of course, a welcome bit of just clean and unfussy structure amidst a sea of heavily-ornamented slouchy hobos and gigantic totes. And arguably, it has paved the way for its counterparts in the market – the Fendi Peekaboo, the Saint Laurent Sac de Jour, the Givenchy Antigona, and the Celine Luggage.
The Construction of the Galleria
But it isn't just because it's named after a historical landmark of Prada's that this purse is considered a piece of House heritage. Rather, the Galleria range is currently the brand's most expansive set of offerings (the medium Galleria comes in 12 different colorways!), featuring the Saffiano leather – calfskin heat-stamped with a loose crosshatching texture that makes the leather resistant to moisture and scratches – which was patented by Mario Prada upon the founding of his business 109 years ago! But that's not all – the making of the Galleria takes place in Prada's Scandicci factory on the outskirts of Florence. Not only is this state-of-the-art facility entirely dedicated to the manufacture of handbags and leather goods, but it is also situated in the heartland of Italy's leather-crafting center since the 13th century – meaning that most of the workers employed there have been cultivating and passing on the art and traditions for generations!
And true to the legacy of its makers, the Galleria is an outstanding specimen of workmanship, each a culmination of 83 pieces of leather largely assembled by the skillful hands of artisans over the course of more than 6 hours.
A softer and slouchier version of the Galleria made of city calf and lined in contrast-toned suede was also made available back in 2016 but has been discontinued since then. However, you might be able to snag one on the resale market if you're not a fan of the classic Saffiano's structured aesthetic.
Why the Galleria Has Endured
Did Mrs. Prada know 15 years ago that she'd go on to create a purse that would not only survive one of the worst economic collapses in history, as well as a global pandemic, but also multiple trends spanning from the extremely large to the ridiculously small, and still continue to be the first (or at least, one of the first) handbag choices of women all across the world? Unlikely, but in an era when all that designers aspired to do was create the next It-bag to entice the fashion set, her calculated gamble has certainly paid off. In fact, too many (MANY) women (and men – its clean-cut lines are surprisingly masculine, too), the Galleria has come to represent Prada's entire aesthetic – strong, bold, powerful, and practical – just like the character of Olivia Pope in ABC's Scandal who, coincidentally, also totes a Galleria.
Plenty of Colorways and Extremely Versatile!
As a result, the silhouette of the Galleria has become one of the most widely imitated by big and small fashion houses alike (including a Vitello calfskin version from Prada's very own sister line, Miu Miu). The Ralph Lauren Newbury, the Michael Kors Sutton, and the Coach Surrey are all legitimate dupes of the Galleria that countless women who do not wish to drop big bucks on a purse still flock to, aspiring to achieve the Prada aesthetic. And the widespread popularity of Saffiano leather collections from many different brands out there, both contemporary and high-end, only goes to show how crucial Mario Prada's original creation more than a century ago has become now.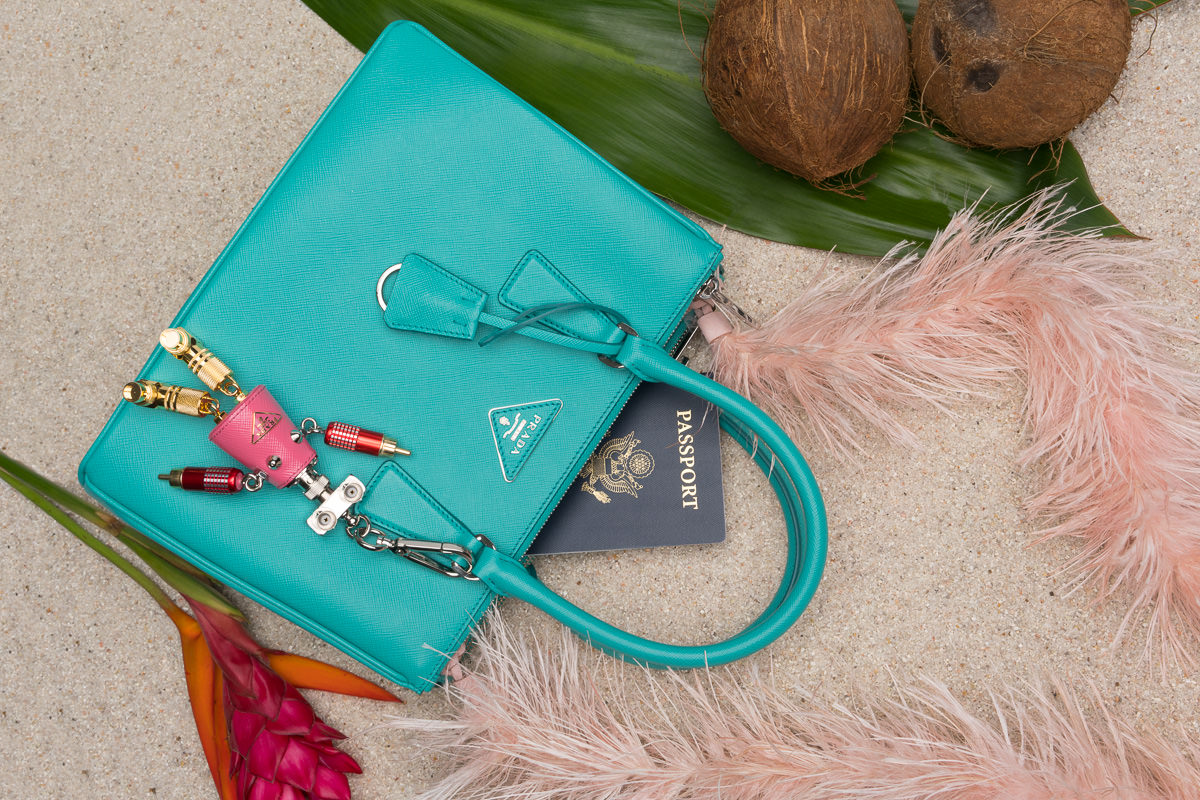 But It's Also Important to Note
There are, however, certain things to keep in mind if you're looking to get yourself a Galleria. In recent years, quality issues amongst all brands have been a matter of extensive debate, both on the PurseForum and elsewhere. As consumers become more savvy in sharing their purchases, comparisons with others' purchases can lead to long discussions on the finite details of each bag. We've already discussed at length the implications of buying in-store versus online, and Prada veterans have made it a point to browse options inside the store when physically shopping and inspect for flaws before making your purchase.
Another issue that certain buyers have expressed their dissatisfaction with is the logo-printed nylon jacquard in the Galleria, which, for many, cheapens the look of a luxury purse. However, it does make it easier to clean and hence, functional. The Saffiano Cuir Double Bag, a slightly more relaxed silhouette from Prada released in 2014, mitigates many of these issues, including the quality, and is lined in contrast-colored leather, although it features fewer compartments than the Galleria.
Finally, the Galleria, being an all-leather purse, is likely to get pretty heavy once filled (and its spacious interior is honestly rather tempting to fill with random miscellany), which is something users of the Galleria have also been occasionally known to complain about.
Truth be told, I'm generally not a huge fan of Prada. Of course, the Prada nylon is well-made and cool, but I kinda like the crystal version better, and can you really use that as an everyday purse? *Long stare*
Then there's the Saffiano Double Bag, which, introduced 7 years after the Galleria, feels like a silhouette that the Saint Laurent Sac de Jour does better because I'm unfairly inclined towards the SDJ. There are newer styles, of course, like the Cleo and the Triangle, but I suspect I haven't been as Instagram-exposed to them as I have been to the Re-edition to develop an appreciation. And hence, as it stands, I myself have come to largely equate Prada with the Galleria. It may have its flaws, but it also happens to be one of those purses that'll instantly make you feel dressed, whether you're in a tux, a sundress, or in workout leggings.
There's also an oversized version of the Galleria made available for men which, although way beyond my current budget, provides a welcome respite from regular men's offerings by most brands (with, of course, the exception of the SDJ). Thus, even though I have never really been a Prada person, the Galleria, in my eyes, achieves a balance that's hard to strike, with a history to boot and a classic silhouette that, although much saturated in the contemporary market, still manages to induce butterflies in people's stomachs with that triangular Prada logo. The Prada website describes the Galleria as an "archetype, a neo-classic." Having come across many dupes and yet having total respect for the original, I can attest it truly is.