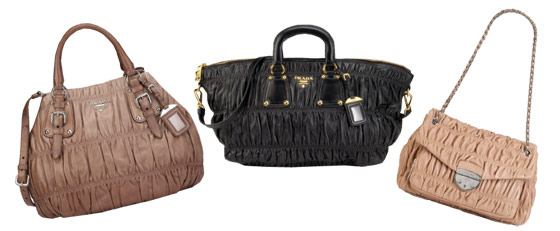 Back in 2006, Prada made lots of waves among handbag aficionados with their ruched Gaufré handbags. Rendered in super-supple lambskin, the design was a great example of how texture can be achieved through clever design, even within the sometimes austere Prada aesthetic. The bags were neutral but still interesting to look at, and the combination made them some of my favorites that the brand has ever produced.
Gaufré's initial production run was only a few season, but now they're back in new colors and shapes for Fall/Winter 2010. We've seen several "old favorites" from the past five years make a return to production in recent months, and this line is the only one whose return brings me any sort of genuine excitement. Are you excited for the Gaufré's return?
From left to right: Available via Saks for $2195, $2195 and $2100.