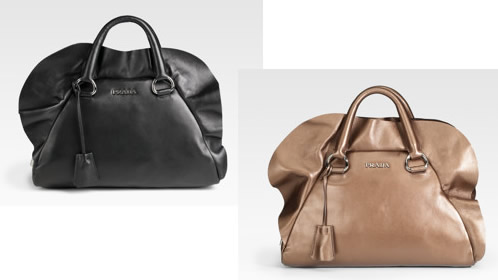 Prada Nappa S Satchel
The lacy Prada Pizzo S Satchel was looked at and disguarded by many. But me? I actually was drawn to the handbag. Why exactly, I do not know. Sure it is ornate, over-done, but somehow, it is this beautiful piece of lace on a handbag that captivates me. My simple style sees this as a dress-up accessory. And in South Florida, where jeans and heels make the perfect evening wear, this Prada bag is the perfect pick-me-up.
But of course there were those of you that were not impressed with the lace, and in fact wanted to take scissors to the lace and trim it up. Was it just the shape of the 'extra' material that irked you? Or would you like the bag with leather? Maybe Prada thought they could meet your fancy too, with the Prada Nappa S Satchel, which nixes the lace and brings in luscious Nappa leather. This bag's ruching detail on the side will still either be loved or hated. There are top handles and a zip closure. While it is available in black, the metallic oak is much more impressive to me. But if I had my choice, I would stick with the quirky lace version. Buy the Nappa version through Saks for $1,920.