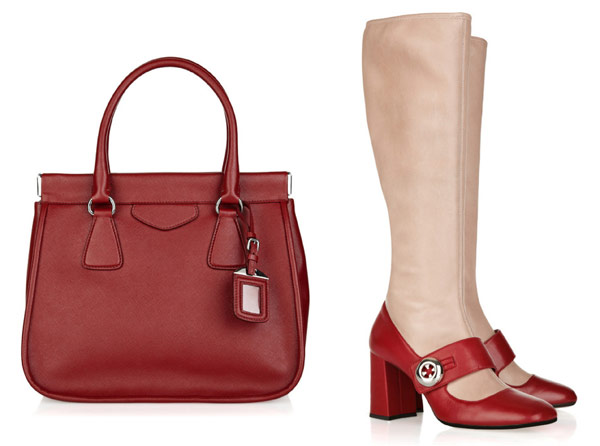 Over dinner a couple of weekends ago, a friend asked me if it ever felt silly to write about fashion in the wake of human and environmental disasters like the recent earthquake and tsunami in Japan. And, truth be told, it can feel a little bit silly at times, just as I imagine most people who work in non-public service jobs feel when confronted with such a devastating world event. Things like fashion churn on nonetheless, and sometimes (although probably not as often as we could), we even find a way to help the planet at large.
Net-a-Porter recently teamed up with Vogue and a slew of amazing designers to coordinate the Runway to Green project, which included a charity auction and fashion show on March 29 and also features a limited edition run of Fall 2011 pieces available on Net-a-Porter.com for a limited time, all of which benefit a number of environmental charities. Our favorite pieces? The Prada Textured Leather Tote and Prada Mary Jane Boots, of course.
To get these boots in particular produced early for the event is nothing short of a coup for Net-a-Porter; Prada's Mary Jane gogo boots were one of the most heavily talked-about pieces of all of the Fall 2011 shows, and unless you're an editor, major celebrity or high-profile stylist, there won't be any other way to get your hands on these quirky shoes until the end of summer, at the very earliest. I have a feeling that this style will be divisive, but they're just weird enough to be a must-have for fashion obsessives.
The bag, on the other hand, is the type of classic, wearable design that almost anyone could appreciate. Together, these two pieces demonstrate the two extremes of the Prada aesthetic and what the duality of vision that the company demonstrates so well. Whether you're a traditionalist or always searching out the New Big Thing, Prada can accommodate you. For a limited time, the brand will also help you make the world a better place, and every little bit helps.
Buy the tote through Net-a-Porter for $2595
Buy the boots through Net-a-Porter for $1500.