It's been nearly twenty years since Joey Tribbiani of Friends first strapped on his murse and was met with nothing short of widespread ridicule for his bravery. In the 1999 episode, the concept of a heterosexual man wearing a purse was so silly that an entire plot revolved around Joey's dogged dedication to his new bag, which cost him an acting job and the respect of his friends. It was funny, of course, but it also exposed a greater truth that is relevant to this day: men need purses too.
Men wearing handbags had a brief moment back in 2014, when a spate of articles came out claiming that men liked wearing purses now, and that over half of all men carried man bags. I'm not sure where these men were, or are, but I don't see them in the street or in the office, and they certainly aren't part of my friend group or dating pool.
This is a shame. Don't men have things to carry too? Don't men deserve more than a tattered velcro wallet and iPhone haphazardly stuffed into the back pocket of their jeans, or a boxy backpack they got for free from a software conference?
Fashion has insisted for the past few years that it's no longer interested in upholding traditional gender divides. The blurring of men's and women's collections has been an explicit concern of the spring 2019 collections, with designers like Givenchy, Haider Ackerman, and Louis Vuitton delivering collections that challenged the very concept of gender.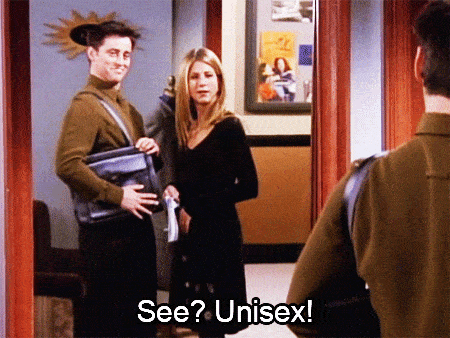 And yes, these collections featured plenty of options for the male handbag lover. From belt bags to totes to transparent luggage, there is no shortage of bags for the men who want them. But what will it take to get the Joey Tribbianis of the world to actually bite? Because it's all very fine to churn out tastefully masculine handbags season after season, but it's very unclear when the lofty vision of a world where men can carry their stuff around will actually make it to the streets.
At the risk of further alienating myself from the everyman, I want to question why we even need these gender-specific handbag collections in the first place. Purses should be fun, so why are designers out there making tastefully masculine bags for men that are really just watered down versions of the playful and bold bags that are designed for women each season? Why shouldn't a man wear a purple Gucci Marmont with the word "Loved" emblazoned on its flap for the world to see? If fashion is serious about gender fluidity, then it must model that ethos for a world that doesn't quite understand yet that it is ok for men to be Loved and wear any colour of bag they want. As the distinction between men's and women's fashion grows ever smaller, in a weird way it seems that handbags are the last bastion of traditionally masculine styles. Perhaps the argument is that it is hard enough to actually get men to wear a bag in the first place, so these bags must be as boring as possible? The market may not be ready for flamboyant men's bags, but since when does fashion concern itself for what the market is ready for? I mean, I wasn't ready for a fanny pack revival, but I adjusted.
At their core, the men's bags that designers seem intent on selling us are grounded in functionality.
This makes sense: menswear has concerned itself with function above all else as women's fashion tends to focus more on adornment. Of course bags should be functional, but the unwillingness of designers to abandon this tenet when designing bags for women vs men is particularly flagrant when we look at handbags. Men's bags tend to be muted, roomy, and understated, while women's bags are getting less functional by the day (I'm looking at you, itty bitty Jacquemus bag). When we look at the handbag industry through this lens, it becomes clear that outdated and deeply entrenched gender roles are at play; the handbag industry is almost reactionary in its insistence to hew to these roles. If handbag designers are serious about gender fluidity, they need to start thinking outside this very narrow and outdated conception of men's vs women's designs.
Even setting aside the cultural implications of men's vs women's handbag designs, I am frankly amazed that men have survived this long without purses to carry around their everyday needs. How do they even leave the house without being able to take a water bottle, a book, and 3 half-empty packets of gum along with them? The mind boggles.
But alas, twenty years after Joey Tribbiani (briefly) fought for men's equal representation in handbag ownership, not much has changed. The trends are slowly evolving to a point where men wearing purses could conceivably be a part of everyday life, but not fast enough in my opinion. I hope another twenty years does not have to pass before we see all kinds of men wearing fun, functional, and above all else beautiful, handbags.
P.S. Please consider supporting our small, bag-loving team by clicking our links before shopping or checking out at your favorite online retailers like Amazon, Neiman Marcus, Nordstrom, or any of the listed partners on our shop page. We truly appreciate your support!