The thing I like best about the Real Housewives of Beverly Hills is that instead of spending the entire season getting to the real drama that we all want to see, they dive right in and make no bones about it. It seems as though last night's episode couldn't possibly have been only the third of the season, but it was. It's like they never left us, these Housewives, and I hope they never do. Well, all of them but Taylor, anyway. Bravo should feel free to push her out onto an ice floe if they want to.
We started with Kim and her daughter Kimberly (yep.), who were preparing for Kimberly's prom like it was her wedding day. Kim didn't have a normal childhood because she was an actress, so she was really intent on making prom as special as possible. And how would she do that? CHOPPED SALAD. Mixing and mixing and mixing a chopped salad for almost the entire scene, like her daughter was going to take it to the dance with her and distribute it. Her boyfriend was in charge of bringing a tuna noodle casserole.
At this point, I have to ask a question that I first had to ask (to no one in particular, because I was in college) way back during Laguna Beach: why don't people in Southern California wear real prom dresses to prom? Why do they all wear little cocktail dresses that they'll have a million opportunities to wear as adults? In the South, we wear ballgowns, because why the hell not wear a ballgown when the opportunity presents itself? And also, because it's the South, and we wear dresses to college football games. But isn't that more fun? Prom dresses to prom? Am I getting old here? Get off my lawn.
Over at Yolanda's house, she was planning the episode's party with a caterer and butler (yep.), which allowed Yolanda to give us a tour of her giant house and mention that Oprah had presented her and her husband (but mostly her husband, I'm guessing) with a bottle of wine from 1945. Oprah! We have our first Oprah namedrop in Housewives history, I think. Someone make a note.
At Kyle's house, things were a little less glamourous. She was trying to teach one of her daughters how to drive in a Porsche Panamera, which seems like it might not be an ideal vehicle for a 16-year-old. Parallel parking was the lesson of the day, and they chose to use an $80,000 S-Class Mercedes on the street as one of their parking cones, which makes me sweat just typing it. We did get a funny story about Kyle stealing Kim's Ferrari as a kid and then abandoning it in the middle of the street, still rolling, because a bee flew into it, so I suppose that makes up for the vicarious agita of watching a 16-year-old without a driver's license try to parallel park in a $100,000 car.
Speaking of cars worth six figures, Lisa then rolled up in her Bentley with custom pink wheels to have tea with Kyle. Naturally, the point of the tea was for Kyle to try and broker peace talks with Adrienne and Lisa, and Lisa wasn't having any of it. If I were her, I wouldn't have any desire to resume my friendship with Adrienne either, plus it gives her a way to extend the storyline for a few more episodes, which can only be beneficial to her because she's the sympathetic party in the situation, for the most part. Lisa is nothing if not savvy about her position in the Housewives universe.
At Yolanda's house, party preparations were underway with the butler taking the role of Yolanda-flatterer for the evening. We then did our requisite time in the limos that were on the way to the party, mostly with Adrienne, Paul and Kim. (For the moment, try not to puzzle out why Kim was with them. It'll only make your head hurt.) The only thing we really learned during the ride is the Paul is still incensed over "crackpot" and "Maloof Hoof," which might literally be the silliest things anyone has ever held a grudge over in the history of Real Housewives. In a certain light, that might actually be viewed as an accomplishment.
We didn't take a dip inside the Taylor/Kyle/Mauricio limo, which is probably for the best because it was likely just Taylor chirping incoherently about Brandi the entire time anyway. When they arrived at the party, we got an even more thorough view of Yolanda's house, which included its enormous ocean vistas and a glass refrigerator for color-coordinated produce. Normally I'd make fun of that, but based on how my pre-Thanksgiving fridge looks right now, I can't hate.
While everyone was trying to figure out if Yolanda's butler was stalking them from party to party, Adrienne and Paul arrived, at which point Paul became incensed that Lisa did not greet them. That was particularly interesting, in light of how Paul ranted in the limo that he would be pissed if Lisa tried to greet him like she normally greets everybody, and then he ranted to Kyle that he had no desire to greet Lisa anyway. The plastic surgeon doth protest too much, I think.
Once everyone sat down, I was stunned, genuinely stunned, at what a beautiful dinner party it was. As her husband mentioned, Yolanda is clearly quite skilled at being a hostess and homemaker, and I suppose if you finance an incredibly lavish lifestyle for someone, it's perfectly reasonable to expect that contribution from them in return. How can I get that deal? If someone would pay all my bills, I bet I'd throw a hell of a party. Call me, rich bachelors.
Things at the party didn't stay perfect for long, though, mostly because Taylor was there and so was alcohol. The group was barely on the salad course by the time Taylor was sauced and ranting to the stranger next to her (a cute, very patient trumpet player) about how Brandi, her nemesis (yep.), would be GOING DOWN if she were there because she made a joke about sleeping with people in Beverly Hills. See, now aren't you glad that we didn't have to visit Taylor's limo?
Once Taylor piped down, we found out how David and Yolanda met – through Yolanda's ex-husband Mohamed. David said that Mohamed introduced them but didn't want anything to happen between them, which he blamed on his Muslim culture, which seemed…needlessly specific. Don't most men try not to set up their exes with close friends, no matter their culture? Most of the guys I know, anyway. Perhaps I know more Muslims than I realized.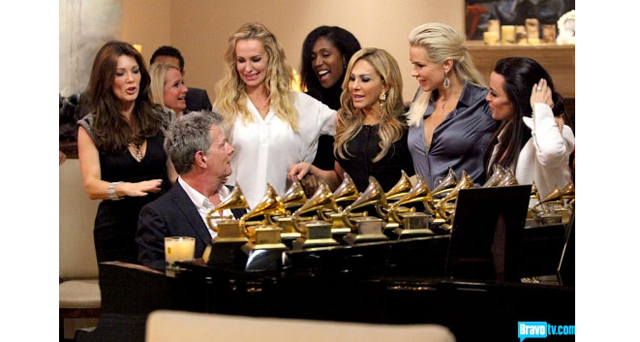 Once dinner was done, everyone gathered around the piano for a little music. There were several professional musicians at the party, so they were going to entertain everybody with a couple of songs. Drunk Taylor got upset that she wasn't allowed to perform, despite the fact that she's not even passable as an amateur singer, and then she got upset again because of the song choice ("Amazing Grace"), despite the fact that she, Kyle and Kim had been singing it at David before the professionals even decided on a song. Drunk Taylor is never wrong, and I guess we all just need to understand that. David gamely played "When The Saints Go Marching In" for them to lighten the mood and ensure that Taylor wouldn't fake cry herself out of her chair.
Finally, we stopped by Lisa's house. She was readying herself to go to war with Adrienne (or go for a drink, whatever), which Ken disapproved of. Wisely, Lisa knew that if she turned down Adrienne's direct invitation, she would automatically switch roles in the disagreement from the wronged party to the petty drama-lover, and also, person-on-person confrontations away from the rest of the group generally make for excellent television. We'll have to wait for next week to find out, though – Adrienne was only able to utter a solitary, "Um…" before Bravo cut off our supply of sweet, sweet drama.
P.S. Please consider supporting our small, bag-loving team by clicking our links before shopping or checking out at your favorite online retailers like Amazon, Neiman Marcus, Nordstrom, or any of the listed partners on our shop page. We truly appreciate your support!