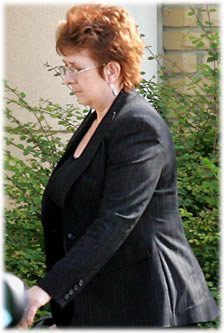 If you are not great at conversions, just think that the USD is about double the GBP. Carolyn Langmead, a secretary from the UK, has been put in jail for stealing $300,000 from her boss to blow on designer labels. While I love my designer labels as much as you, I really do believe that this woman is suffering from many issues, mostly mental unstable ones. What I am really baffled by is how they found over 30 designer bags in her car. Why did no one break in? Make this crime be the victim of a crime. I have nothing left to do but :shock:.
A secretary has been jailed for stealing £150,000 from her bosses and blowing it on hundreds of designer handbags, clothes and shoes.

Carolyn Langmead, described as "obsessed" with shopping, wept as she was sentenced to three years for writing hundreds of cheques to herself.

She spent the cash on filling her wardrobe with leading labels such as Louis Vuitton, Prada and Gucci.

The 52-year-old grandmother was such a good customer that upmarket fashion shops often closed their doors to allow her to browse alone.

When police raided her home in Bournemouth, they found 27 bin liners stuffed with exclusive clothes and accessories.

Her company car was also crammed with more than 30 bags, along with a stash of unpaid bills she had hidden from the firm.

In total, she had around 1,500 items. Most had never been used and many still had their price tags.
Read the rest of the story at Daily Mail