We have a combo on our hands. A pairing together from the Miu Miu Black Lambskin Tote and the Miu Miu Studded Leather Clutch brings us the Miu Miu Studded Shoulder Bag. And what do we think of this shoulder bag? Too much going on.
There is this corset yet Western feel with the weaving detail with large rivets on the sides. I must admit I have never remembered myself liking a weaving through rivets on a bag, especially when it looks as if this weaving is holding every side together. Then there are studs, lots of them. And this amount of studs and the joining of silver and gold different shaped embellishments I really liked on the simple black Miu Miu clutch. But on the tan leather larger Miu Miu Studded Shoulder Bag I can not see the studs as anything other than too much.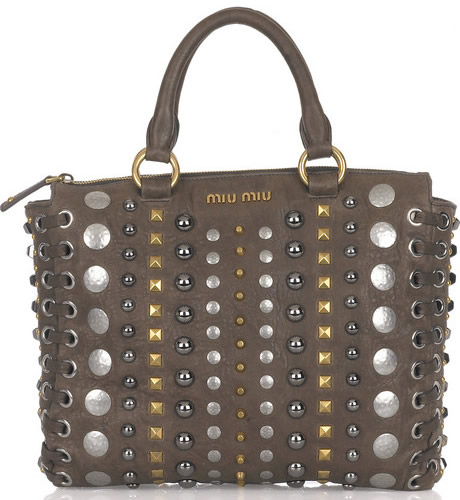 Amanda was kind of liking the Miu Miu Tote and I was liking the Studded Clutch, but when these two handbags combined it gave us a sensory overhaul. Pick what it is you like and stay with it. Buy through Net A Porter for $1,495.