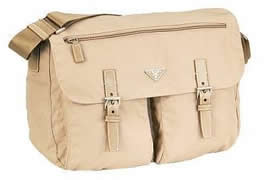 Today, I'm just feeling this whole safari thing. Brings out the beast in me… rawr.
The warm camello beige of Prada's Messenger Bag is the perfect accessory for all urban city huntresses among you. It's roomy, it's practical. Fits your Powerbook like it was made for it. Made of Prada's signature vela nylon, it features a generous 40 inch strap, allowing you to sling it across your chest. With tons of puches and compartments, you'll less than likely to ever run out of space.
At $239.00 ($600 retail!!), this tres chic messenger bag won't even make much of a dent in your bank account. Available at MetroLuxury.com.