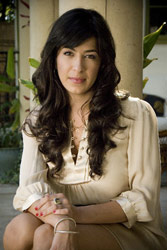 Right after we arrived in NYC last week, Vlad and I checked in the hotel, spruced up, and were on our way to meet Rebecca Minkoff. Meeting the designer behind a handbag line that has a huge following was a little bit nerve-wrecking, yet Rebecca could not have been more down to earth. We got to the showroom before Rebecca made it, and perused her stunning spring/summer handbag line. I insisted that Vlad began to either jot down or make mental notes of the bags I had to have, the bags my family members had to have, and the bags that we would tell everyone they have to have. Touching the leathers, admiring the colors, and learning the designs is an easy task, when a handbag line is as gorgeous as Rebecca Minkoff's. When Rebecca and her lovely PR gal Jill arrived, we all hit it off. We sat down to talk to Rebecca about how she got where she is today and where she plans on going. And while her handbag line is thriving, Rebecca still sees herself as an ordinary gal. Yet she is so much more than ordinary, as are her designs. We had the pleasure of interviewing Rebecca Minkoff to let you into fabulous designer that is going nowhere but up. Enjoy!
PB: Tell us about your start into the fashion world.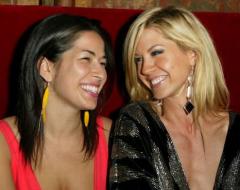 RM: I was a dancer throughout high school. My dance teachers told me that I was too tall, too long, and I threw out the symmetry. I couldn't perform in any shows because of my height and my long arms, so they put me in the costume department. Because it was a performing arts high school, it was a very serious costume department and I started learning in depth how to make patterns, construct garments, and drape garments. At 17, I was not interested in college, and my brother knew Craig Taylor (a fashion designer) and called him up to get me an internship. At 18, I moved to NYC to begin this internship and I worked with Craig Taylor for two years. The CEO allowed me to work on my own clothing line when I had free time during the day.
PB: What was your big break?
RM: After 9/11 business picked up for me. By fluke I did a shirt that said "I Love New York" and I cut it up and made it funky and sent it to my friend Jenna Elfman on September 9th just for her to wear. She got it September 13th and she wore it on Jay Leno. He asked about the shirt and then it was everywhere. It was my jump start. My boss told me to leave my job and go start my own line because I was so busy creating this shirt.
PB: How did you transition to bags?
RM: Jenna Elfman is a family friend and called me up and asked if I wanted to do a bag for a film she was going to be in. I said sure, I'll try a bag, and that bag was the Morning After Bag. Yet Fed Ex misdelivered and it did not get into the film. I made one for Jenna and one for myself and figured I would add it to the clothing line, it will just be one accessory. I had no intention of getting into bags. But then Daily Candy wrote about it and it just took off. So I stopped clothing because the demand for this bag was really strong and the clothing wasn't at a point that I wanted it to be. So I switched to bags, only using the Morning After Bag and switching the color, but my showroom said I had to have more than one bag.
PB: Do you plan to branch out of handbags or get back into clothing?
RM: We are launching clothing for Spring '09. We want to do some belts and we will eventually go into shoes but shoes will be the last stop.
PB: What design aspects are crucial to your collections? What do you emphasize on?
RM: I like my bags to be two toned, or add in a different trim. I like to have a playful take on my bags. My bags may be named after a girl or a story. Each season has a theme, and bags named after that theme. I think a girl can buy into an experience. In each bag, there is a card with a picture of a boy with a phone number, so that every girl has a number of a guy to call. It works too! You can call and leave messages to Vincent, who has a sexy French accent.
PB: What is your story for your spring line of handbags?
RM: Our story for spring is called Steady Love. She is going steady now with a boy (Steady bag).
PB: Who is your fashion icon? Or biggest influence?
RM: Jenna was so instrumental to me, just like a Fairy God Mother. I am always looking at Sienna Miller's style and could see her wearing my bags.
PB: How do you picture the typical Rebecca Minkoff wearer?
RM: Some girls look at the bags and see a classic, but I think the girl is a mix of a little bit of a rocker and a girl that wants to take her bag anywhere. My bags are functional, fashionable, and a little bit edgy.
PB: Are celebrities carrying your bag a big focus/help?
RM: It has been a definite focus in the last 6-8 months. The more people we know and can get our bags too really helps get my name out there. Jessica Simpson, Hayden Panettiere, Lindsay Lohan, Rachel Bilson, Hilary Duff, Jenna Elfman, Debra Messing, and many more celebrities have been seen carrying my bags.
PB: What bag do you use every day?
RM: I use my Morning After typically. I have five of my own bags that are my staples. The Steady and the Rose are going to be my next ones. The Steady for everyday and the Rose for a great clutch.
PB: What do you tote in your bag all day?
RM: I have my Gucci sunglasses, my camera (that gets a LOT of use!), keys, mirror, my Blackberry to answer emails, my cell phone, three lip glosses, and some gum!
PB: What three things can you not live without?
RM: My boyfriend, shoes – since I only wear my bags I delve into shoes – and my Blackberry.
PB: Shoes, eh?
RM: I just bought a pair of Sergio Rossi heels while in Italy and they just have some amazing shoes right now.
PB: What is your ideal Saturday night?
RM: My boyfriend is a musician, so last Saturday he had a show. We watched him perform. We went and got great crepes downtown. And then we went to dinner with a bunch of friends and just stayed up and talked. Just something low key with my friends.
PB: Please tell us you like Nutella on your crepes?!
YES!
PB: What is your favorite hideaway in NYC?
We love going to Farmer's Market at Union Square. And we love Freeman's Alley. It has great decor, is a very homey type of environment. It is very rich food, but just an amazing place to go. I like the fact that you have to find it and walk down an alley to get to it.
PB: Thank you very much Rebecca, we loved chatting with you!
The interview finished and when we left Vlad and I both remarked that we felt like Rebecca was an old friend. This designer who has the world at her fingertips, has kept her feet on the ground. Her designs continue to flourish and her name continues to grow, but Rebecca is very confident in the person she is now and the person she wants to become. Thank you again to Rebecca Minkoff and Jill for setting up the interview.
Buy Rebecca's bags at Shop Bop, Neiman Marcus, Bloomingdale's or find out more at RebeccaMinkoff.com
*Make sure to click the photos to enlarge them*