We are never huge fans of nylon bags at PurseBlog. In certain situations I can completely understand why it is the best option, but typically, it is not a material I would choose. Yet sometimes a designer finds a way to combine nylon with other materials and make it appealing. That is what the Marc Jacobs Rubik Quilted Debbie Mini Bag brings us, a combination of materials on a cute design.
We are Marc Jacobs fan girls (ok, mostly Amanda is) and many of his designs are both playful and beautiful. The mini bag style is very on trend right now. But the mini bag is not for everyone. The silhouette on Saks wearing this bag is 5'5″, which can give you an idea how it would look on you. With my being so tall, I tend to stray away from mini bags. But that is all personal preference.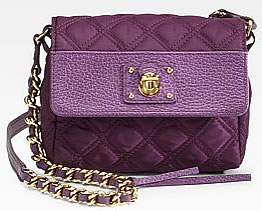 Let's get to the rest of the details of this bag. It is available in both black and purple. Purple is one of my favorite colors on handbags. It works well with blacks, blues, tans, and neutrals. The bag itself is very reminiscent of Marc Jacobs, with quilted nylon offset by pebble-textured leather. The crossbody strap has a 12.5″ drop and there is a top zip closure under a magnetic snap flap top. The measurements are 6¼"W X 6″H X 2½"D. This bag is little and lovely. Buy via Saks for $495.