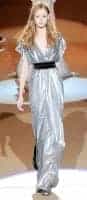 I'll be blunt: Marc Jacobs is New York Fashion Week. It's the show that everyone wants to go to and no one can stop talking about, and it may have produced more activity from the people I follow on Twitter than the Super Bowl. In a way, I suppose, it's sort of the same thing, just for a vastly different group of people.
Marc had another right-on-time start this year, causing latecomer and heavyweight André Leon Talley to stand (the horror) to watch the show. And what a show it was – the reaction so far has been practically rhapsodic – fashion editors everywhere are panting and drooling like mere commoners! And why wouldn't they be? It's Marc Freakin' Jacobs.
This collection may not have been particularly "innovative," but it's just like Jacobs to decide that innovation is passé and that he'll do what he pleases, regardless of the buzzwords overtaking the rest of fashion. There were retro references to his own classics like the grunge collection for Perry Ellis and various other items from fashion gone by, like Peter Pan collars, classic trench coats and long casual skirts.
The entire collection was rendered in a palette of subdued neutrals, featuring heavily shades of beige and grey. To remind us all that this was still extremely expensive clothing, there were plenty of lush materials like sequins, fur and velvet (which seems to be the fabric of the week). I'm not salivating quite as hungrily over the collection as many of my compatriots, but it's hard to look at these clothes and not acknowledge that Marc Jacobs is an utterly masterful designer and creative thinker. Ok, I lied. I'm totally salivating, in particular over all the sparkly gunmetal pieces. I bet I didn't have anyone fooled for a second.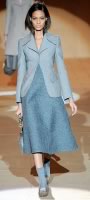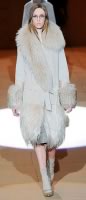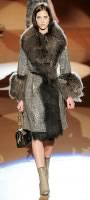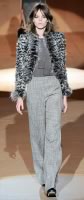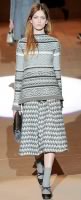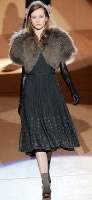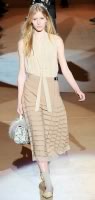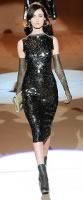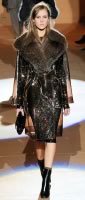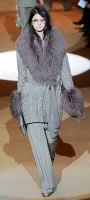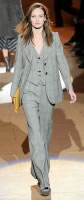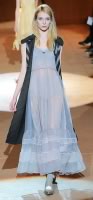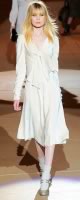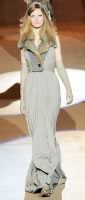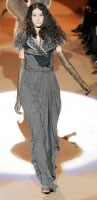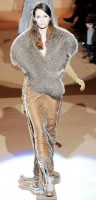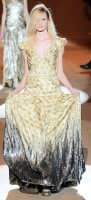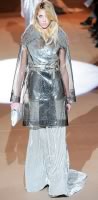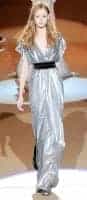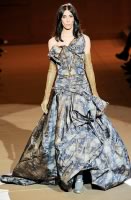 Photos via Style.com.