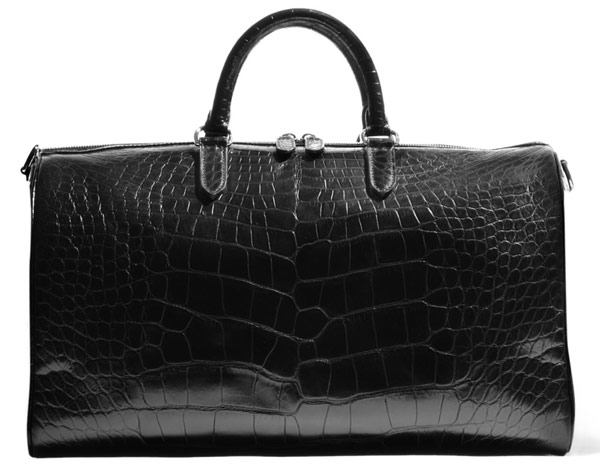 Ralph Lauren Purple Label Alligator Weekender, $24,000 via Mr. Porter
Usually, our Man Bag Monday feature happens on…well…Monday. But considering the specifications of the Ralph Lauren Purple Label Alligator Weekend Bag, we think you'll understand why we're a day late; we spent most of yesterday picking our chins up off the floor.
When you consider that The Row's Crocodile Backpack rings up at an astonishing $39,000, the $24,000 price tag on this versatile carryall seems downright reasonable. Ok, maybe "reasonable" isn't the word, but if you got this sharp travel bag instead of the backpack, you'd still have enough money left over for an Hermes Birkin and a rather nice wallet to go with it.
Nothing brings the strangeness of the fashion industry into stark relief like stumbling across a $24,000 bag and comparing it to another bag as the lower-priced option. But compared to croc bags by both The Row and Hermes, that's exactly what this Ralph Lauren stunner is. Hermes Birkins in alligator cost a bit less than their crocodile counterparts (they also tend to be smaller, which would explain the difference), but considering the size of this bag and the exacting standards to which Lauren's Purple Label products are held, this is a beautiful option for both men and women with enviable budgets and a love for traditional, uncluttered leather goods design. Buy through Mr. Porter for $24,000.