With the recent Fab or Drab activity, it is time we make our Fab or Drab category a more active part of PurseBlog.
Today's installment comes from an eclectic (and sold out) evening bag. The Celestina Espasol Filigree Clutch has every aspect of an ornate evening piece that may meet your fancy. The box shaped clutch is silver-plated and shows off cutout filigree design. The design is in the detail of this bag, so don't just glance over it. The clutch needs a better look.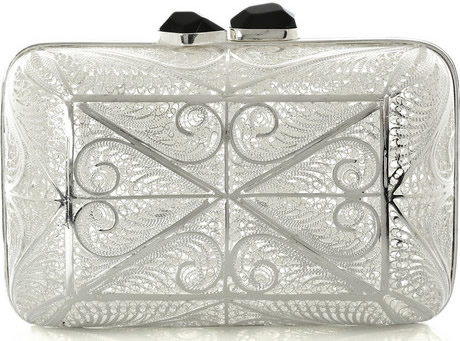 I will freely admit that when I first spotted this clutch I found it to be gaudy. The design looked ostentatious and over-the-top. It was not until I enlarged the images that I saw the beauty in the craftsmanship of this piece. So I take back my initial reaction to this clutch, as I was not fully informed.
Other details include a howlite clasp to fasten at the top and a wood-backed vanity mirror. I am actually rather shocked at the price being so manageable for a silver-plated box clutch. The price tag is the norm for many evening bags, but this item is dressed up even more than others we see. Ultimately, it may come down to if you have use of a clutch like this in your wardrobe. $1,325 via NAP.
What do you think: Fab or Drab?