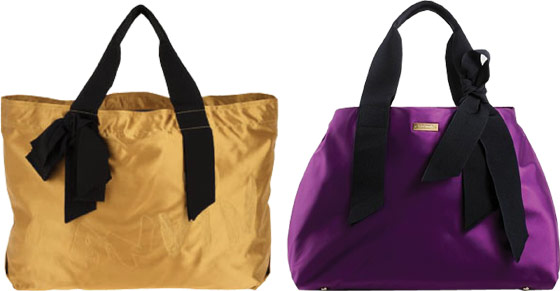 As far as I can tell, Lanvin no longer produces the Lanvin Cabas Satin Logo Tote. For some of you that's not exactly a problem, but if you wanted one and now find yourself without the opportunity to buy one, Kate Spade is here to help. And by "here to help," I mean "here to make a very similar bag."
The Kate Spade Seraphine Nylon Bow Tote is made of a different material and doesn't have the slouchy charm of the Lanvin version, but for a much lower price and a brand with a very structured aesthetic, that's to be expected. The main points of the bags remain the same – they're both brightly colored, leather-free totes with black, bow-adorned handles. Lanvin has been a very popular source of "inspiration" for less expensive brands over the past year or two, so it should come as no surprise that such a close approximation of its satin totes is readily available.
The Lanvin tote, which retailed for $795, is sold out. You can buy the Kate Spade version for $295 via Saks.