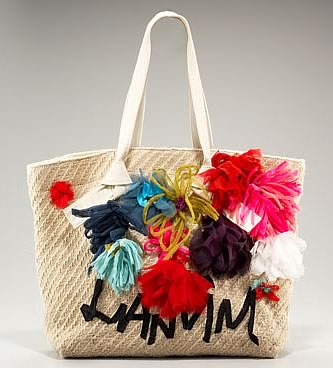 Really Lanvin, really? We constantly share our Lanvin love on PurseBlog, since we have so much of it. Every design house decides to do something a little cooky from time to time and this is Lanvin's flop. The Lanvin Flowered Denim Tote looks like nothing more than a take home art project.
There is yarn chiffon flowers accenting the front of the bag. Some of the flowers are bigger than the others, draping over the Lanvin logo. And because this bag is so "artsy", Lanvin let the extra material at the end of the N dangle down the bag. Now the bag looks like a Lanvin knock-off from Lanvim. This is an all-over hot mess. And it is expensive, $1475 expensive.
At least when Fendi created a DYI bag you were actually the one that added your own touches. Lanvin already finished the art project and now wants to sell it to us. Somehow I can still picture someone taking this on their yacht in St. Tropez. Otherwise, a no from me. Buy via Neiman Marcus for $1,475.