I am undoubtedly a Lanvin fan. However, the thing about that is that while I do love Lanvin handbags, I don't necessarily always go out looking for a new Lanvin bag. The great thing is, they always seem to come to me. When I least expect it, a fabulous bag pops up and takes my breath away.
This is essentially what happened when I came across the Lanvin Pouchette Python Small Shoulder Bag. Admittedly, the first thing that caught my eye was the multicolored pompom. In fact, the pompom brought a smile and induced a bit of a giggle. I haven't seen a pompom in so long and I actually loved the fun and flirty take on the otherwise high school-esque item. But, that is just one element; this bag is so much more.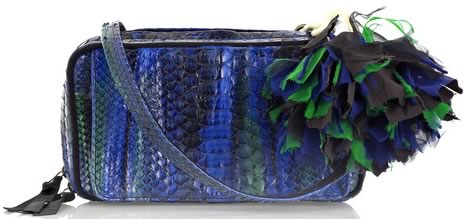 After I moved passed my pompom intrigue, I found myself fixated on the blue shiny python material. This material hugs the shape of the small shoulder bag so perfectly that it seems like they were literally made for one another. I've mentioned it before, but I am always a little bit wary of large bags made out of python skin, I never want the python to look too flaky or like it was just slapped on the bag. This is not a concern that I have with this bag at all.
The bag has a shoulder strap with white chain-link ends, a fold-over flap and a press-stud fastening. To be honest, I am not really a fan of the white chain-link ends, they seem a bit plastic-y to me, but it might be something I can get over. It is the luscious blues and greens all over the bag that make the smallest annoyances worth looking over. This bag would be so cute with certain outfits while completely elegant with others. And once again, like most Lanvin bags, this is one that can be used for seasons to come. Buy through Net-a-Porter for $2695.