I have a confession to make. Last fall, Amanda wrote about her love for the Lanvin Amalia Python Shoulder Bag. And when she did, I have to say, I completely disagreed with her. I appreciated the bag, but I hated, and I mean *hated* the color. The army green was just too drab for my liking. Sorry Amanda, it is the truth.
So, I almost completely passed this bag today because I saw the name of it and instantly said "NEXT". Yet, I am oh so glad I didn't.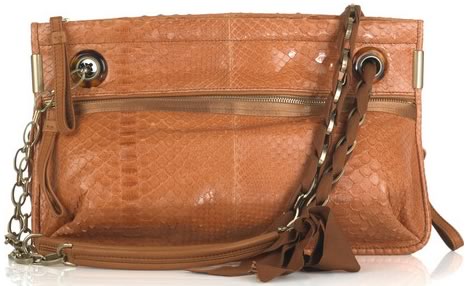 Let's face it folks, the color of a handbag can completely make or break it. It is no surprise, but it continues to amaze me how true of a statement that is. I am absolutely loving the Lanvin Amalia Python Shoulder Bag with its subtle orange color. Just as Amanda said during her review of this bag, this bag, in this color, has me absolutely salivating right now.
This orange python shoulder bag is adorned with lovely gold-tone hardware. I feel that simply saying "orange" to describe the color doesn't do the color justice. See, this bag isn't orange, like the kind of orange from the 64 Crayola Crayons box; it is a shade, a hue, a kiss of orange. And it is beautiful.
The bag has a grosgrain-trimmed chain-link strap which accentuates the gorgeous python skin, it doesn't take away from it. There are zippers along the top, side and base of the bag. But these zippers make sense; they serve a purpose. The zip around base extends the base of the bag so that you can put more or less into it as you see needed. Everything is rounded out with a silver-tone keyring and designer-embossed satin lining. While Amanda and I might disagree on the color, there is no question about how outstanding this bag really is. Buy through Net-a-Porter for $2790.