…I just didn't manage to get there with them.
Feathers and satin and chain sound like a recipe for a whimsical evening bag, but the actual end product of the Lanvin Pouchette Oulouette Clutch isn't as fantastical as it may sound. When carried on the shoulder, the feathers hang down the front of the body in sort of a sad, limp way, and the promise that they can be removed to make a necklace or belt doesn't make me feel much better about how this bag was executed.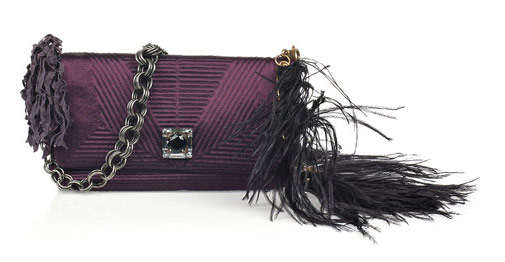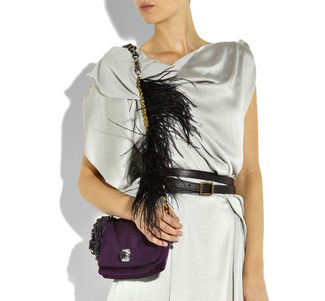 I can see where it would be a fun, if slightly gimmicky, design challenge to make a bag whose strap had multiple other functions when not in use as part of the clutch, but I think the end result would have been better if the designers at Lanvin had focused more intently on making sure it looked better as a strap. If I want a necklace or a belt, I'll buy one – when I want a bag, I want one that doesn't sacrifice its aesthetic value to transform into a bunch of stuff that I didn't want in the first place. I adore the color of this bag, but the feathers seem poorly conceived at best (and I'm usually a lover of fabulous little bits like feathers). Buy through Net-a-Porter for $1185.