I've got a lifetime of appreciation for the women behind The Row and Elizabeth and James
Do you have a style icon that continuously gives you inspiration and has a direct impact on your personal style? I know I do, and I am lucky enough to not have just one fashion icon in my life, but two, Mary-Kate and Ashley Olsen. The iconic sisters boast an endless list of accolades, and most importantly, they know how to run an empire. Mary-Kate and Ashley are the women behind fashion brands Elizabeth and James and The Row, both of which are wildly successful and well respected in the fashion industry. Since the inception of The Row in 2006 and Elizabeth and James in 2007, the sisters successfully transitioned from tween actresses to powerful fashion designers. In a short span of time they were able to carve a niche of minimalist, yet bold and timeless, designs of their own that appeal not only to their existing fan base but to fashion lovers worldwide. Mary-Kate and Ashley were invited to join the Council of Fashion Designers back in 2009 at the early stages of their fashion careers, proving from the onset that they're a step above your typical celebrity fashion line.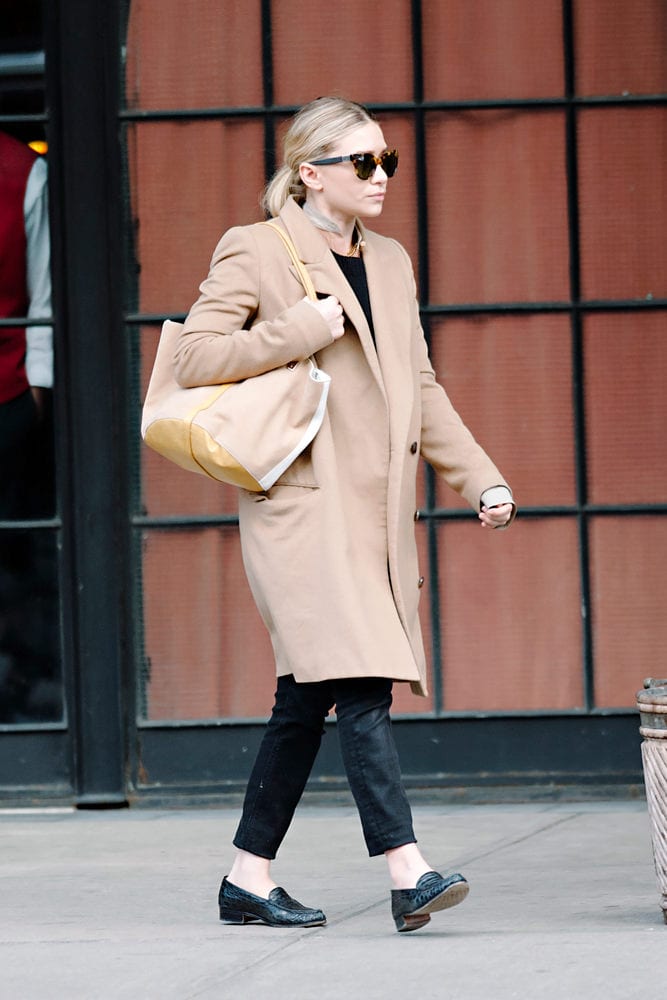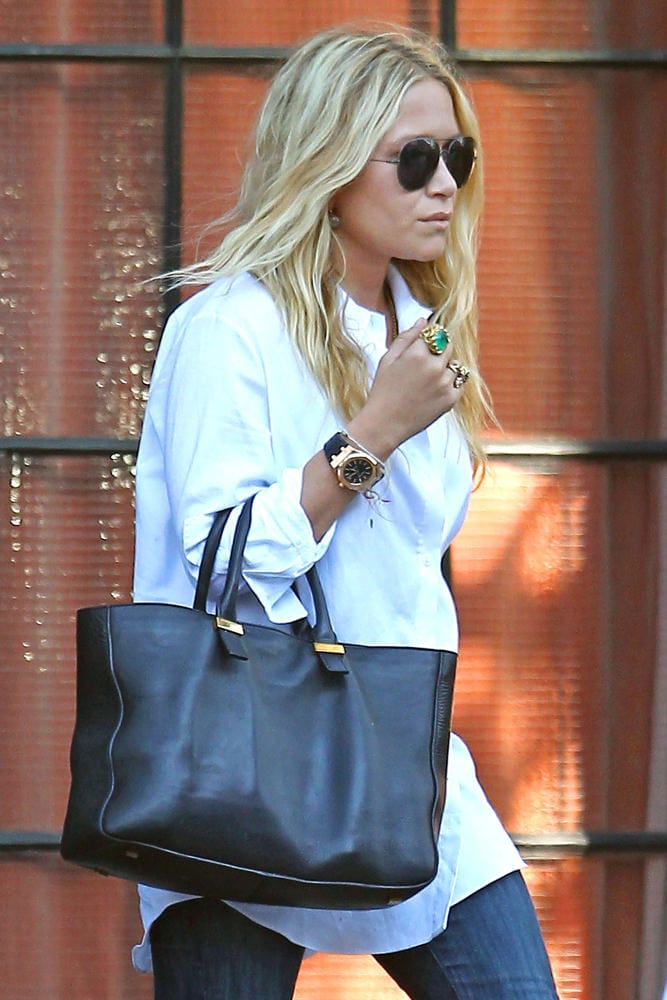 In addition to the covet worthy designs from their own brands, the twins have curated quite enviable handbag collections of their own. The sister's love of oversized totes is definitely directly correlated to the fact that I've got more totes in my closet than I care to admit, and I can trace my love of huge bags and oversized sunglasses straight back to them. I still dream about Mary-Kate's pistachio colored Balenciaga that she was photographed with back in the early 2000s, and try as I might, I cannot find a pistachio b-bag for the life of me (if you know where I can get my hands on one, please let me know as a matter of urgency). Photos of Ashley in a printed skirt, striped tee, and navy blazer with her Louis Vuitton monogram Speedy in tow sparked my love of mixing prints and my ongoing love affair with Louis Vuitton. I will forever view a Starbucks cup as an accessory rather than a vessel for coffee after seeing a venti cup in the hands of an Olsen time and time again. If Mary-Kate and Ashley are wearing it, I don't second guess if it's fashionable or chic, I have always had unwavering trust in their fashion choices.
The stars are known for being fiercely private, and while I not-so-secretly wish they would each debut personal instagrams for me to obsess over, I very much respect their decision to keep their personal lives as private as possible. Since I am unable to reference their nonexistent instagram pages for inspiration, I constantly reference their fashion lines. Both brands possess a direct tie to the sister's eclectic style, yet each has its own distinct aesthetic. The Row focuses on clean lines and timeless silhouettes, where Elizabeth and James is a contemporary brand that bridges the gap between affordability and luxury. I have been stalking both brands for a while now and see a big purchase in my future…preferably a bag or pair of sunglasses…or hey, maybe both.
While I love celebrating the sisters profound fashion success, it's important to mention that I've been looking up to Mary-Kate and Ashley for style guidance for the better part of three decades. Growing up, I loved their movie specials and I owned every single movie and television show they released on VHS. I saw It Takes Two in theaters the day it came out. Billboard Dad, Passport to Paris, Winning London, and Our Lips Are Sealed were instrumental in defining my sense of style and as a result, my confidence, during my formative high school years. I loved their cable shows Two of a Kind and So Little Time. I will defend New York Minute as the most underrated movie of all time to anyone who says otherwise. To this day, I still search for images of the twins on Pinterest before getting my hair cut and I have their book, Influence, proudly displayed on my coffee table in my living room. It's an extremely rare occurrence when a celebrity is able to blend with the fashion industry as intrinsically as Mary-Kate and Ashley have, and I am excited to see what designs they will create next. I don't see my everlasting love for them fading any time soon.
Do you have a style icon? I'd love to hear who it is!
P.S. Please consider supporting our small, bag-loving team by clicking our links before shopping or checking out at your favorite online retailers like Amazon, Neiman Marcus, Nordstrom, or any of the listed partners on our shop page. We truly appreciate your support!