Jimmy Choo handbags that are out there, bold and make a statement or those that are more classic and versatile. The fact of the matter is, I like them both but I can't just figure out if I lean more towards one or the other. Well, today, I am leaning towards a classic Jimmy Choo handbag.
I can't decide which I like more,
Personally, I always stop and take note of all things Choo. I don't care if it is a pair of shoes or a handbag, I stop and look. There is something innately exquisite about this designer that makes me stop and take note.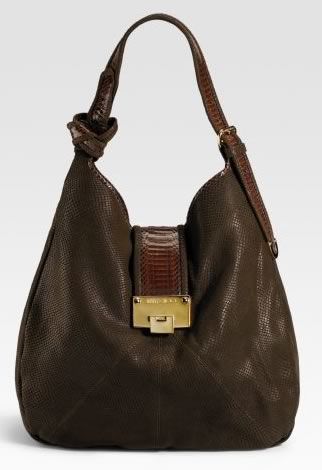 First and foremost I love the Jimmy Choo Theola Embossed Leather/Elaphe Shoulder Bag for everything that it stands for as a day to day handbag. It's actually not that often that you see a bag like this that you can take grocery shopping or out to a nice dinner without it standing out – in the wrong way.
The slightly textured embossed leather design has topstitching and bright eye-catching goldtone hardware. Double shoulder straps have an 8½" drop which means you can carry this bag in a couple different ways including comfortably on your shoulder. Per usual, I love the suede lining and turnlock closure. Personally, I love the brown color pictured here, but if you want, you can also pre-order this bag in black. Buy through Saks for $1495.