I fell in love with the easy and simple Jimmy Choo Zulu Clutch a while back. The pouch shape is nothing to write home about, but it is something that grabbed my attention. I realized that I spent so much time straying from buying a pouch bag that I didn't own one. But I wanted one. So I bought a black version of this Jimmy Choo clutch and have constantly received compliments on it. Sometimes simplicity is truly the answer.
Just in, the Jimmy Choo Perforated Zulu Clutch is the same bag in three color options with a perforated leather finish.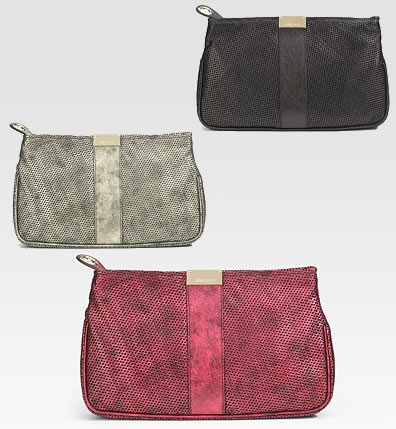 The finish also looks distressed which is a nice touch. This bag is so simple it is hard for me to even describe more of it to you. Let's just go with this: it is a great pouch bag. And if you are looking for a pouch bag, I would recommend this. Saks is exclusively carrying this version in fuchsia, black, and gold. Price is $495.