One of the last Oscar de la Renta handbags we covered on PurseBlog (other than fashion show recaps) was in 2008. In the world of fashion, and everyday world, that is a long time ago. Apologies to all of you for leaving Oscar de la Renta off our site and apologies to Oscar himself, because we love you! Now it is time for a re-introduction to Oscar de la Renta bags and it is coming at just the perfect time. Because a couple of years ago I did not remember loving his accessories collection as much as I do now, so now I can rave about his creative genius.
With its simple design, luxe materials, and chic finish, the Oscar de la Renta Taylor Bag has caught our attention.
Everyone needs a good everyday bag, it is something we speak about often on PurseBlog and focus on for our readers. When I get emails asking about what kind of bag I would tell someone to buy, it truly depends on what you need. The Taylor fits the definition of an everyday wearable bag and a go-to classic. There are multiple versions of the Taylor, including gorgeous exotic ostrich skin, which can be used not just for many seasons, but many years.
If you are looking to add an everyday bag to your wardrobe, I would opt for the Deerskin Taylor. All of the Taylor bags have handmade handles, which I absolutely adore. The twisted handle, made of leather and chain, adds the perfect break in a simple design. Ultimately, the handle adds style without being overly trendy. The body of the bag is simple and spacious. On the inside you will find logo lining, a zipper pocket, and a cell phone pocket.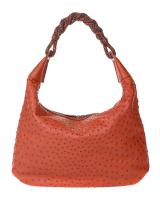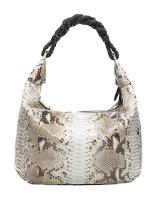 In the Deerskin, white, red, black, and brown are available. There is also a canvas version which fits into the natural materials trend perfectly. And of course there is ostrich, which I can say nothing other than it is incredibly gorgeous. The last two versions of the Taylor include python and a really interesting Mosaico Embroided Gold Lambskin version. The dimensions also fall in line with the idea of this being a perfect everyday bag, measuring 16″W X 11″H X 5″D. What it comes down to is which material/color of the Oscar de la Renta Taylor bag is right for you.
I am personally loving the red deerskin version, as red is a color hard to perfect and Oscar picked a shade that is totally sassy.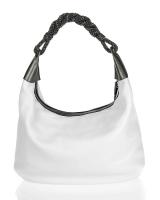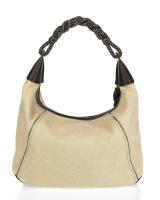 All are available via Oscar de la Renta online. Canvas $1,690, Deerskin $1,590, Embroidered $2,190, Python $2,950, and Ostrich $5,450.
Deerskin (white) – $1,590.00