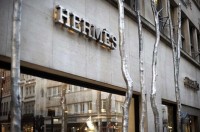 As was widely reported last week, luxury giant LVMH now owns over 17% of competitor Hermes, and although the company has publicly stated that it has no plans to acquire more shares of the French family-owned company in the next six months, luxury watchers remain atwitter over what the future may hold for two of the world's largest names in handbags after that time period expires.
Now that more of the story behind LVMH's share purchases has emerged, Women's Wear Daily reports that the company used a number of stealth maneuvers, including cash-settle equity swaps and use of several cannily named LVMH subsidiaries, to increase its stake in Hermes by over 14% without identifying itself as a competitor to Hermes brass. Seemingly adding insult to injury, LVMH notified Hermes of these developments only hours before releasing the information to the general public. So not only did Hermes not knowingly sell the shares to LVMH, but LVMH execs also seemed to be well aware that the family wouldn't have sold, if given all the pertinent information.
For its part, the family that has been in charge of Hermes for five generations is dedicated to ensuring that the company continues to be family-owned and family-run, according to a Wednesday interview in French newspaper Le Figaro. According to brand manager Patrick Thomas, "Hermes has absolutely no need of help, support or guardian." He continues, "This culture (of craftmanship and strong traditions) is hardly compatible with one of a big group. It is not a financial battle, it's a cultural battle."
As tempting as it is get emotionally attached to the brands we patronize, it's hard to blame LVMH's executives for their acute interest in the French accessories giant. Luxury goods are a multibillion dollar international industry and Hermes would be a significant jewel in any conglomerate's crown. It's also worth noting that LVMH doesn't seem to have done anything illegal in its most recent round of purchases, although French stock market regulator AMF is looking in to the company's tactics. One thing is for sure, though: News of how LVMH acquired such a large portion of Hermes will certainly turn up the heat on talk that the conglomerate may be looking to expand its role within Hermes in the not-so-distant future. Remember, Arnault built his fortune on a foundation of hostile takeovers.
Citations:
Reuters: Luxury group Hermes tells LVMH to back off"
Le Figaro: Les entreprises familiales ont bien résisté à la crise
Women's Wear Daily: Regulator Reportedly Eyeing LVMH Purchases
Image via Racked.com.