Welcome to the third and final part of the seasonal colors article series for Autumn/Winter 2023, in which we coordinate the current leather and bag production information with the season's scarves, shoes, and ready-to-wear.
For part one of this series, examining the leather colors for the season, click here.
For part two of this series, which examines specific bag combinations currently being offered, including bag/leather/hardware combinations, exotic bags, limited editions and push offers, click here.
Updates to the Color Chart for Autumn/Winter 2023
As discussed in Part One, the new colors for Autumn/Winter 2023 were Beige Marfa, "New" Bleu Jean, Sun, and Vert Yucca:

The initial seasonal color chart included the following:
Amethyste: Alligator (Shiny)
Anemone: Chevre
Bambou: Epsom, Togo
Beige Marfa: Clemence, Negonda, Swift, Togo
Beton: Clemence, Crocodile (Matte), Evercolor, Ostrich, Togo
Biscuit: Swift, Togo
Bleu Frida: Clemence
Bleu Indigo: Togo
Bleu Iris: Ostrich
Bleu Jean: Clemence, Evercolor, Epsom, Togo
Bleu Nuit: Togo
Bleu Pale: Clemence
Bleu Royal: Epsom, Togo
Bleu Saphir: Chevre, Crocodile (Shiny), Tadelakt
Bronze Dore: Togo
Caban: Togo
Cassis: Epsom, Maurice
Celeste: Chevre, Epsom
Chai: Epsom, Ostrich
Craie: Chevre, Clemence, Epsom
Cuivre: Chevre
Ecru: Toile
Etain: Togo
Etoupe: Clemence, Epsom
Eucalyptus: Togo
Fauve: Barenia, Barenia Faubourg
Fuchsia: Ostrich
Gold: Chevre, Clemence, Evercolor, Epsom, Swift, Togo, Ostrich
Graphite: Epsom
Gris Ciment: Alligator (Matte)
Gris Meyer: Clemence, Epsom, Evercolor, Togo
Gris Neve: Togo
Gris Pale: Swift
Gris Perle: Ostrich, Alligator (Matte), Crocodile (Matte)
Gris Tourterelle: Ostrich
Jaune Ambre: Togo
Jaune Bourgeon: Alligator (Matte), Chevre
Jaune Citron: Chevre, Ostrich
Jaune Poussin: Epsom, Togo
Lime: Alligator (Matte), Ostrich
Limoncello: Clemence
Macassar: Clemence
Mauve Pale: Chevre, Clemence, Epsom, Swift, Togo
Mauve Sylvestre: Chevre, Epsom, Swift
Miel: Alligator (Matte & Shiny), Crocodile (Shiny)
Mushroom: Clemence
Nata: Ostrich
Noir: Box, Chevre, Chevre Chamkila, Clemence, Epsom, Evergrain, Swift, Togo, Lizard, Ostrich, Alligator (Shiny), Crocodile (Matte & Shiny)
Orange: Clemence, Epsom, Togo
Orange Minium: Alligator (Matte)
Raisin: Epsom
Rose Pop: Chevre Chamkila
Rose Pourpre: Crocodile (Shiny)
Rose Sakura: Clemence, Swift
Rose Scheherazade: Crocodile (Shiny)
Rose Shocking: Alligator (Matte)
Rose Texas: Epsom
Rouge De Coeur: Togo
Rouge H: Box, Hunter
Rouge Sellier: Clemence, Epsom
Sauge: Clemence
Sesame: Clemence
Sun: Chevre, Clemence, Evercolor
Terre Cuite: Ostrich
Trench: Togo
Vert Comics: Chevre, Clemence, Epsom, Togo
Vert Criquet: Evercolor, Ostrich
Vert Cypress: Clemence
Vert d'Eau: Chevre, Alligator (Matte), Crocodile (Matte)
Vert de Gris: Epsom
Vert Fizz: Chevre, Epsom
Vert Fonce: Box, Togo, Crocodile
Vert Jade: Epsom
Vert Rousseau: Togo, Alligator (Matte)
Vert Yucca: Epsom
Naturel Sable
Ombre Lizard
Vache Naturel Grainee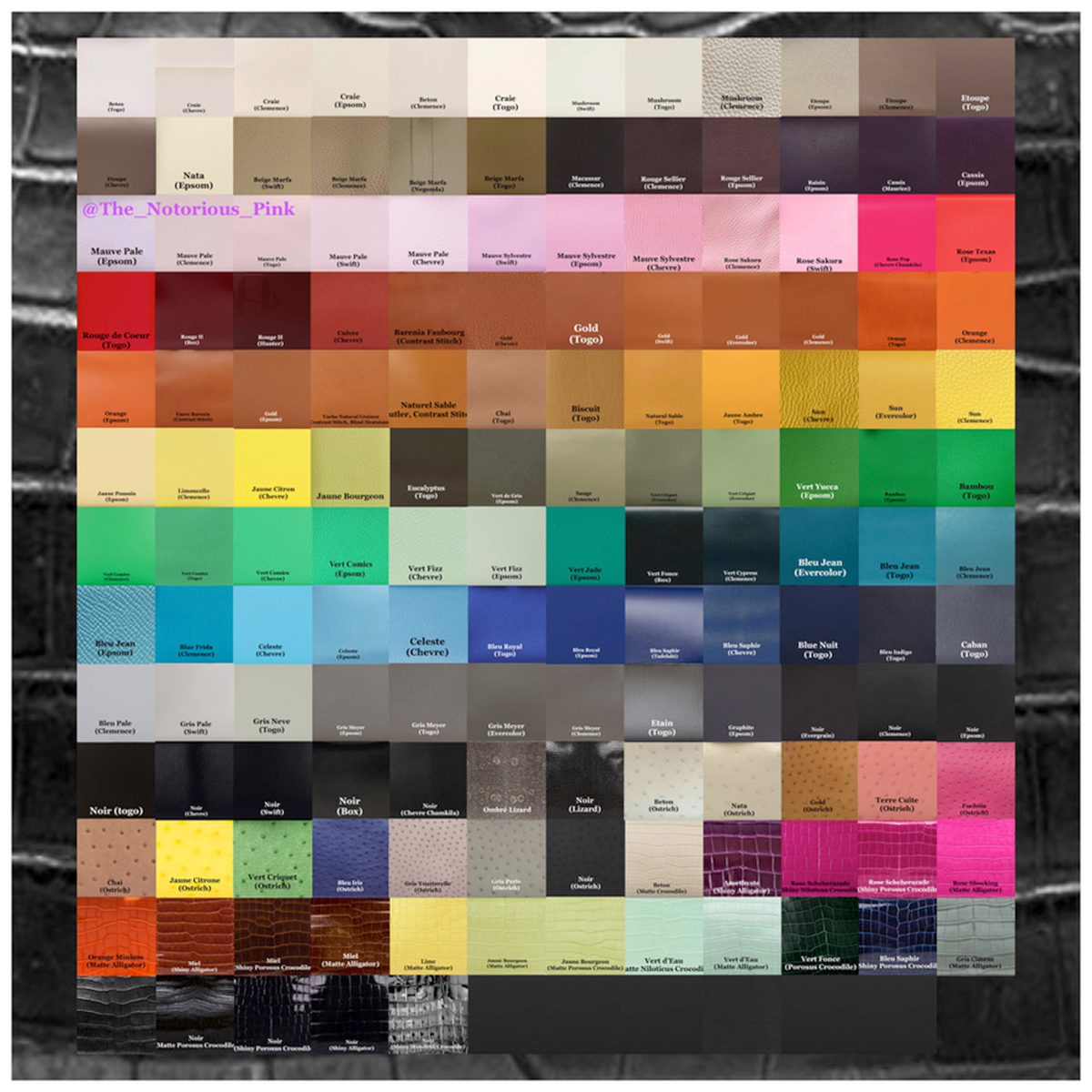 As the season has progressed, new colors and leathers have been made available, including:
Additional Colors Currently Being Produced:
Blanc
Bleu de Prusse: Togo
Bleu Glacier: Ostrich
Bleu Navy: Epsom
Bleu Zephyr: Chevre
Capucine: Ostrich
Gris Fonce: Lizard
Rose Azalee: Epsom
Rose Pourpre: Alligator
New Leathers for Colors Currently In Production:
Anemone: Chevre Chamkila
Bleu Saphir: Box
Bronze Dore: Sombrero
Cassis: Togo
Cuivre: Togo
Graphite: Togo
Gris Meyer: Ostrich
Gris Neve: Clemence
Gris Pale: Togo
Limoncello: Togo
Mushroom: Togo
Orange: Swift
Orange Minium: Chevre
Raisin: Epsom, Togo
Rouge Sellier: Chevre, Evercolor
Sesame: Epsom
Trench
Vert de Gris: Togo
Vert Rousseau: Chevre Chamkila
Vert Yucca: Clemence
So, the revised Autumn-Winter 2023 chart looks more like this: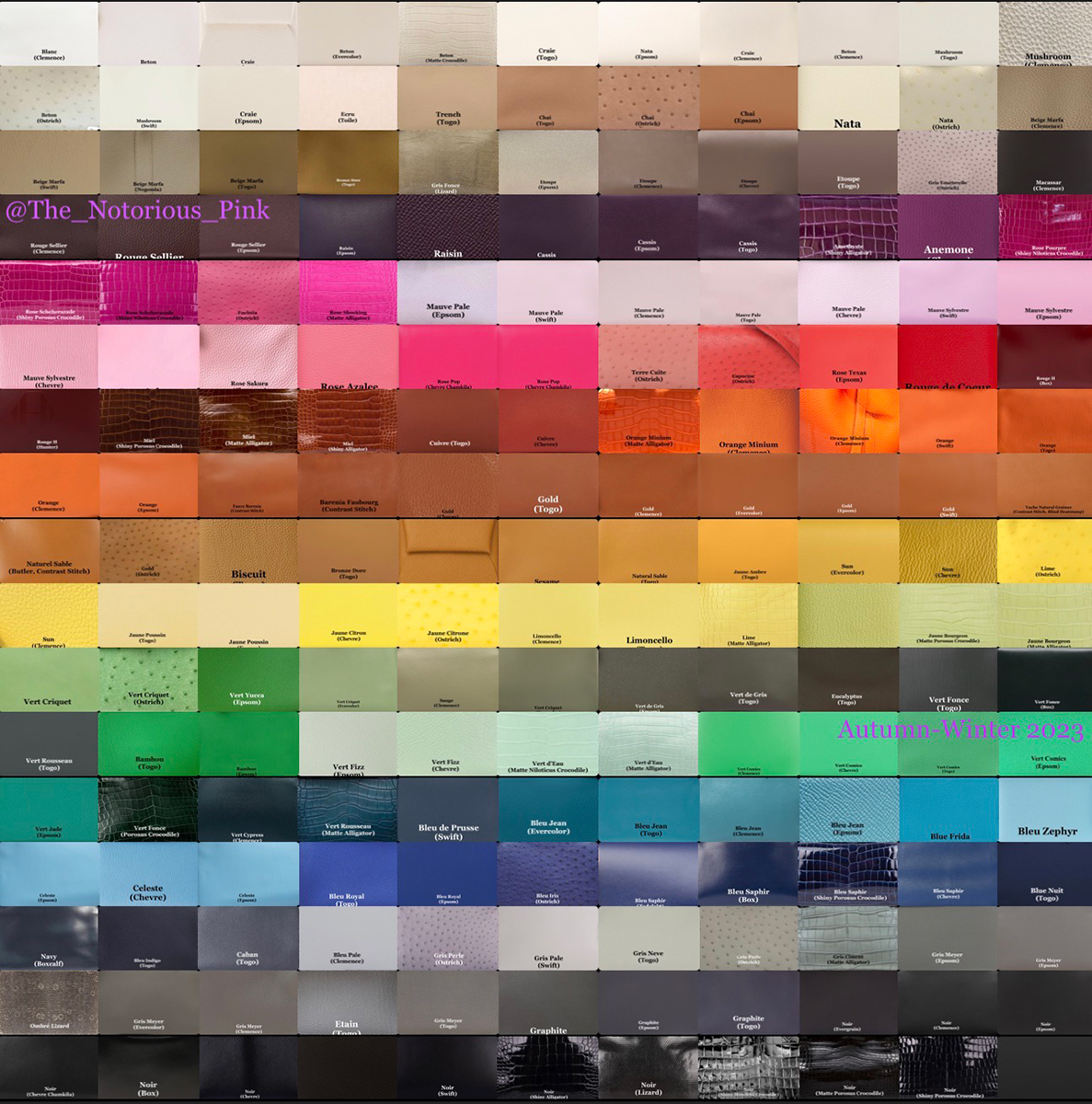 Notable additions for special bag offerings include:
Birkin Verso in Cassis/Rouge Grenat and Bleu de Prusse/Bleu Indigo leather;
Swift/Toile Birkins in Biscuit/Ecru Toile and Ficelle/Black Toile;
Tricolor Kelly Dépêches 25 Pouch in Écru/Vert Amande/Vert Véronèse;
The Birkin 3-in-1 in Cassis;
The Shadow Clutch in Gold or Bleu Jean;
Birkin Cargo 25 in Noir; and
the return of the Teddy Kelly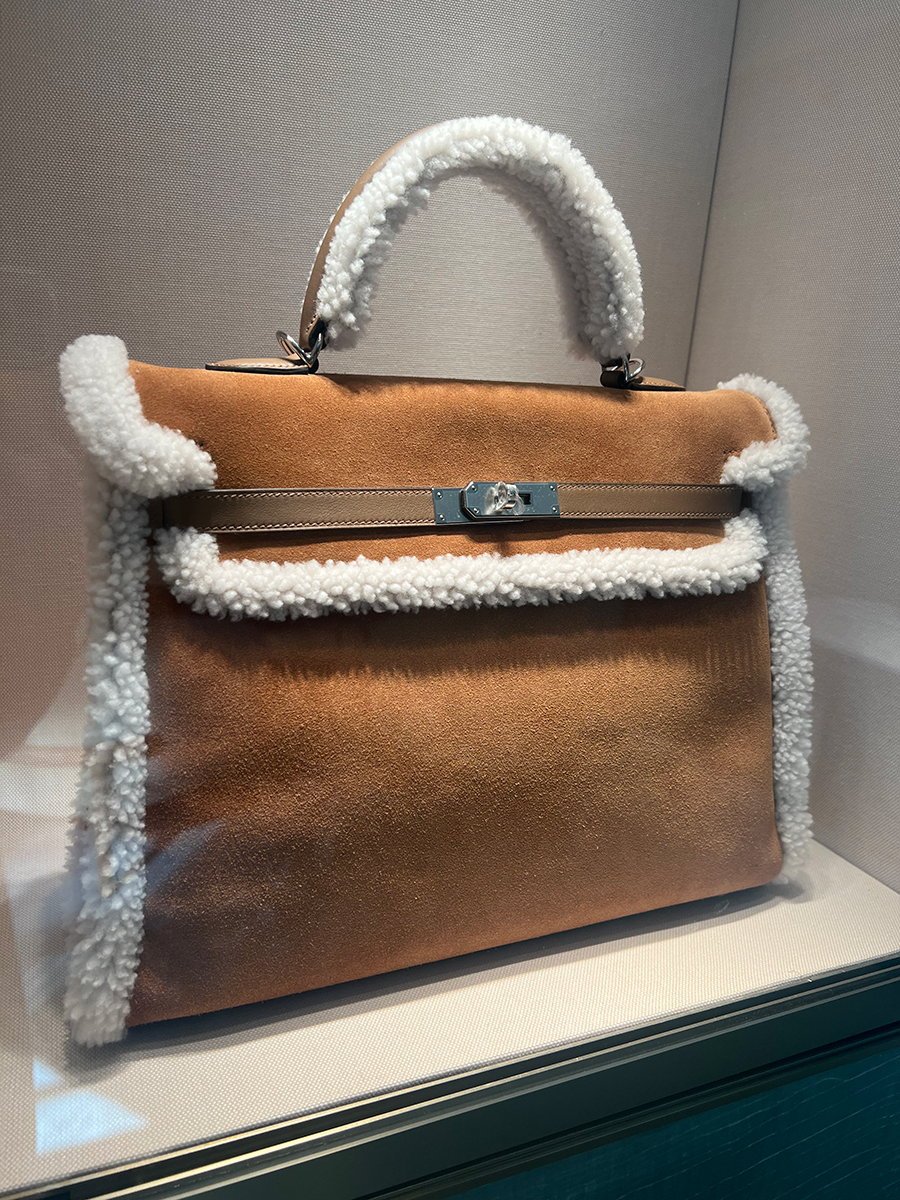 Scarves, Shoes and Ready-to-Wear
For the last few seasons, we have been pairing the leather and scarf colors of the season; for Autumn-Winter 2023, we are also including some ready-to-wear and shoes. Over the last decade or so, there has been a huge expansion in both of these lines with regard to both offerings and visibility. In seasons past, it seemed as though shoe colors were completely unrelated to the other relevant lines (one vestige of this which remains is that, with the exception of a few 'forever' colors like Noir, Blanc, and Rouge H, shoe colors are frequently not given the same names as leather colors, even though they may appear similar). Hermès' ready-to-wear was generally inaccessible, as few boutiques carried very much of it, and what was being produced was often the same classic pieces and shapes (the twillaine sweaters and cardigans; the leather blazers and skirts; etc).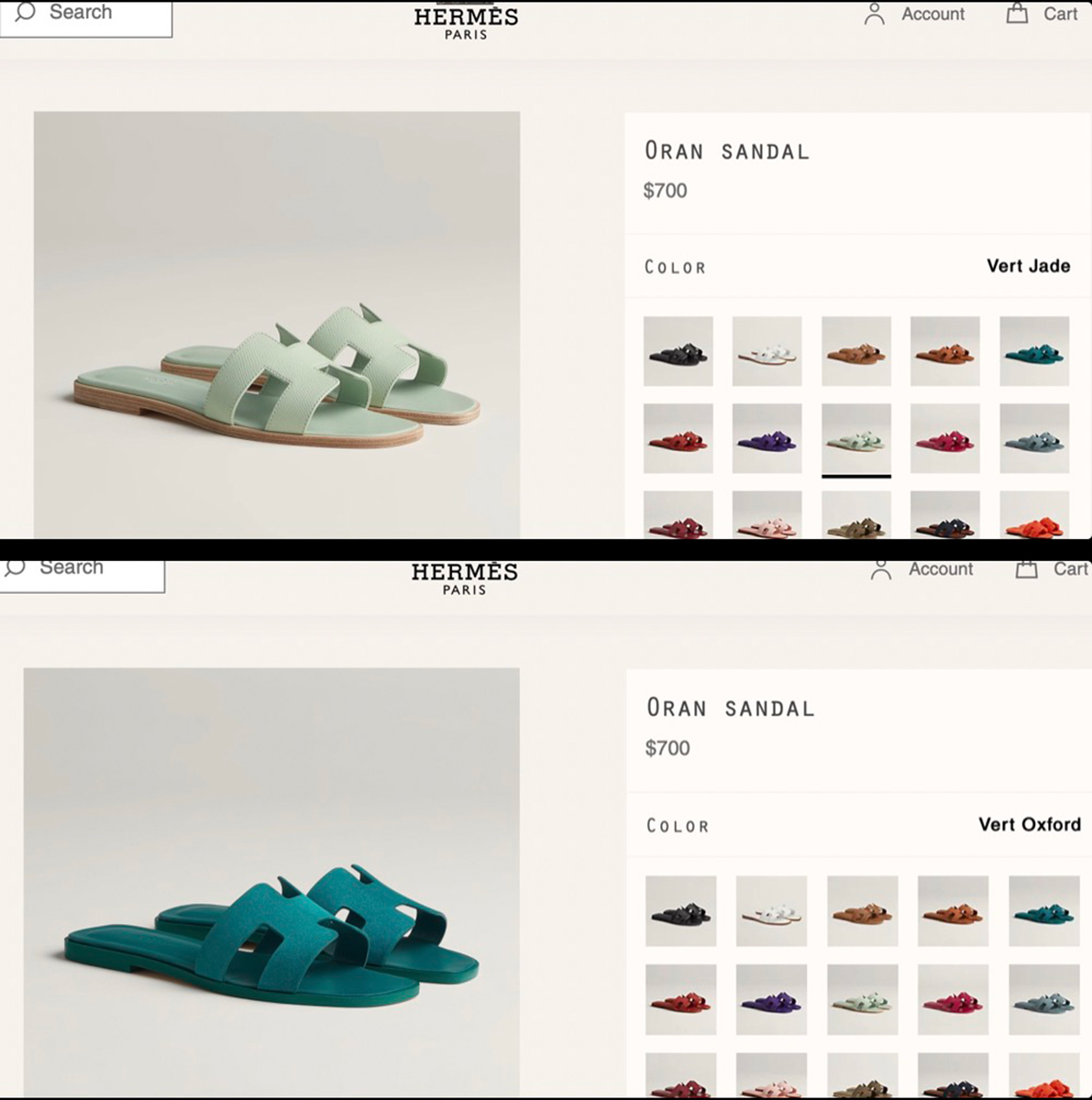 Not so in 2023. Along with the classic Orans and Jumping Boots, shoe styles are more varied to include more casual and "popular" styles like the Chypre sandal and the Deep sneaker. Hermès Ready-to-Wear has come to occupy its own little zone in its clients' wardrobes: like Birkin and Kelly bags, Hermès clothing is still a bit removed from popular fashion while very much being a part of it. The pieces (even those which are cut a bit more avant-garde) all have timeless elements and often incorporate luxury materials and/or influences from other metiers like silk and jewelry, and therefore are easy to incorporate in any wardrobe.
As a result, any overview of the season should really acknowledge these other items, not as mere accouterments to the leathers, but as partners with them.
Matching the New Colors for Autumn-Winter 2023
It's easier to begin from a scarf point of view; perhaps that is true for me because I am one of those "scarf ladies," so of course, that's where my eyes always go first. Still, it is because, unlike leathers, shoes, and ready-to-wear, the scarves offer a wider view of the season. Most scarves have themes, both in terms of color and style and getting a view of how Hermès puts their colors together is instructional on how many of their clients will do so for the season as well.
Hermès has tended to gather their scarf colors into families for the last few years; each "family" doesn't necessarily seem like a hard-and-fast rule but a general idea of how they are grouping colors together. Many scarves will follow whatever the "rule" for that color family is, with variations in which one color may dominate over another or in which one or two or a set of colors may or may not appear in a scarf. Here, I have gathered some families and variations, along with some relevant options for shoes and ready-to-wear.
Let us start first with the new colors for Autumn-Winter 2023.
Beige Marfa: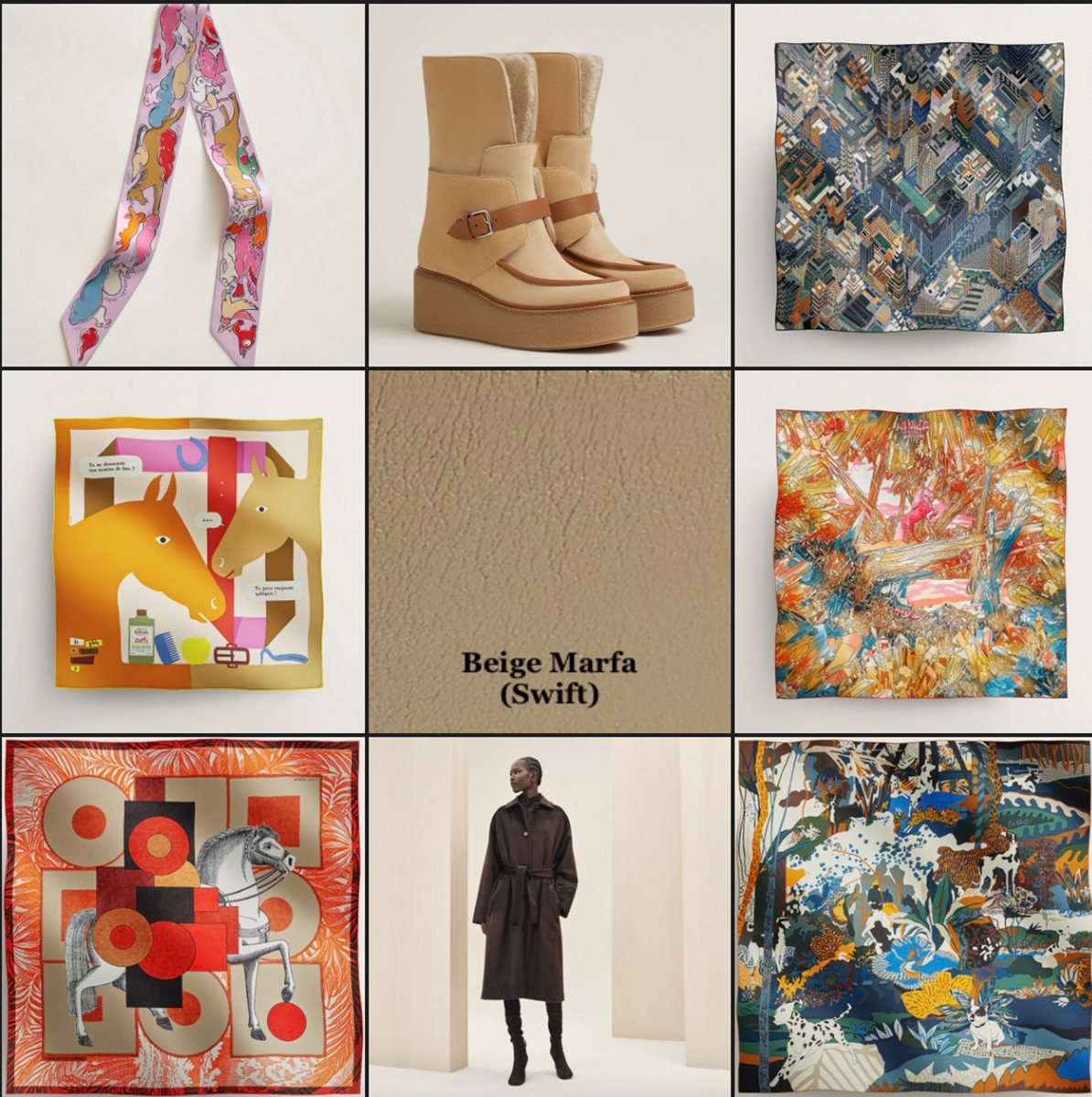 New Bleu Jean:
Sun: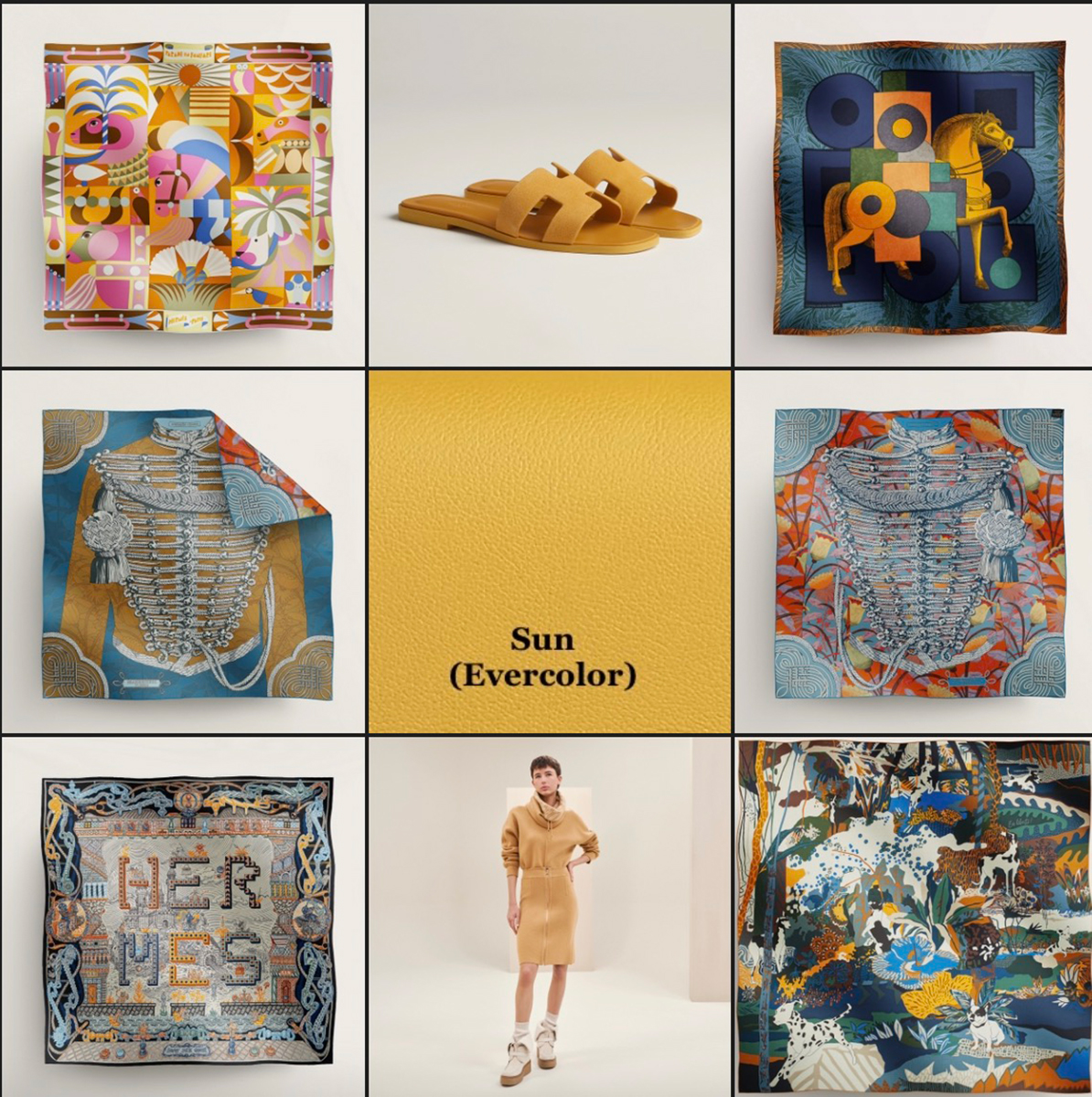 Vert Yucca: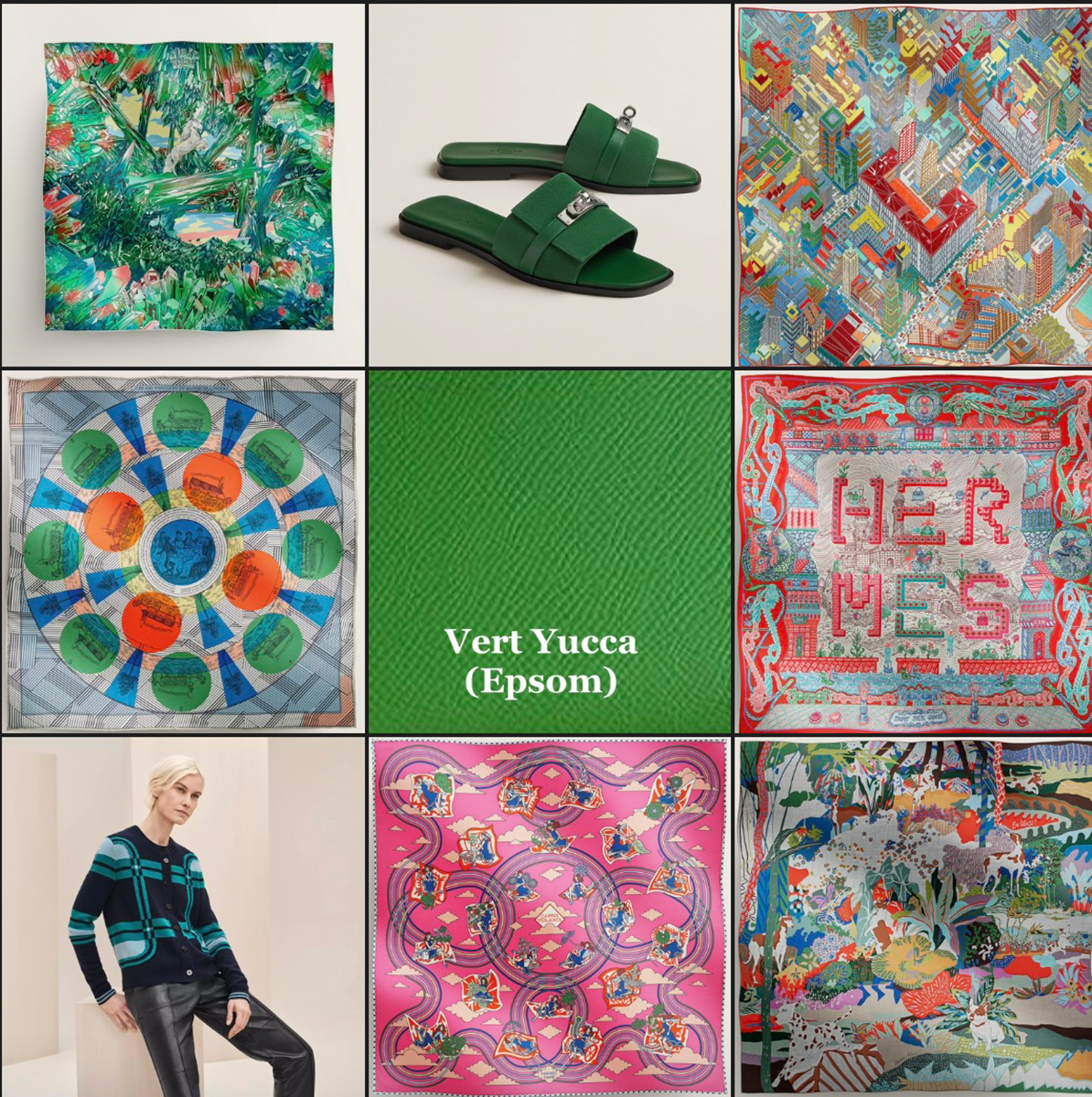 Coordinating Scarves, Shoes and Ready-To-Wear with the Leather Colors of Autumn-Winter 2023
While Hermès highlights these new colors, it also is producing more than 80 additional colors, which can also be coordinated with the other production lines. This is particularly clear in the silk metier, which always coordinates both new and old colors, providing the latest accessories to match the latest leather goods or offering a fresh update to a beloved leather piece.
I have loosely coordinated the scarf color families to 13 examples, some of which are unique and some of which seem to be variations on a color family. Each is presented in sets of two photos: the first, a selection of several silks, along with a few pieces from the ready-to-wear and shoe departments, all of which are from Autumn-Winter 2023, and the second, a chart of coordinating leather colors.
Yellow-Orange-Fuchsia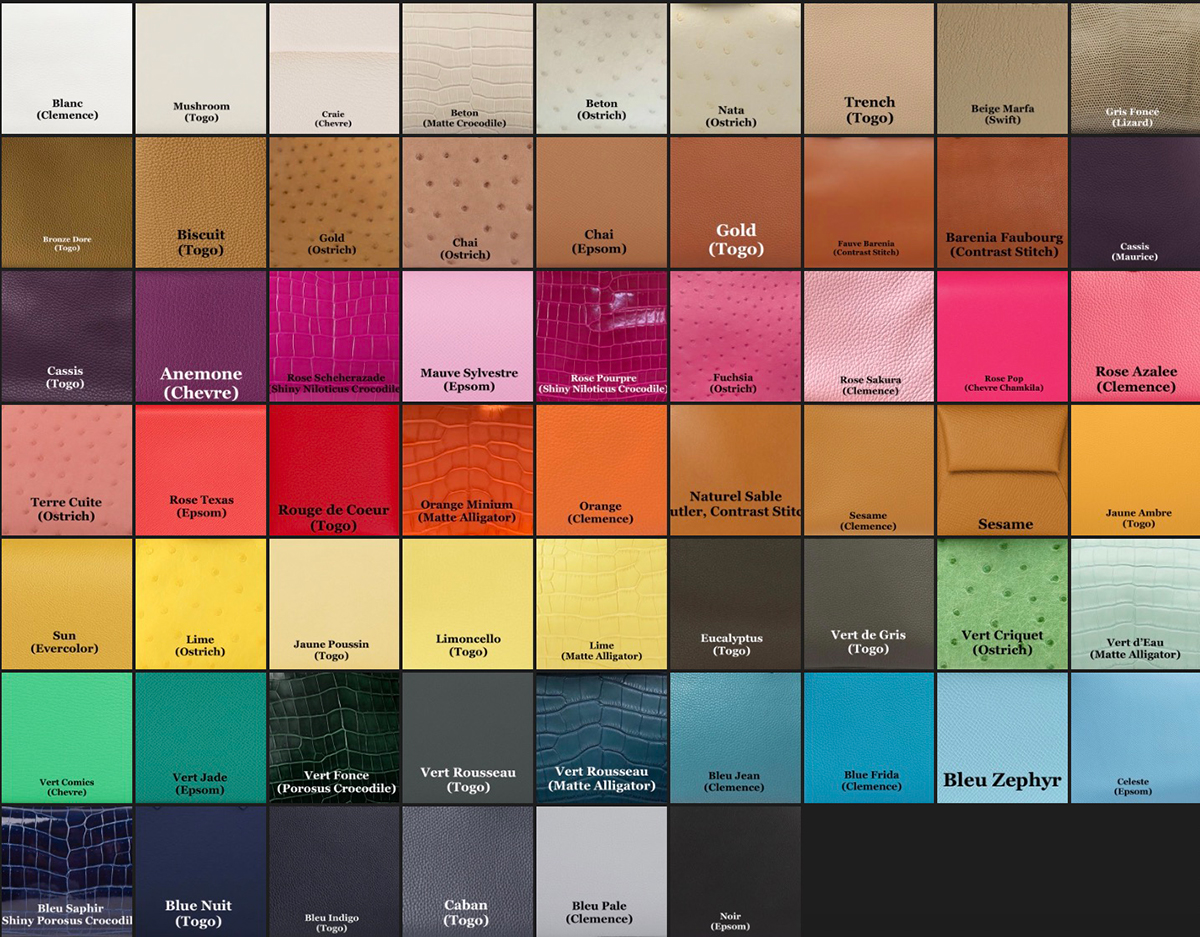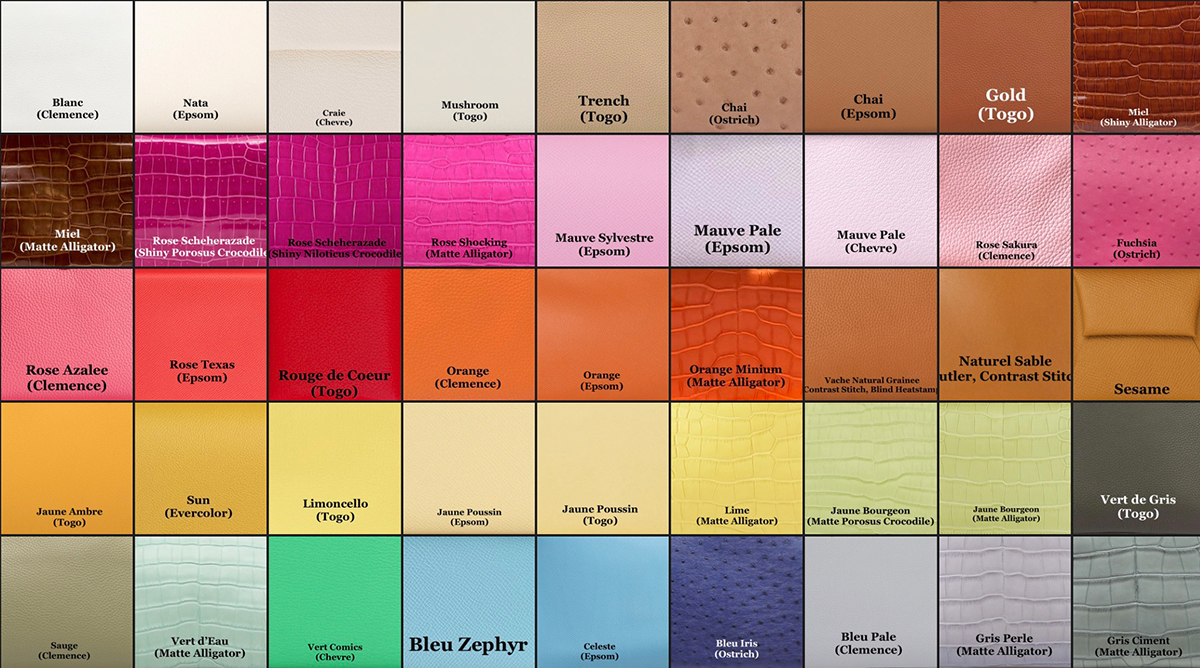 Pale Pink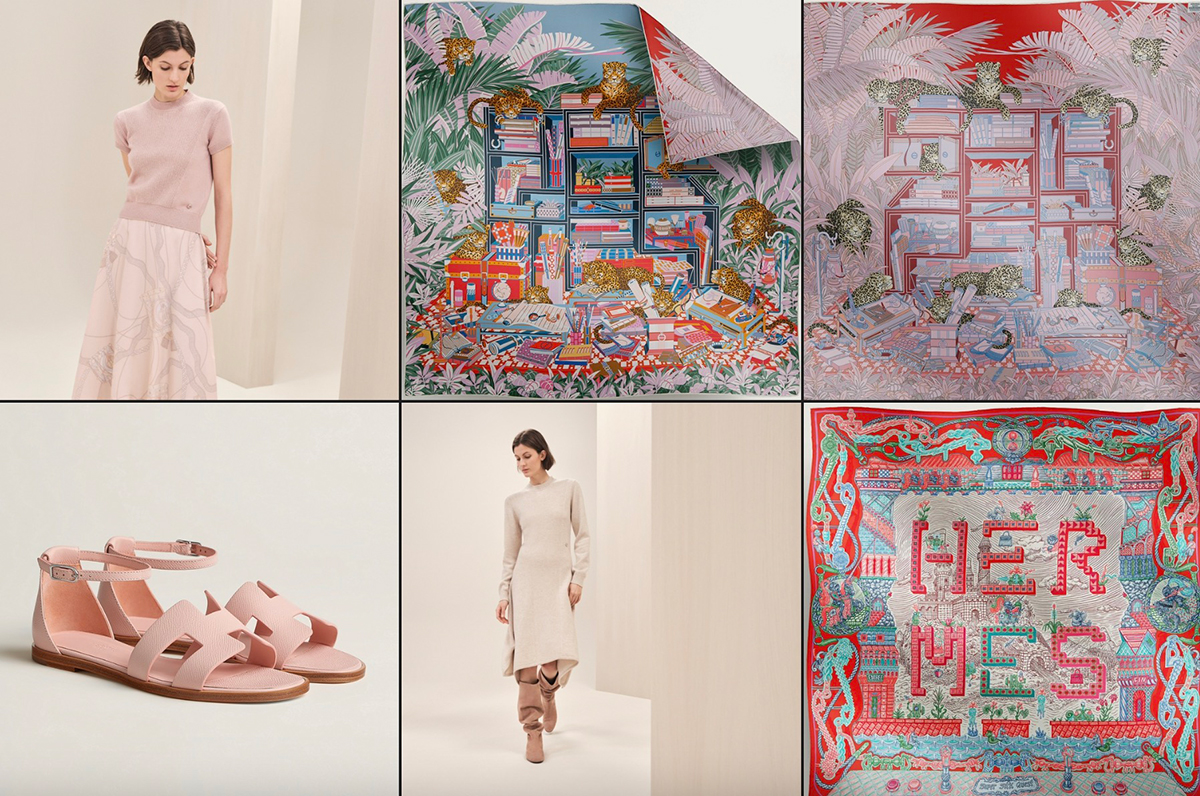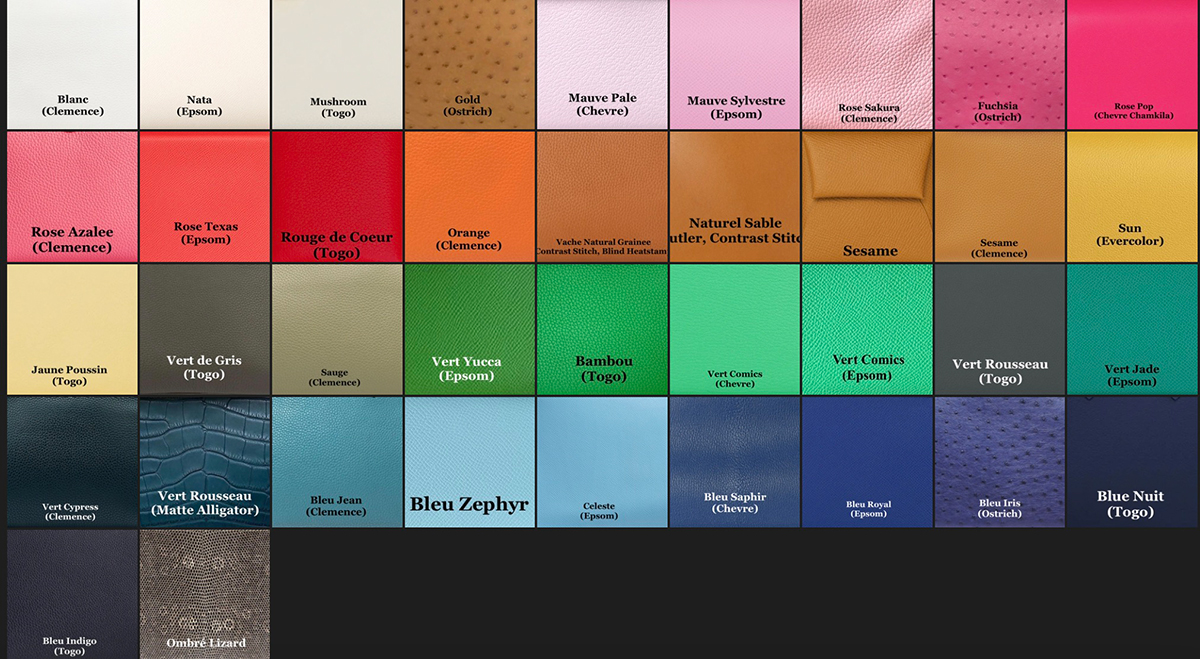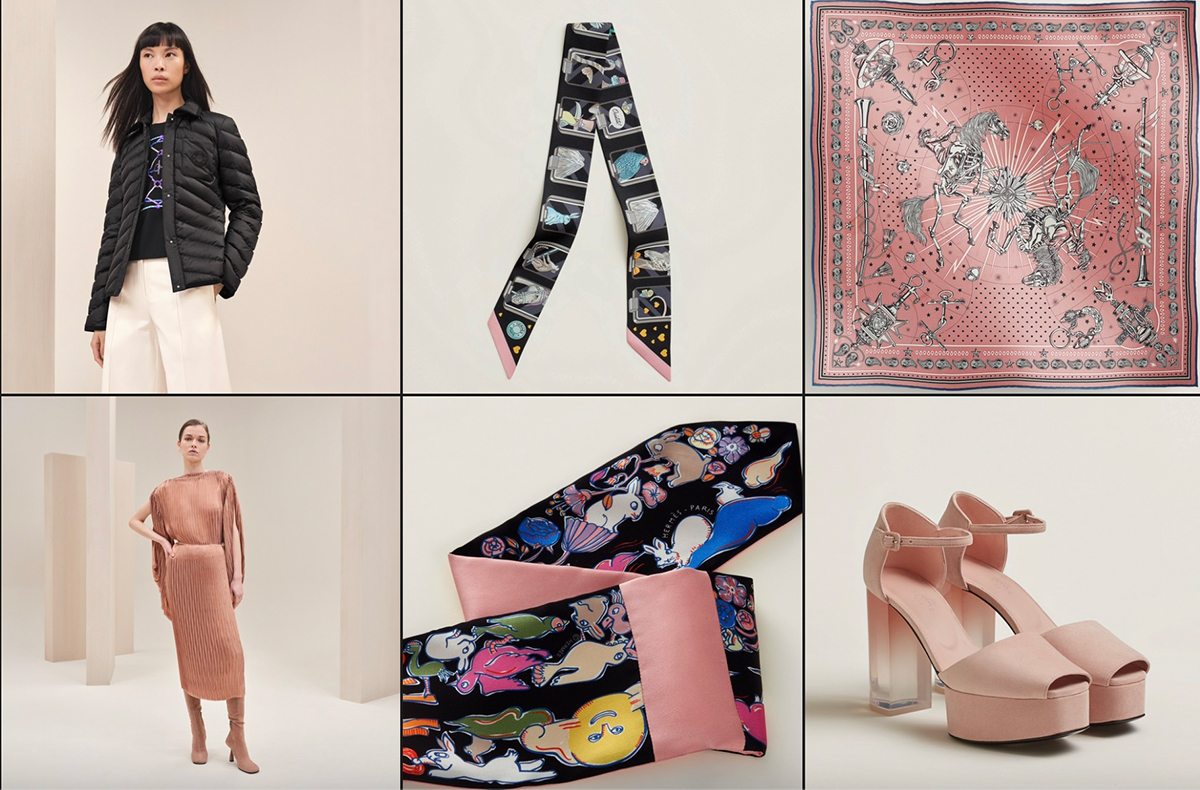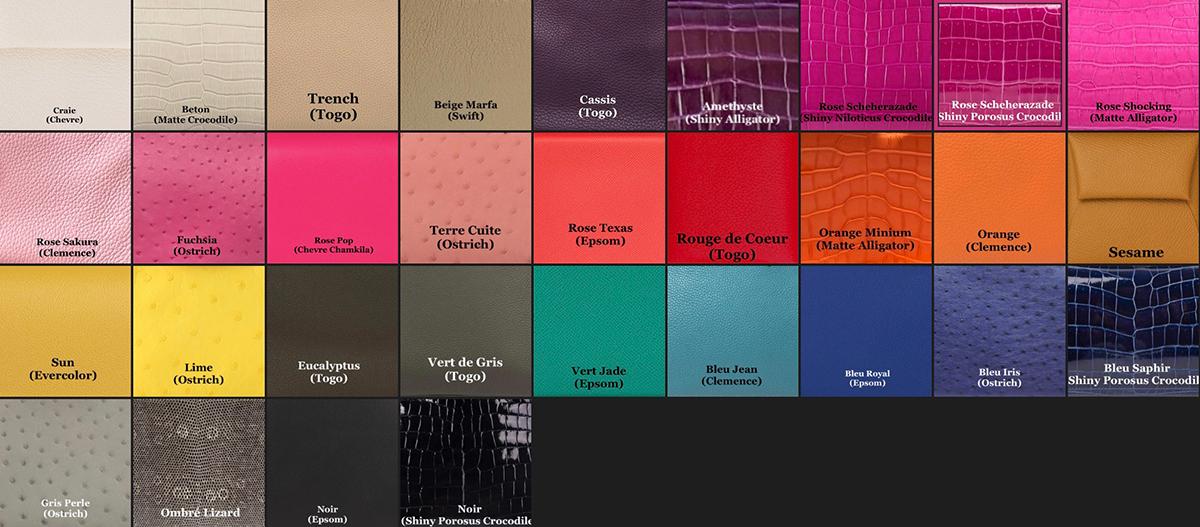 Blue-Orange-Black-Yellow-Green-White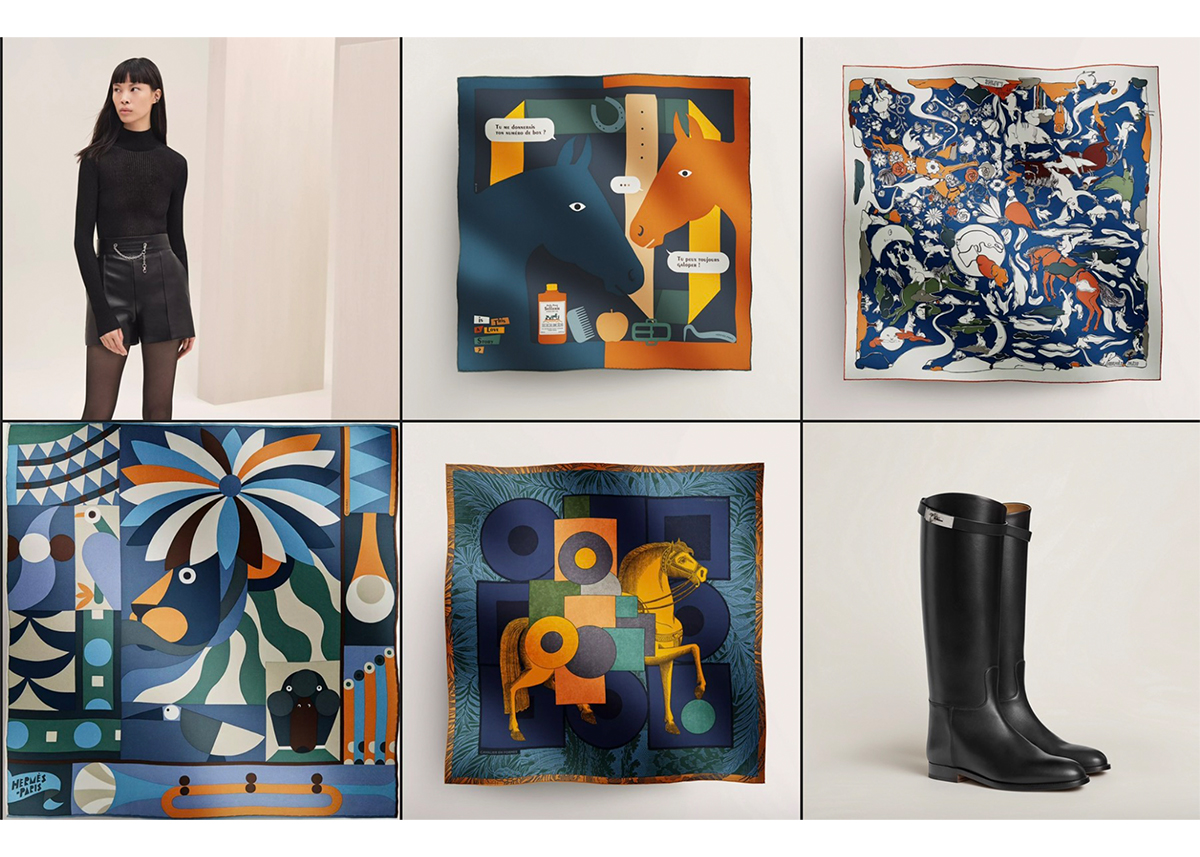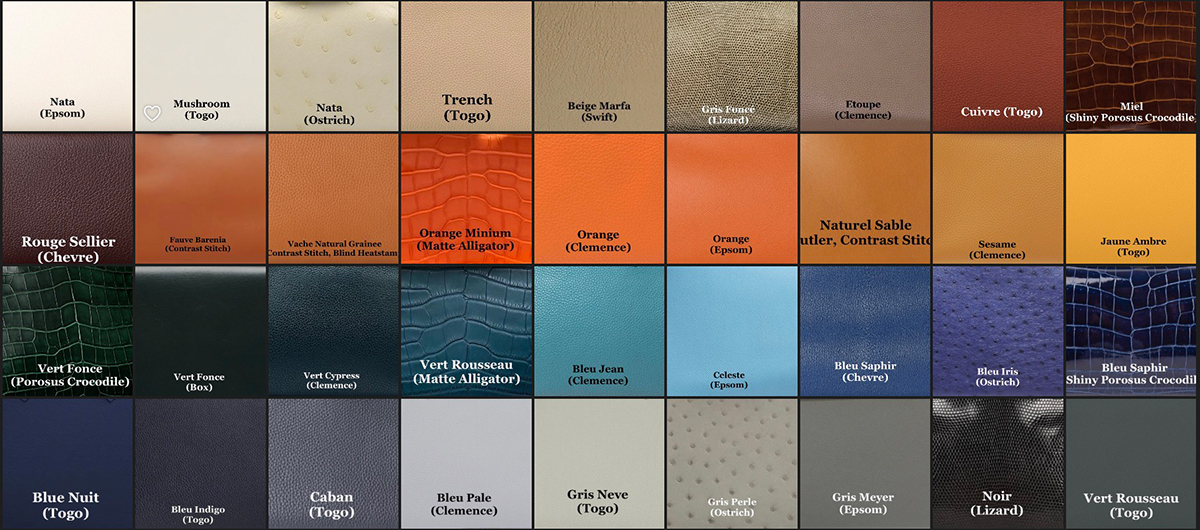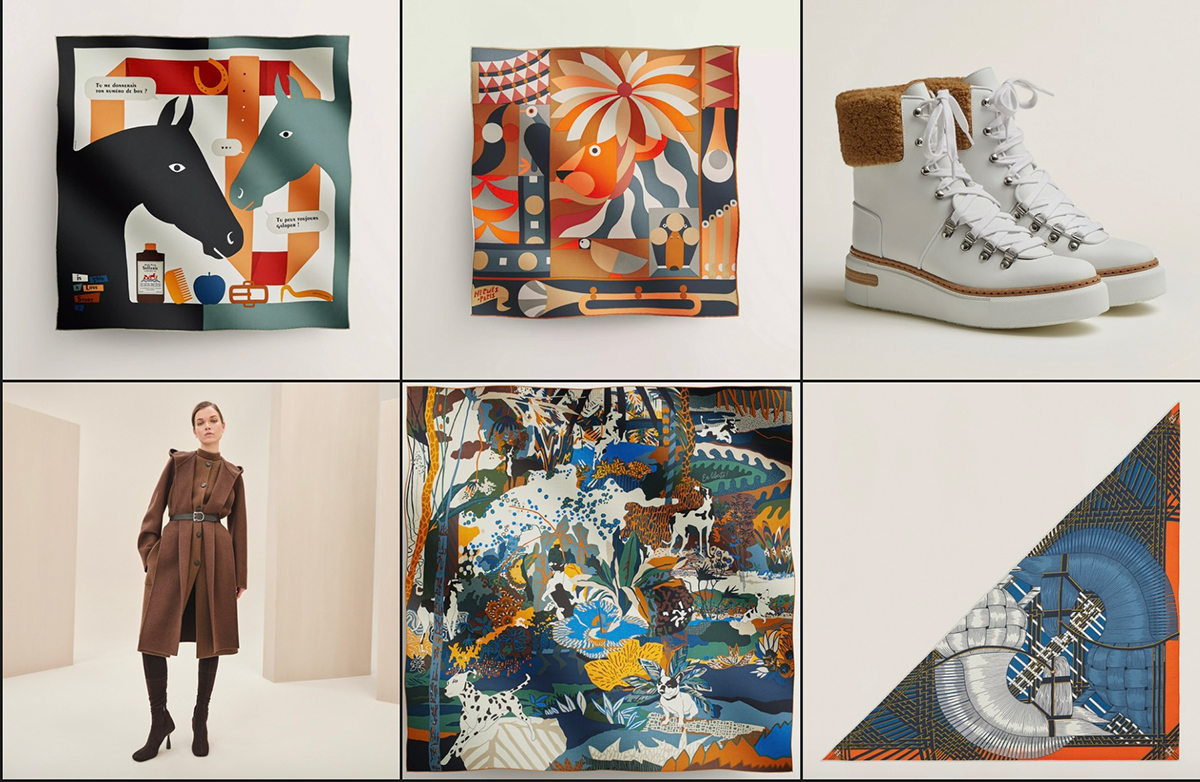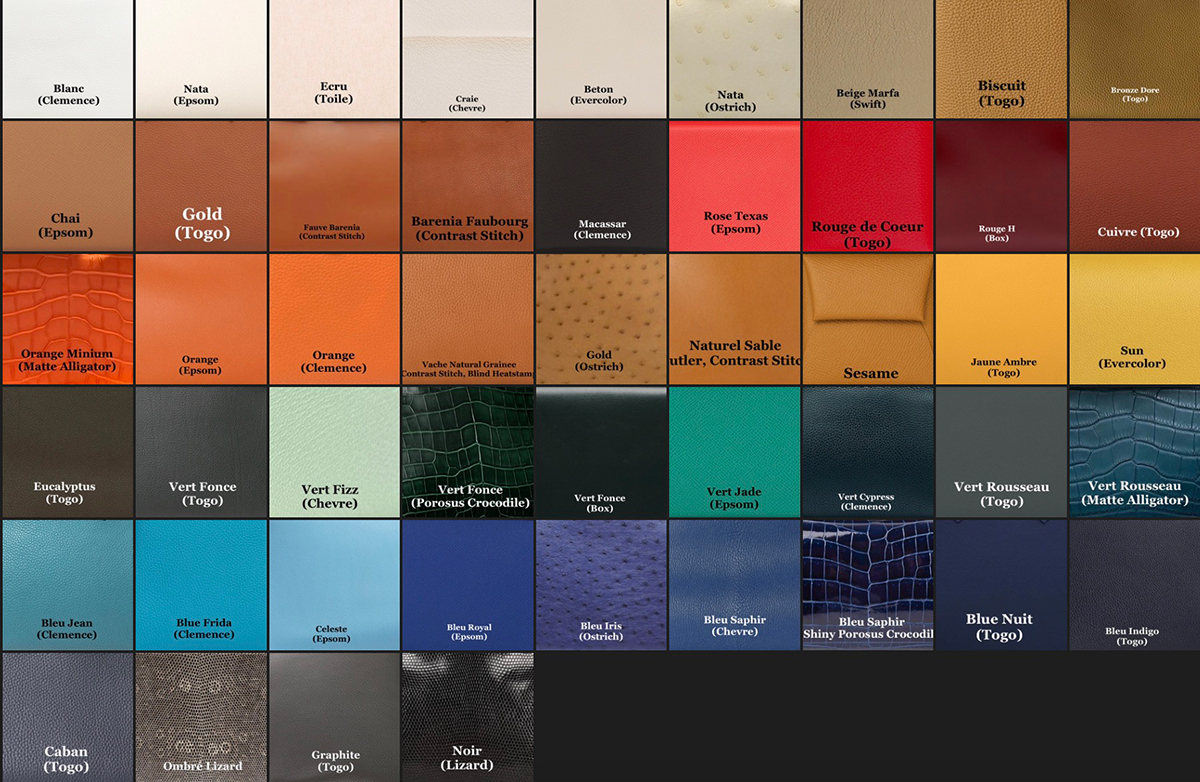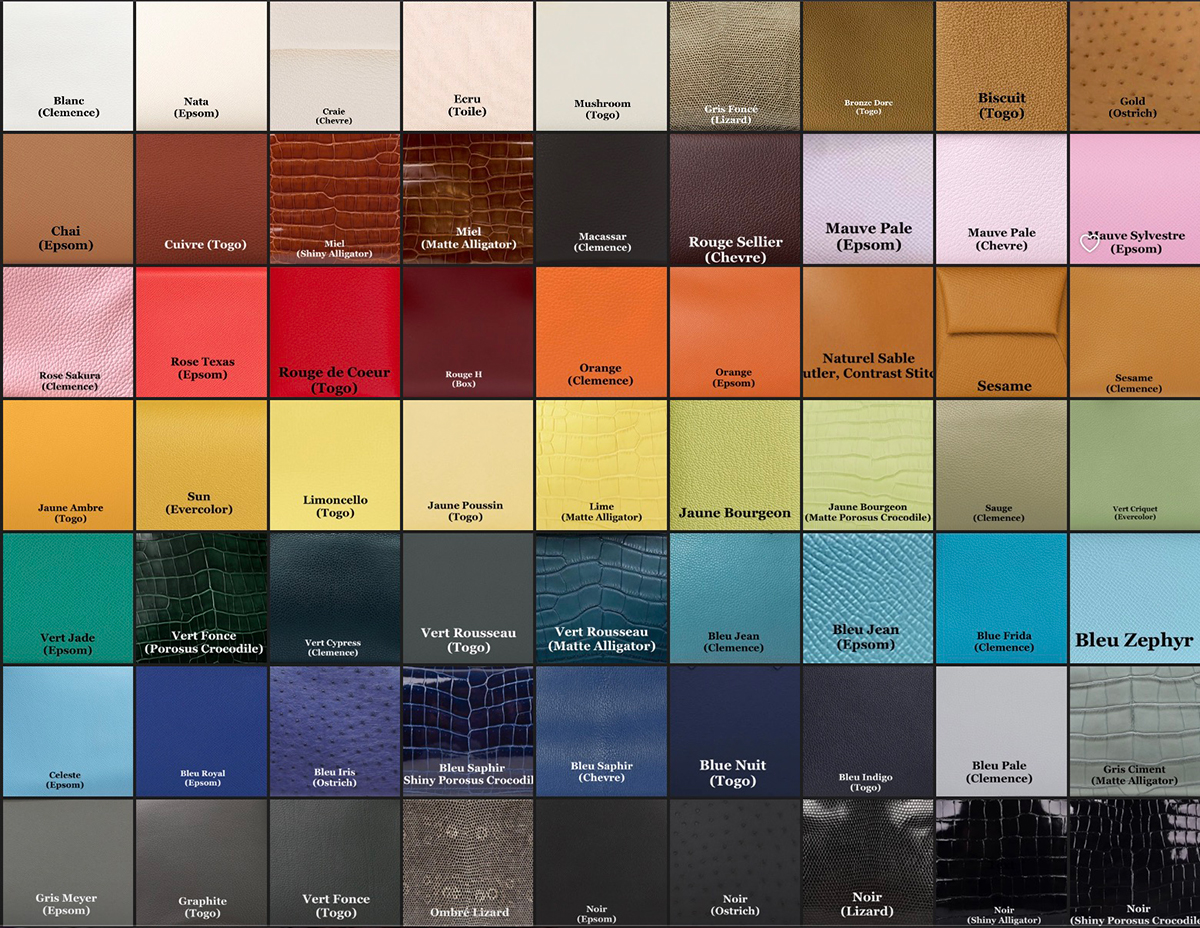 Orange-Neutrals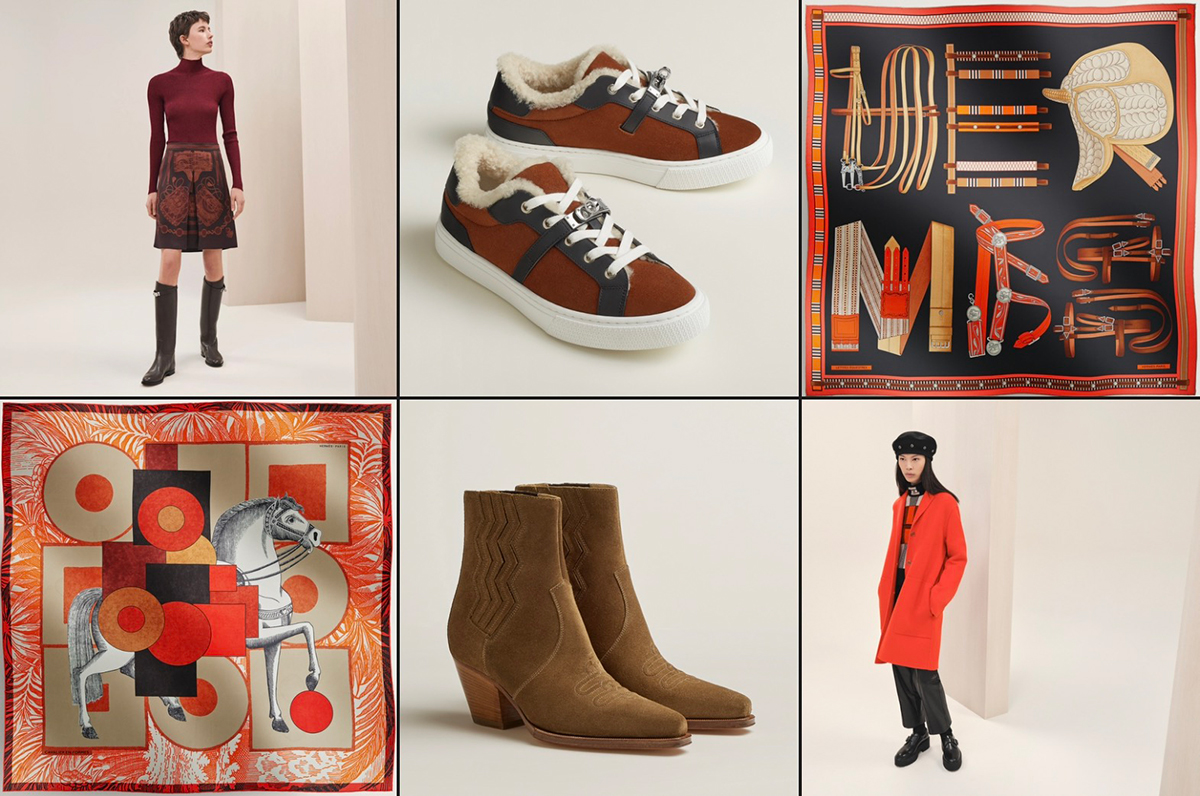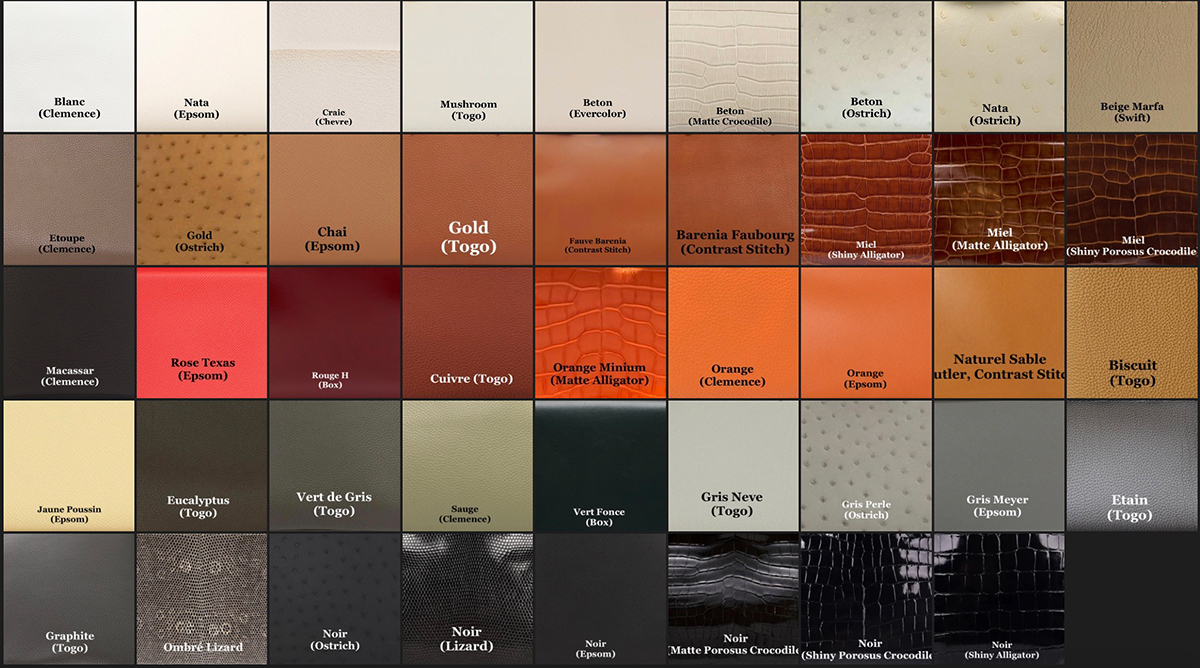 Green-Blue-White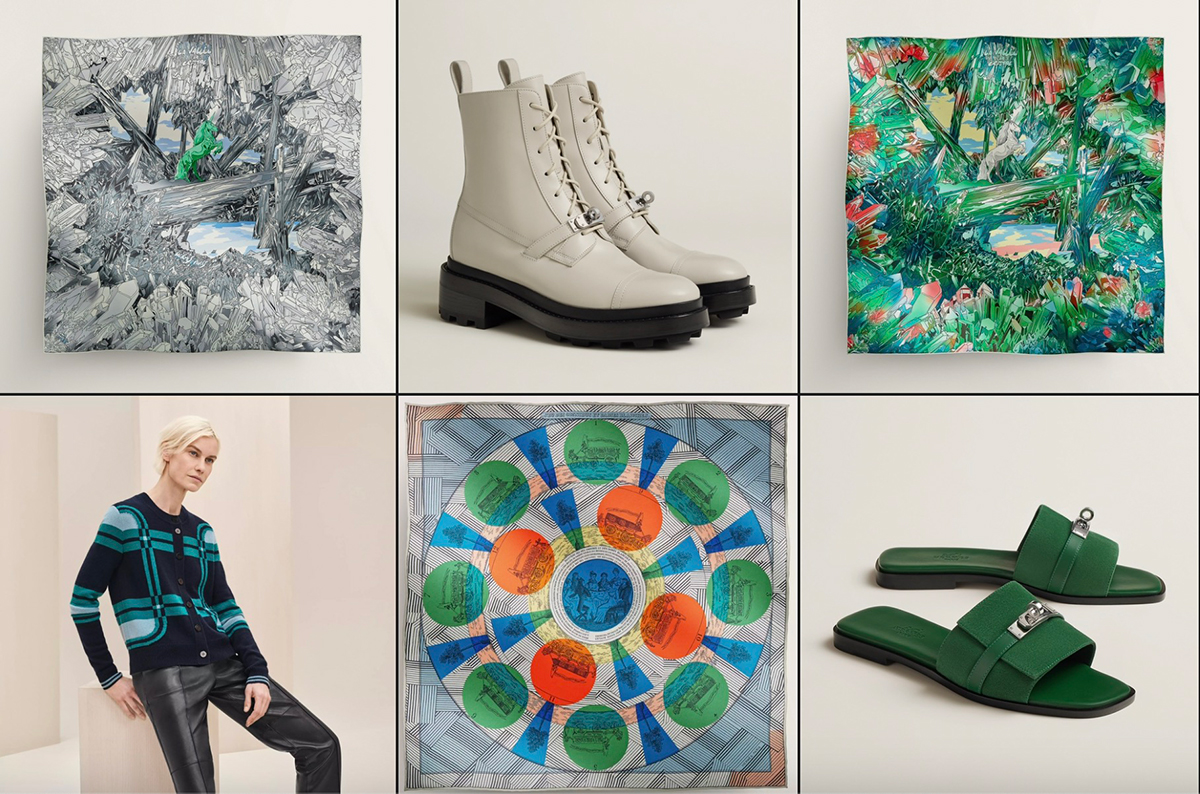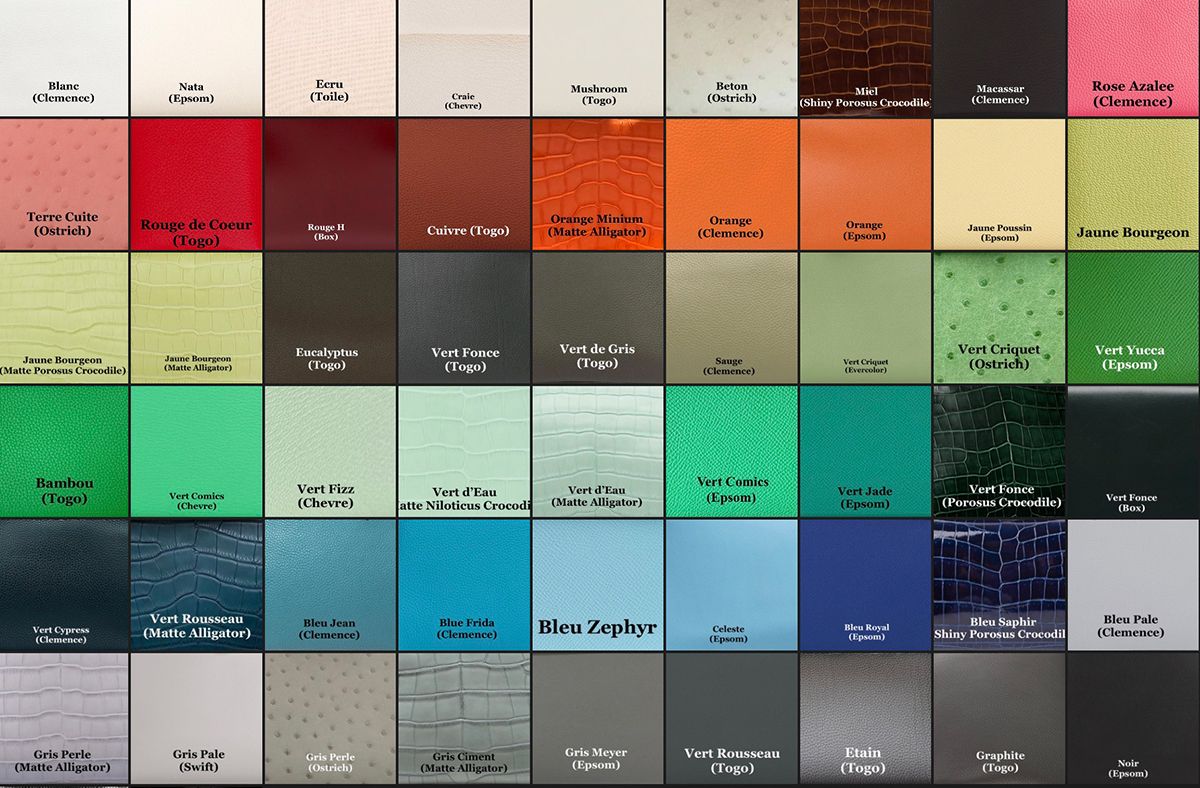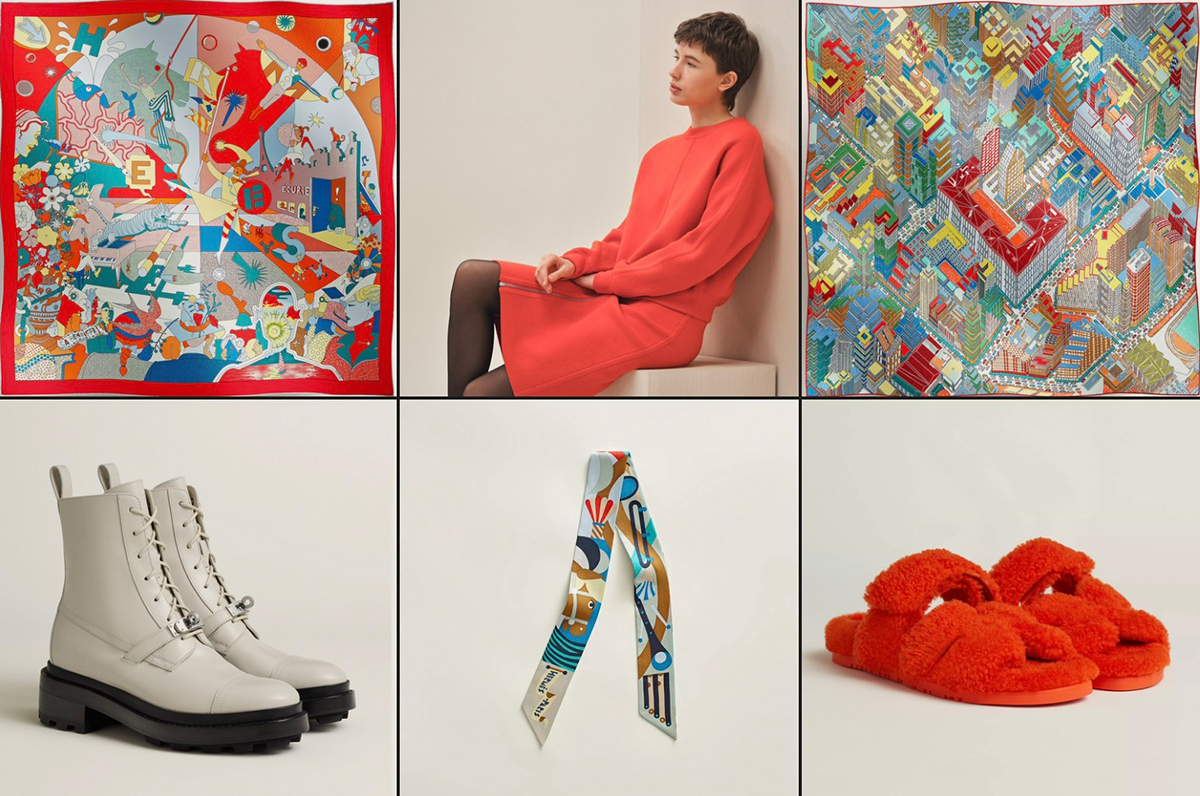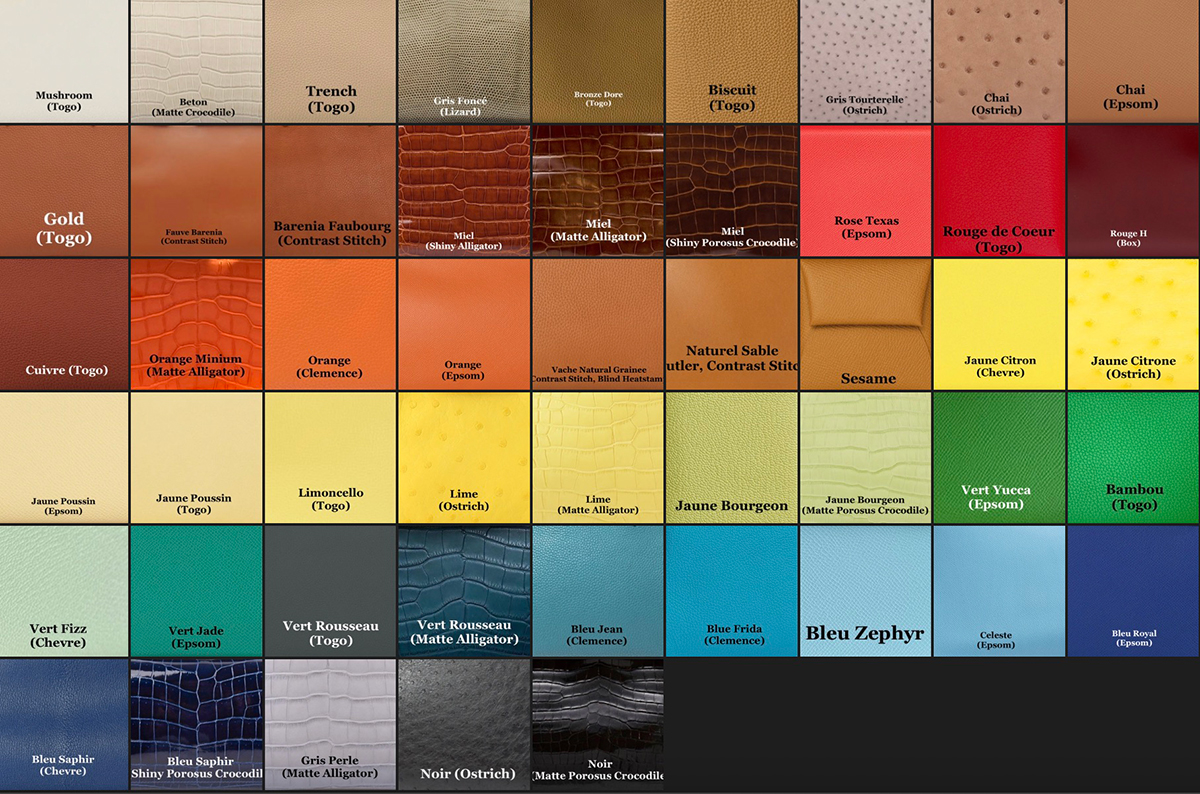 Green-Pink-Blue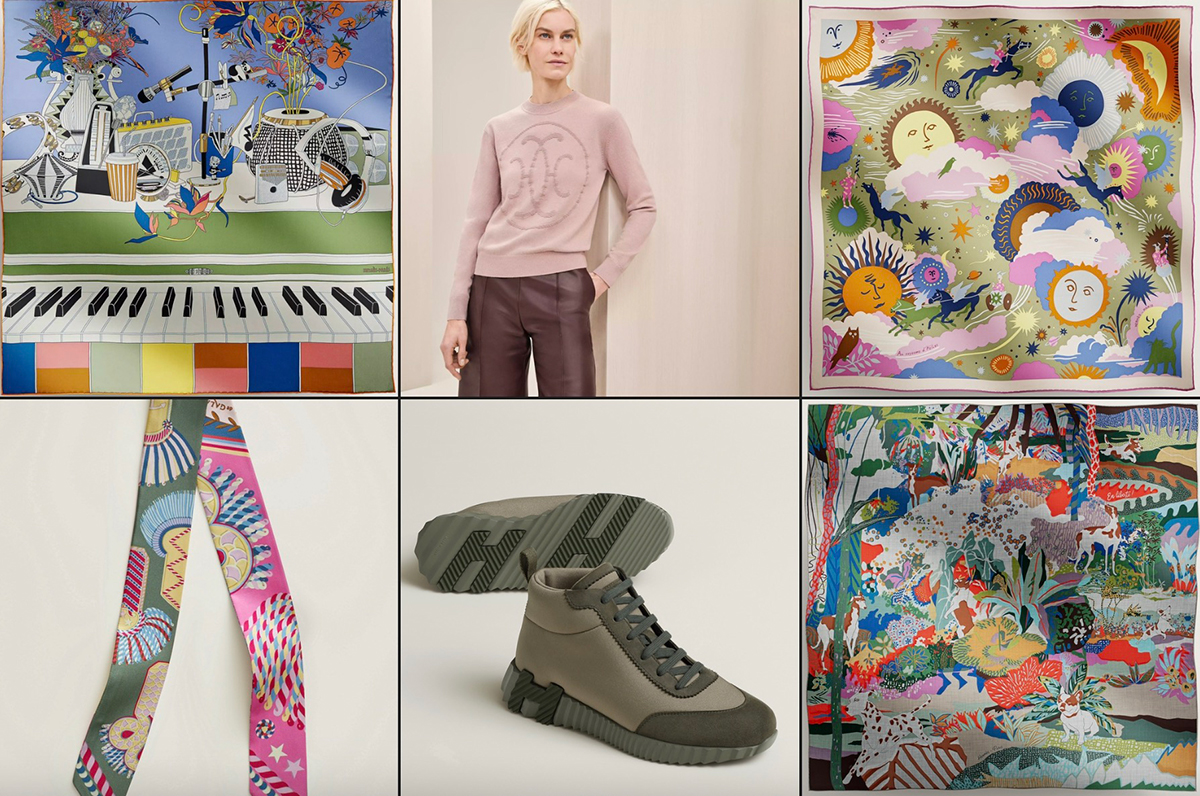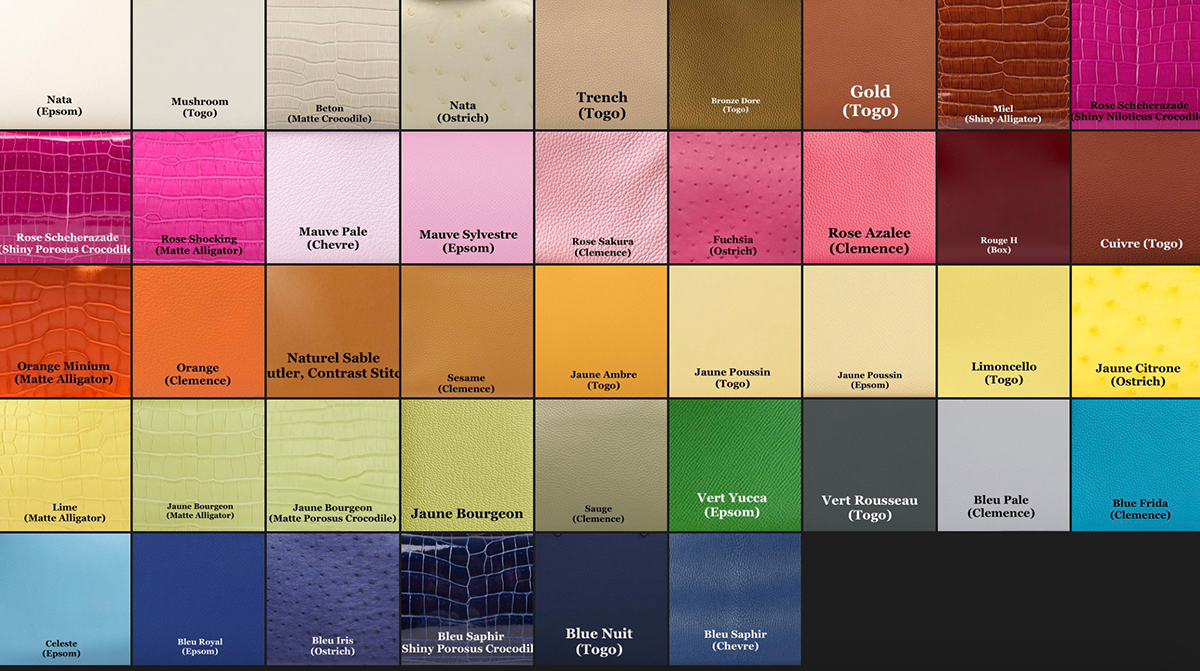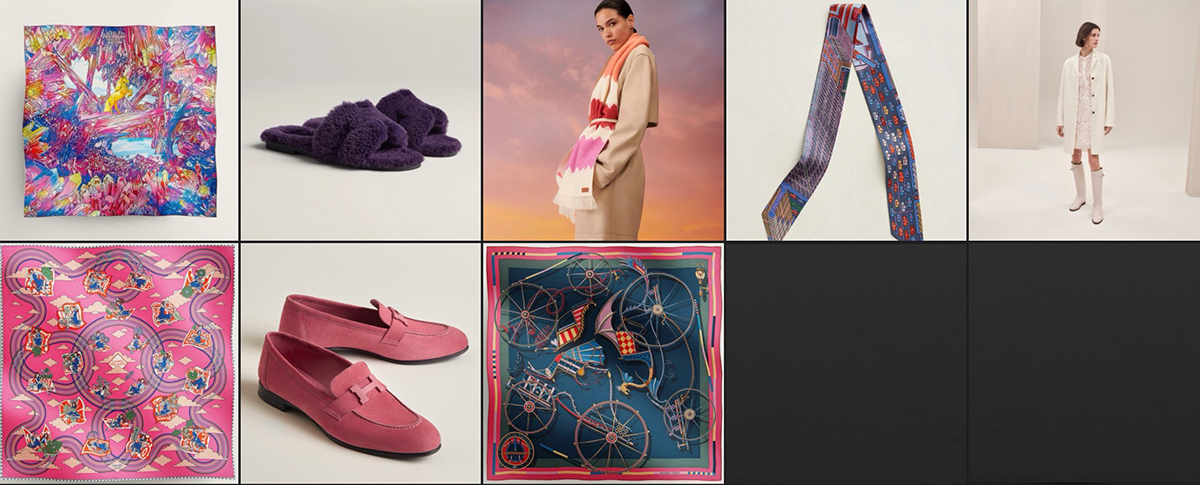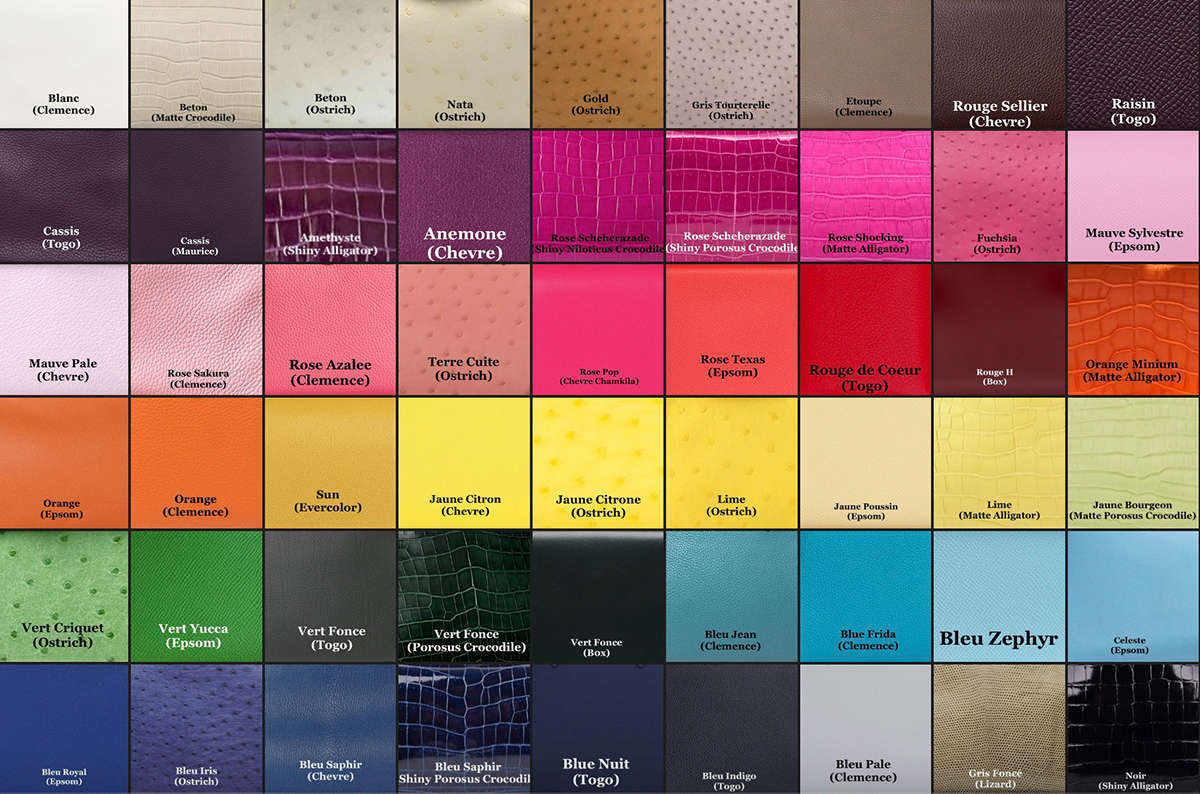 Blue-Neutrals