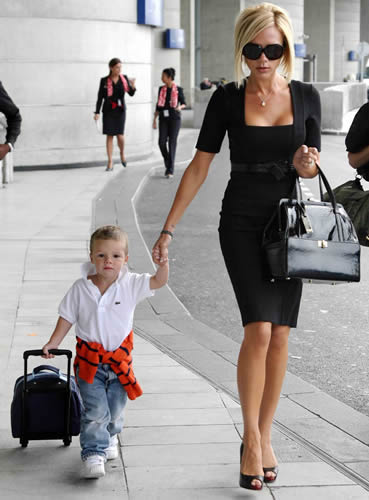 When I board an airplane for a long flight, the last thing on my mind is which heels and tight dress I will be wearing. I fully understand that Victoria Beckham is in the spotlight, followed by a hoard of paparazzi at all times, and wants to keep a great stoic image, but come on! Flights over 10 hours have me beyond tired and smelling like re-filtered airplane air, which we all know is not a pleasant smell. Yet, time after time on her way to the airport, Victoria Beckham is impeccably put together from head to toe, with each strand of hair in perfect place, make up on, fashionable tight outfit on, 4″+ heels on, and a designer handbag to boot. And her son, Cruz, is absolutely adorable carrying his roll on luggage with a white Lacoste shirt, with a half popped collar of course. Victoria's Giambattista Valli Handbag has been her go to bag before, and she loves it so much she also owns it in white. This handbag defines the look of the season, showcasing patent leather, a structured shape, and only small top handles to be hand held. Completely riveting! How does she do it though? You should see me getting on an overseas flight (and even worse getting off!).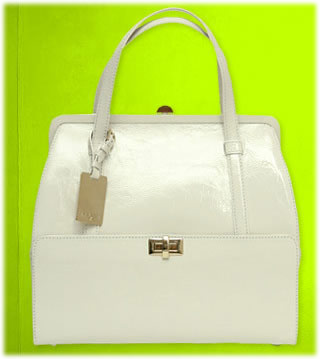 Giambattista Valli Handbag
More pictures of Victoria with son Cruz and two bonus pictures from her photo shoot at the Louvre in Paris!