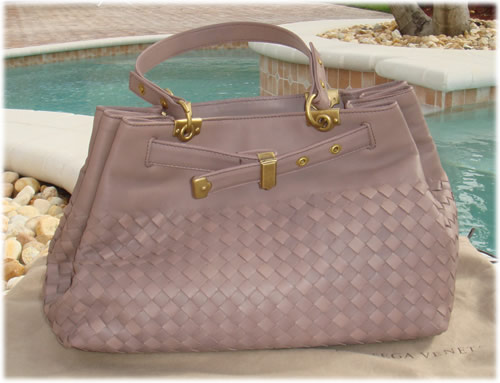 I have been teasing you all with hints at the bag I bought while in Venice. It took me so long to get this post together you may have thought that I was pulling your leg. Well, take your leg back from me, the goods are here to be shown!
The Bottega Veneta store in Venice was great. Situated right by the Grand Canal on a side 'street', close to my fabulous Bauer hotel, and a few minute walk from Plazza St Marco, there was one of the Bottega stores. The store itself was not overwhelming huge, but the bags inside will TDF. The store manager helped me, and showed me every bag under the sun. I felt all the exotics which were divine, he was opening more and more drawers showing more and more bags and accessories. I was set on either a Magnolia bag (light pink) or something in the purple family… you know, a feminine color perfect for spring and summer!
At first I was pretty much set on the Large Veneta in Magnolia, but then I saw this stunner. The Old Petra color is hard to really know unless you see it in person- not lilac, not brown, but a beautiful mix of the two. The color is stunning, and on my skintone and coloring it was a much better choice than the Magnolia. The Large Veneta is a very fun shape, but I wanted a little more structure, which is why I went with the bag I did.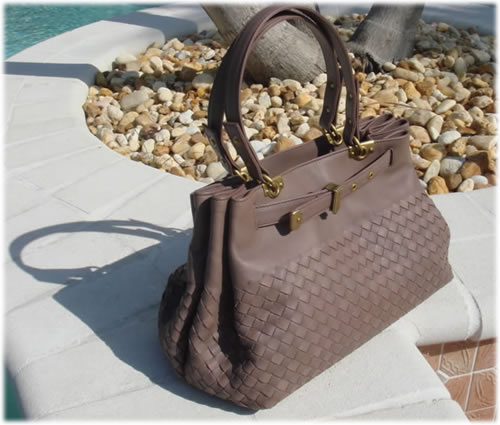 May I introduce you to my beautiful new Bottega Veneta Old Petra Gold Hardware beauty!! Granted, I am not exactly sure of the name of the bag, but if I were to name it, I would just name it beautiful! It is sophisticated and fun- just perfect for me!
After I got my bag, I picked up the two goodies for the BV giveaway, and was done. But just the other day, Vlad and I made our way to BV Bal Harbour and I somehow left with two small goodies. I could not resist the Magnolia Ostrich Pig Key Chain- there is not a lot of ostrich detailing on the one I picked, but that is perfect for me! And then I opted for another small accessory- a coin purse with a key chain! Perfect little accessories!!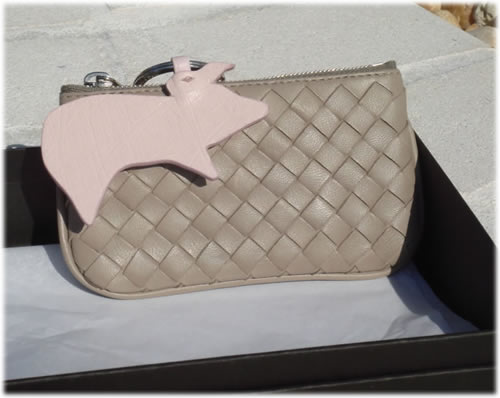 Hope you all enjoy the pics, and I must admit, it is easy to become addicted to these leather goods- simply divine!!!
Check out the extensive pictures on this thread in the tPF 😀