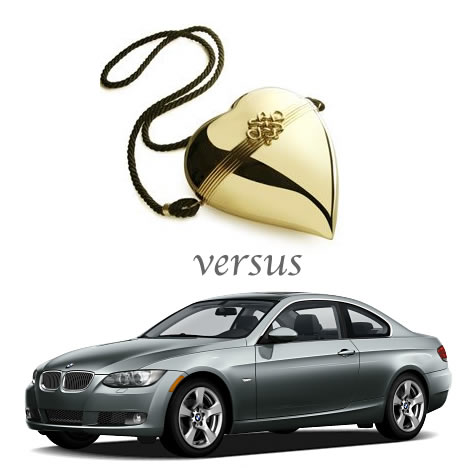 If you had $36,000 spare dollars, which would you buy?
The hoopla behind the Diane von Furstenberg Wrap Dresses has yet to die down. It may have taken a small itsty-bitsy step down, but it is far from falling. To me, this is still what DVF is known for, her wrap dresses and sultry apparel line. Who would have known she makes accessories, and enormously pricey ones at that. I am all for thinking outside of the box and following your heart, and DVF does just that, follows her heart full of gold to design the Diane von Furstenberg Heart Bag. Now I am pretty sure Diane herself is not slaving for two months over creating this bag, but this piece of art is created by a master goldsmith over a two month time period. The amount of gold is astronomical for a handbag, or just to own. Merely half a foot in diameter, the gold heart bag is lined with lush black suede and features a silk black strap. Some of you thought the Judith Leiber Bag was only to be looked at, well now what do you think of this? Personally, give me $36k to spare and I'd much rather opt for a stunning BMW 328i Coupe and still have $700 to spare. If you are high rolling, buy this masterpiece of gold art through DVF for $36,000.
What would you buy with $36,000?
{Thanks Caitlin!}