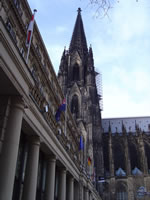 We do apologize sincerely, but there is a very good reason things have been slow this week here at the purse blog. After 2 months of separation, the resident love birds Megs and Vladi have finally been reunited in the central European country of Germany. Yay! Weather's nothing to be excited about, but emotions certainly are on the high side — things are just fabulous. Aside from all the time spent together, we also felt highly compelled to pursue our passion in fashion and do some shopping slash browsing through Europe's major cities to check out the latest trends and goodies in the handbag market. First stop on the journey: Cologne, Germany.
Aside from its monstrous, intimidating and impressive, almost 760 year-old Koelner Dom (left) and the beautiful Rhein River, there also appeared to be quite enticing shopping opportunities, potent enough to pull a whole lotta moolah out of foreign (and local) pockets. Getting off the ICE, we immediately found ourselves in the very center of town, right by the gorgeous Dom. After a quick detour into its chilly, ginormous nave, we headed right for two of our favorite, exorbitantly pricey Parisian Haute Couture fashion shops: Hermes and Louis Vuitton. Despite having forgotten to shoot pictures of evidence, you can believe us that those two stores are placed within one store of each other (separated by a Chopard store), conveniently located right on the plaza facing the Dom. This venue does ensure exposure to heaps of international visitors, either dropping by to get presents for the loved ones at home, or willing to indulge themselves with high-class goodies.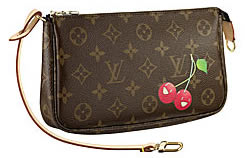 We first strolled into the LV store. What had already captured our attention from the store front was Louis Vuitton's seemingly different Monogram Cerises line of bags. The colorful cherries exemplify a fresh and intriguing homage to Louis' traditional signature monogram canvas — right in time for the fruity and fun spring. While the two of us don't seem to agree on much at times, we both found the Louis Vuitton Sac Plat completely over-the-top — it seemed to lose LV's sophistication in the cherry tree. However, Megs immediately fell in love with the $355 Louis Vuitton Pochette Accessoires for two reasons: first off, rather than taking away from the classic monogram that everyone seeks, the cherry only added a zing to make the pochette unique, and secondly the cherry came just in time to add a spring fling to an unwavering Louis Vuitton simple-style. Other than this new Monogram Cerises line, the store seemed a little small and showed a large focus on travel gear, like the Annette travel bag we previously featured. You think you are paying a lot for Louis bags in the US? Thanks to the lousy exchange rate, buying a bag in the US is a bargain, considering that you'd pay 25-35% more in Germany.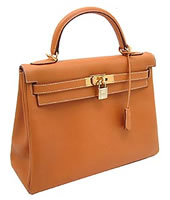 Saving the best for last, we then set foot into none other than the creme-de-la-creme Hermes store. Although my girl was dying to buy a bag, she couldn't — for obvious reasons. What is remarkable about this store was the overall feeling of the sophisticated and high-class ambiance. Within the two floors, we did check out the vast variety of one-of-a-kind couture clothing and accessories, ranging from ashtrays to jewlery and beach towels. For a mere $450 you can get the towel wet, sandy, drained in sun screen and splattered with seagull droppings.
Just like Samantha on the infamous Hermes Birkin Bag search episode on Sex And The City, my girl immediately scoped out the hardware to see first hand the bag that even people who are rich and famous are only privy to purchase. To our disappointment, the Birkin Bag really is that rare and you really do have to be put on a waiting list if you're approved to buy one. We still fell in love with the Hermes Kelly Bag, that went for a modest EUR 14,000 — gasp. Like Samantha, we felt empty without the Birkin Bag, but Hermes still managed to impress us and prove that they are in a league of their own.
On a side note, we did run into a local aution house, that happened to sell 100% authentically fake Gucci bags for a mere 15 Euros a pop, leaving us extremely tempted to buy all five of 'em. Just kidding.
Overall we had much fun doing what we do best — tracking down the handbags that leave every shoulder unempty, every wallet a little lighter and every girl happy. Stay tuned for next week's report from Paris, the fashion capitol of the World.
P.S. Please consider supporting our small, bag-loving team by clicking our links before shopping or checking out at your favorite online retailers like Amazon, Neiman Marcus, Nordstrom, or any of the listed partners on our shop page. We truly appreciate your support!