They say if you must own a logo bag, it should be a Goyard.
It's ironic, really, since Goyard purses don't quite sport a logo per se (even though it isn't any less recognizable as a result). In fact, that's a trap not even Hermès has been able to avoid falling into. Its logo-less Birkin is one of the most unmistakable accessories of the modern day.
Apparently, we inhabit a world where not having a logo can sometimes be equally problematic for a brand as an all-over monogram print. And Goyard's signature chevron pattern, once described by the New York Times as "an odd composition that looks like a latticework of antique zippers, a Penrose staircase, or a Space Invaders screenshot, depending on your age bracket," encompasses a grey area of sorts between the two, much like its Damier counterparts over at Louis Vuitton.
So, when monograms are generally somewhat looked down upon and quiet luxury is the new black, it seems counterintuitive to concentrate our energies on something as clearly recognizable as Goyard. But can we file it away as a carryall of choice for the nouveau riche just yet?
Perhaps not so fast.
The Good, Old Days of Goyard
Long before stealth wealth had infiltrated the realm of TikTok, Goyard had seemingly perfected the trend in every possible way, the Goyardine hand-painted in ultra-fine dots the tip of a very expensive iceberg comprising $50,000 trunks and customizable pieces in both leather and exotics.
Secretive to an obsessive degree, its few outlets and even fewer fanfare (or rather, the complete absence of it) rendered it fit for the fashion and art royalty, such as Coco Chanel, Jacques Cartier, Pablo Picasso, Sir Arthur Conan Doyle, and Karl Lagerfeld, as well as literal royalty, most notably the Duchess of Windsor, who once famously commissioned a trunk to accommodate 150 pairs of shoes.
For over a century, its strategy of limited presence ensured a fair amount of success, weathering the house through global catastrophes, the birth of the Internet, and even an acquisition in 1998, bringing in exactly the kind of high-paying clientele heritage brands yearn for. But in the end, it was the Y2K that turned out to be the bane of its existence. With the proliferation of blogs and tabloids, Goyard totes and backpacks that might previously have flown under the radar were now zoomed into in high-resolution photos of Lauren Conrad and Pharrell Williams.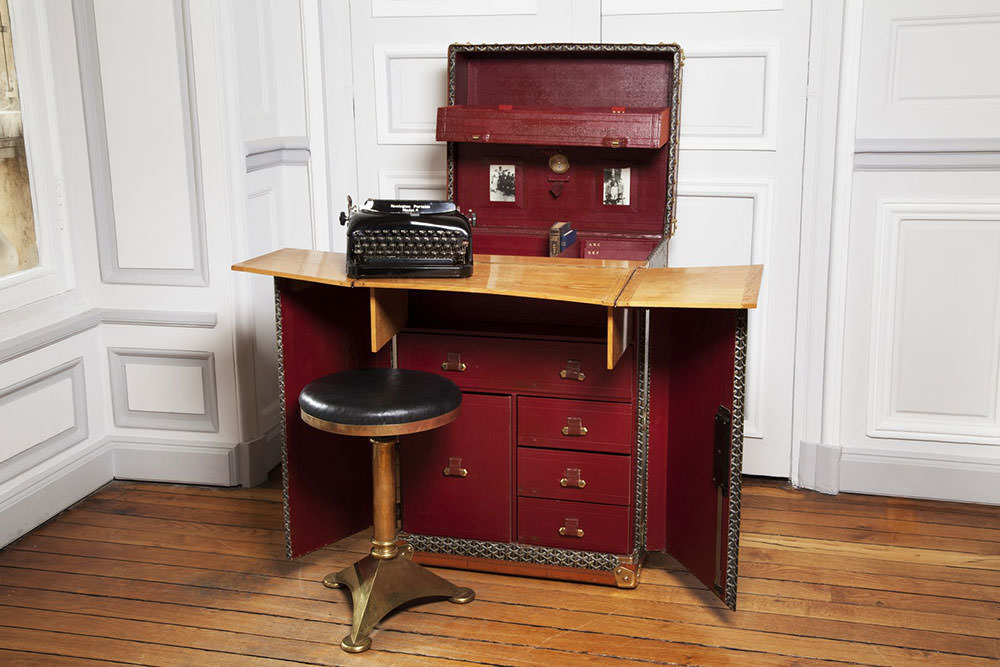 Demand surged, and the brand switched to machine-printing the chevron and increasing its retail presence worldwide (although nowhere near its contemporaries). And the flagbearer of the new Goyard became a flimsy, reversible beach bag named after a King of France – the Saint Louis Tote. Elsewhere, the Burberry plaid, a similar form of brand insignia devoid of an actual monogram, was gaining rapid tabloid notoriety. And so was the Birkin, on a faithful episode of Sex and the City, in the arms of Samantha Jones.
Welcome to the age of the non-logo logo.
The Rundown on Logo-less Luxury
Aside from its brief rise to fame in the early aughts, the logomania trend has largely suffered from a bad rap for the better part of the twenty-first century, having been associated with the flashy chic of the nouveau riche. And consequently, so has anything nearly as recognizable, including a non-logo logo.
But it's not simply the question of whether or not to feature a logo that can make or break a brand. In combination with effective brand positioning, a non-logo logo might actually become a more subtle identifier of ostentation and quality, and that's what has differentiated Hermès and Goyard from the unfortunate fate of the Burberry plaid, or to a lesser degree, the Louis Vuitton monogram.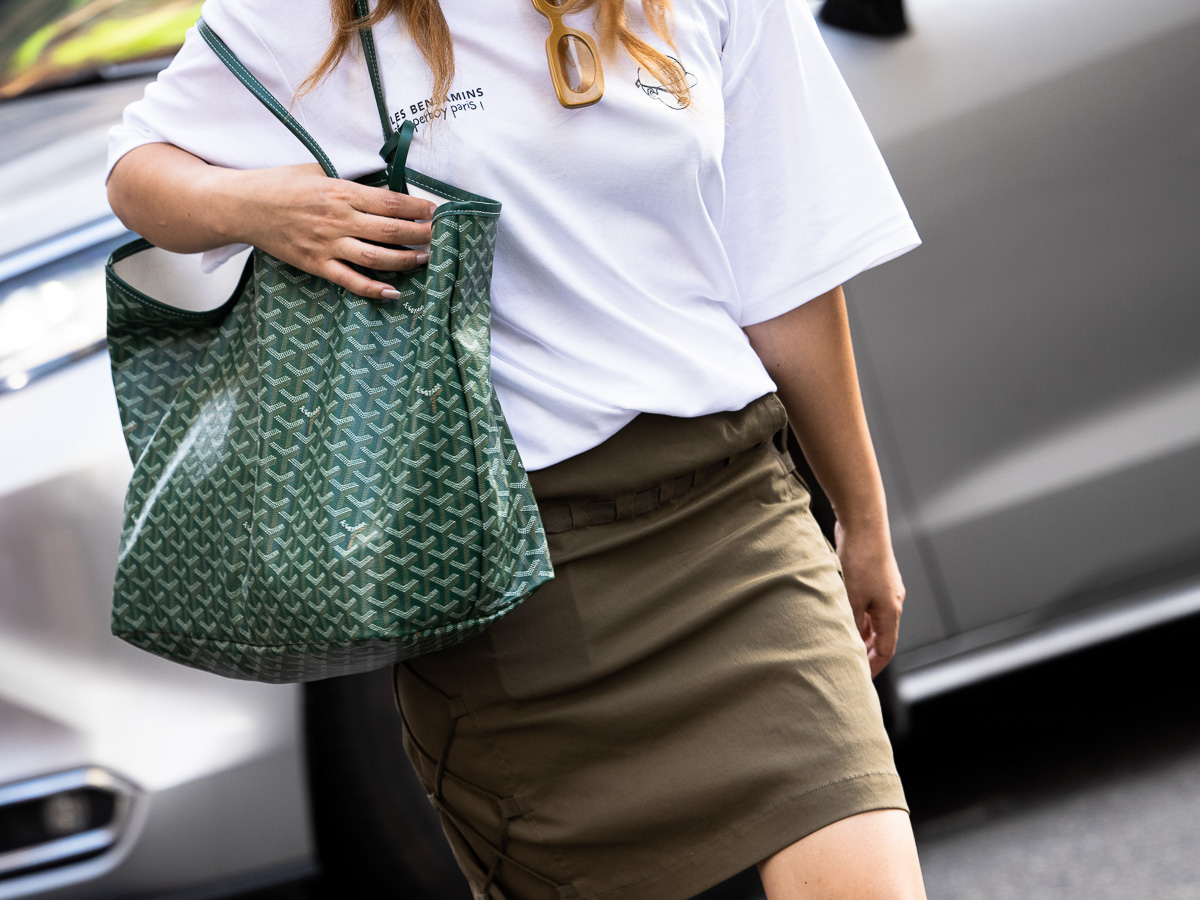 In fact, for a long time, Goyard stood in stark contrast to the rest of the market, proving that quiet luxury isn't just about the logo itself. So, while Louis Vuitton has been busy downsizing and upscaling its highly conspicuous canvas collections, Goyard has maintained some notion of exclusivity, owing to its general sense of elusiveness and years of reputation built almost entirely from word-of-mouth and referrals.
And now, more than ever, the house falls back on its long history, allowing buyers to have a truly elite experience via a customizable pattern of their choice hand-painted in one of the brand's select ateliers in Beverly Hills, New York, Mexico, Tokyo, Hong Kong, Brazil or France.
After all, it's not for nothing that Goyard is dubbed the "insider's bag!"
The Perils of the Non-Logo Logo
But even with a brand strategy as discreet as that of Goyard, a non-logo logo may still fall prey to the throes of market saturation.
Being privately owned, the Maison can circumnavigate several of the pitfalls of today's luxury conglomerates, answerable to a behemoth body of shareholders. As such, Goyard exercised tight control over its supply, stores, and overall brand (shoppers aren't even allowed to click pictures inside a Goyard boutique). And thanks to its commitment to timelessness, the house has mostly stuck to a tried-and-tested line-up of silhouettes its loyal buyers are known to love.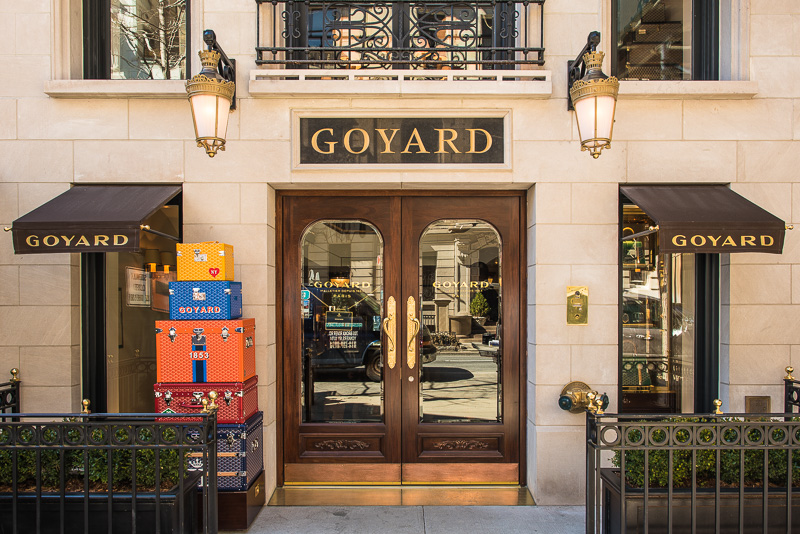 That, however, has also allowed counterfeiters to perfect their wares, vending cheap, plasticky alternatives of the real thing to masses of shoppers in third-world nations (residing in one myself, I can attest to that). And given that the Saint Louis tote is the more affordable alternative to the Louis Vuitton Neverfull, to begin with, it too has gained quite the reputation as a dreaded "new money/entry-level" luxury piece that the fashion crowd loves to hate.
But then again, Goyard's original clientele – the historic buyers of its trunks – has always been more discerning. Perhaps they'll stop toting the Saint Louis to the beach. Or, if GQ's Hype List is any indication, they're probably beating them up and using them like they were meant to – as utility haulers!
But unlike its peers, as Vox notes, market domination has certainly not been on Goyard's agenda. And that's precisely why its fans keep coming back to it. It may not be quiet – some might even call it loud – but it's a classic nonetheless.