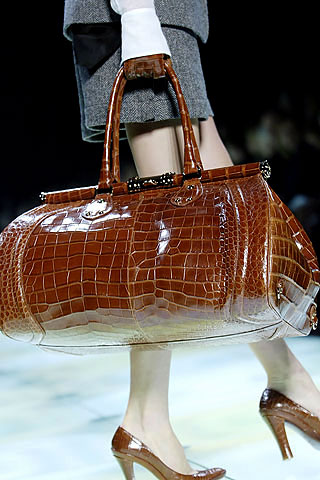 Celine Croc Bag
Many will brush off that fashion can be uncomfortable, but it is true. How many of you carry band-aids with you to break in new shoes? How many of you cringe at that tight but oh-so-sexy dress in the closet for the perfect occasion? And how many of you have every carried an overly heavy handbag. First hand I know my bag has been too heavy before. Poor Vlad. While touring Paris, my Chloe Paddington Tote was so heavy I forced Vlad to attempt to help me carry it while still looking like he wasn't. I thought it was sly, but it was totally visible to everyone else. We were holding hands while holding the bag in our hands; rather he was holding and I was vehemently trying to look like I was holding too while I was sighing with relief. So what is the verdict- can a handbag really be a health hazard? You would be surprised. Make sure to add your thoughts on the forum or in the comments!
TORONTO – With big handbags becoming a key fashion accessory for working women, health experts are warning they can also become a key health concern.

Bags for women have become bigger and heavier as designers combine briefcases with handbags and straps have become longer but the extra leverage has many patients complaining of neck, shoulder and back problems.

"I see so many women with neck pains and headaches and what I usually do is look for their purse and pick it up," said Jane Sadler, a family practice physician on the medical staff at Baylor Medical Center in Garland, Texas.

"We take it over to the scale and weigh it and usually they're anywhere from 7 to 10 pounds (3.1-4.5 kgs)…We're really going to see women with more and more problems later on if we continue the big purse craze."
Continue for the article

William Case, a physical therapist in private practice in Houston, Texas, said an aggravated neck or shoulder can lead to upper back problems, meaning pain may then be felt while working at a computer or playing sports.

He urged designers "to place a cute, educational caution tag on all bags to inform of potential neck and shoulder dangers."

Above all, he recommended correct posture while carrying bulky purses, keeping the head and shoulders aligned upright. Patients should also frequently change the size and weight of purses carried.

"The extra-large purses are quite phenomenal. They look beautiful when the women wear them, but I don't know how aware they are of the potential problems," Case said.

"Massage, anti-inflammatories and rest are good to help alleviate the symptoms temporarily however the only real cure is patient education," case added in a written message to the American Physical Therapy Association.

Case said children were recommended to carry no more than 10-15 percent of their body weight in backpacks, which are effective at spreading loads carried, but fashion consultants say they just aren't cool any more.

"The trend is either very large or very small. People go to the gym, they have an extra pair of shoes, they have their make-up, so there's more stuff to carry around," said Ellen Campuzano, president of the Committee for Color and Trend, a fashion forecasting service.

"The backpack is really for a very casual customer, for a student with books, that is not a fashion customer."

Professor Alan Hedge, an ergonomics specialist at Cornell University in New York state, said similar health problems arose when laptops were first introduced.

Traditionally women adopted better postures for carrying loads, such as baskets on heads or strapping a papoose across the back, but placing objects on one shoulder was one of the least efficient ways of carrying a load.

"This causes a great imbalance. You only have to see people carrying bags in shopping centers, looking hunched up like Quasimodo," he said.

"If it (a big bag) is a fashion accessory, then occasional and symbolic use is fine. If not, then keep it light."
P.S. Please consider supporting our small, bag-loving team by clicking our links before shopping or checking out at your favorite online retailers like Amazon, Neiman Marcus, Nordstrom, or any of the listed partners on our shop page. We truly appreciate your support!