No stranger to Purse Blog, Adriana Castro has made her way into our hearts as an exotic handbag designer whose products are just as stunning as the woman behind them. The Purse Blog team is hoping to check out this function being presented by Mayda Cisneros Boutique. We hope to see some of you there!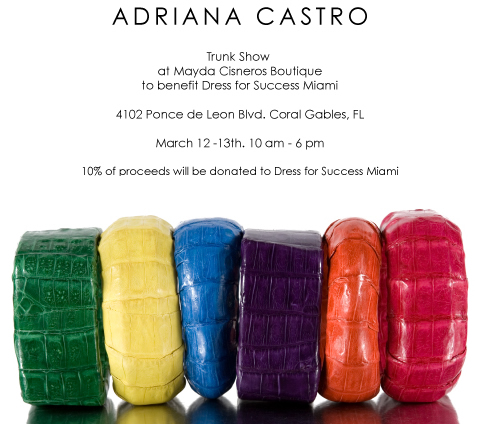 What: Accessories Trunk Show & Silent Auction to benefit Dress for Success Miami
Where: Mayda Cisneros Boutique. 4102 Ponce de Leon Blvd. Coral Gables, FL
When: March 12 – 13th. From 10am to 6pm.
Who: Featured Vendors include Mayda Cisneros Couture, Adriana Castro, Beirn and more!
More: 10% of proceeds will be donated to Dress for Success Miami
As always, find more on Adriana Castro online!