If you care about usability and functionality as much as I do, this is the bag for you
A lot of things change when you have kids. I have changed in more ways than I can count, and it would take endless blog posts to share all of that, but as this is a fashion and accessory website, I can confidently say that my handbag choices since having Millie have changed. I need my bag to be incredibly functional at all times. I've learned to appreciate and value a bag that I can really use, and it's probably become the top priority when looking for a bag.
A compact bag isn't always as kid-friendly, but as Millie has gotten older, I've been able to plan a bit better and can take a smaller bag with me more and more. Last month we shared Salvatore Ferragamo's Vara Rainbow Bags for the first time, and Vlad and I got to see them again when we photographed our holiday gift guide. Having the bag in person helped me appreciate it even more, and I'm here to share a bit more about it.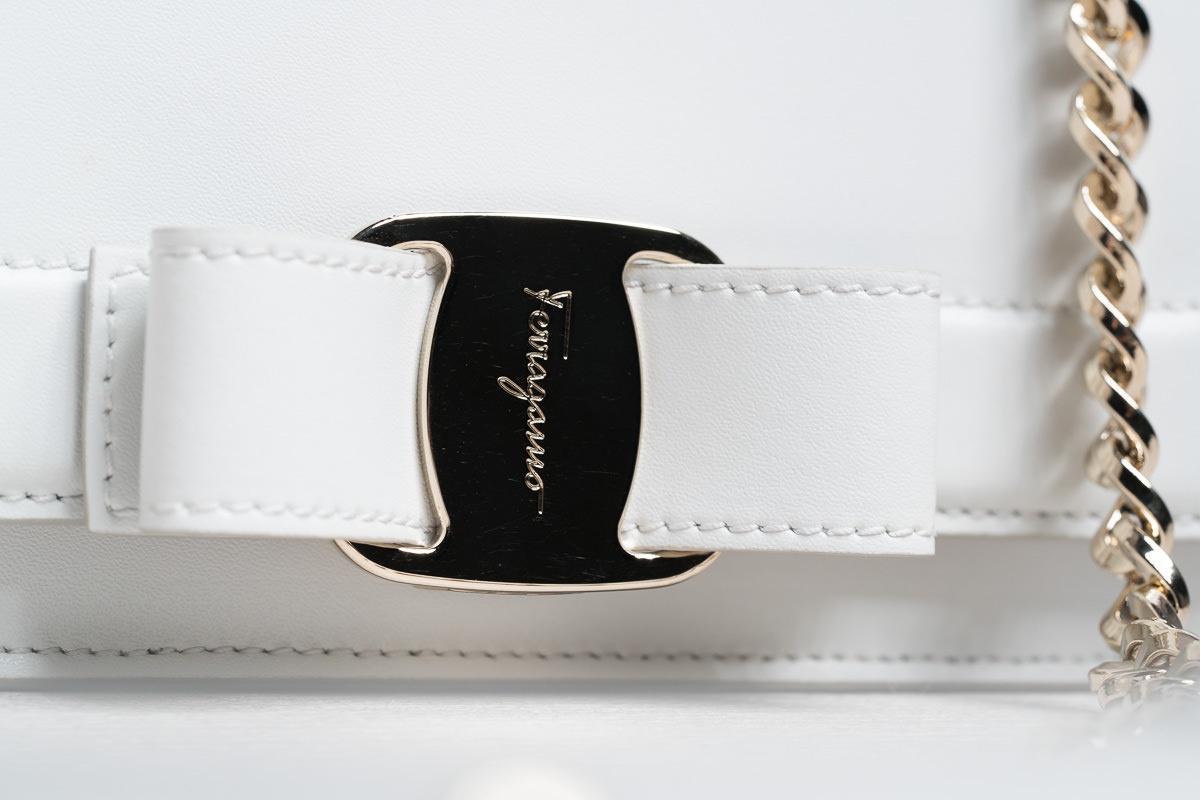 The wallet integrated into the back of the bag is game-changing. If you carry a larger zip-around wallet like I do, a small bag typically means you can't fit it inside, and you need to either carry a card case or smaller wallet. This works, and I do it often, but I've always wanted something more seamless and this is it. The back of the bag reveals an accordion rainbow zip that expands to show three compartments that you can store cash, credit cards and more. You can still use a card case if you don't like your credit cards not in a tight slot, but I don't mind it, and I love, love, love this aspect of the bag. It's the best part of the design, hands down.
The bag includes Ferragamo's classic Vara bow on the front, which gives a feminine touch without being over the top. I love the matte black hardware and black leather combo; it tones down the bow, but if you like bows and want to find a more girly bag, this is it. I like this on a smaller bag and it can easily work for a night out, date night, day carrying, or a formal event. I intended to take photos of the bag on me, but to be honest, I was really sick when we had the bag and I felt like the sweats I had on wouldn't do it justice.
There are a lot of color options, and new versions on Ferragamo.com right now as well. Dimensions are 5.9″H x 7.8″L x 5.1″W. The shoulder strap offers a 20-22″ drop which is really nice and allows for crossbody wear as well as over the shoulder. My pick is still the black with matte black hardware, but there are some other new, exciting options as well! Shop via Ferragamo for $1,390.