The it-bag that defined a generation is making its return and an array of colors just dropped for pre-order on Fendi.com discover more here.
The Fendi Baguette Bag is one of the most iconic bags in fashion. It quickly rose to fame after its original launch in the late 90's and has since been re-imagined and re-worked many different ways. The Fendi Baguette defined a specific generation of bag lovers, and those that came of age in the late 90s and early 2000s will remember the many Baguettes that Carrie carried—no pun intended!—on Sex and the City. The Baguette can easily be considered one of the first 'It Bags' in fashion, and in the history of handbags, it's popularity cannot be ignored.
Truthfully, I came of age a bit later and started building my collection after the Baguette had reached its peak. Like most bag-lovers, I knew of the Fendi Baguette's existence, but I never dreamt of owning one myself until now. For Spring 2019, Fendi is re-launching the Baguette in a big way. You heard that right, the Fendi Baguette is back, and before it hits stores we're giving you a first look at the new Baguette bag.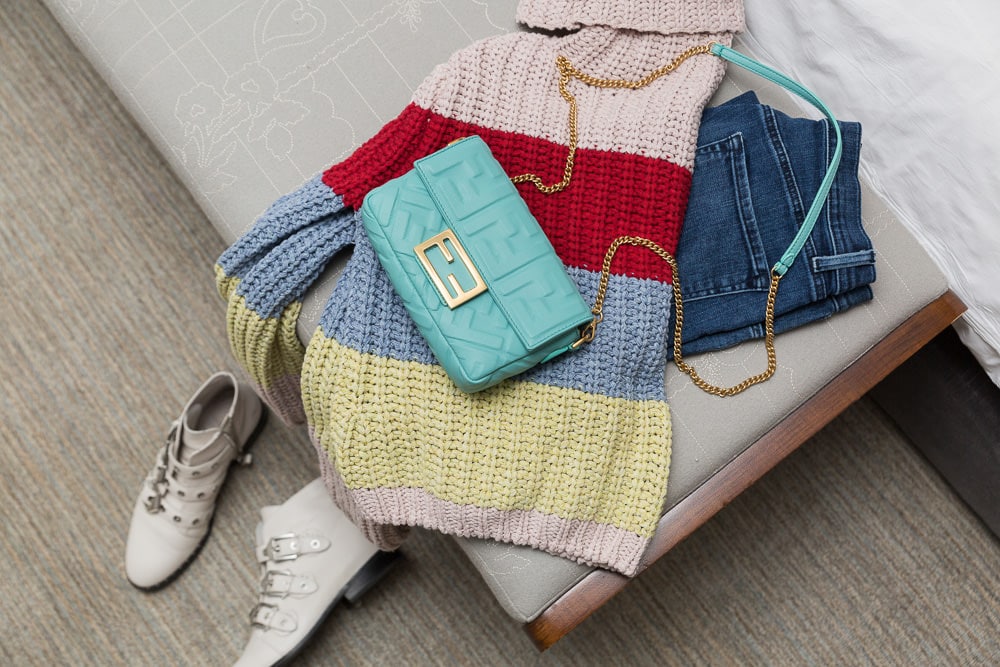 We're taking a look at two sizes of the Baguette bag, the first of which, is an of-the-moment mini-bag that comes with two different strap options. This little mini-bag packs a big punch in both it's iconic style as well as its updated look. For Spring 2019 Fendi re-imagined its renowned logo print in an all-over embossed leather, but the logo love doesn't stop there. This mini Baguette also features Fendi's iconic double F closure because well, it wouldn't be a Baguette without it! This little mini has taken up a whole lot of space on my want list, in part because of its iconic background, but also because of the look overall. I love that it has both a tiny top handle strap as well as a delicate cross body chain strap. Both straps are totally removable so that you can either interchange them, or use both at the same time.





If you're looking for a larger version, look no further than the jumbo Fendi Baguette Shoulder Bag which is a larger version of the mini! It also comes in embossed logo leather and though in black it's a bit more understated, its style again packs a punch. I adore the contrast of the gold hardware against the black leather, and if I were to snag either of these bags it would probably be the mini in black—combining the best of these two bags!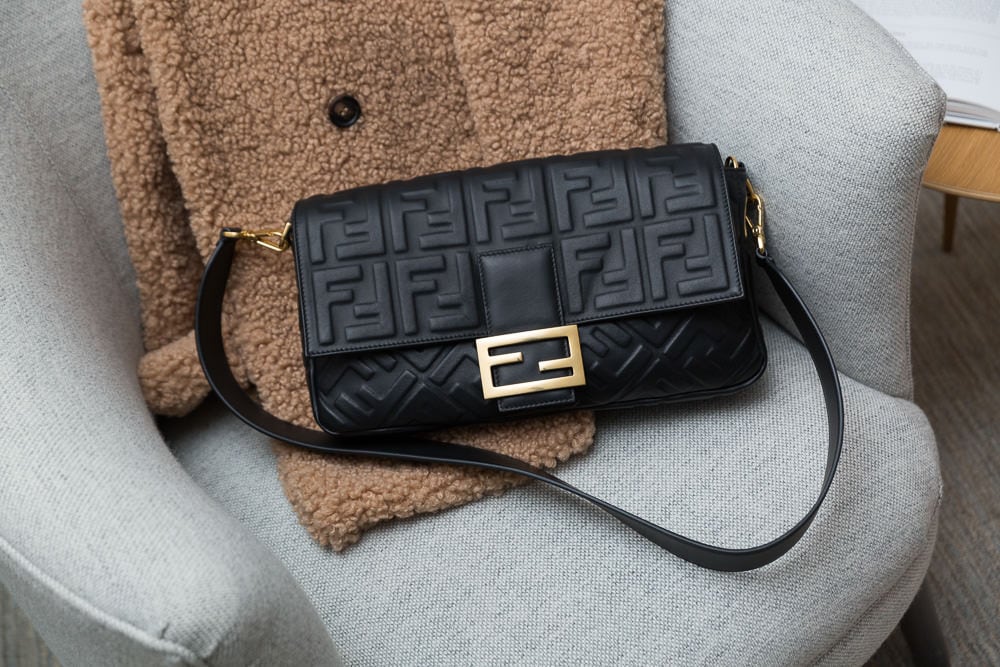 The larger of the two bags still takes on the classic shape of a Baguette, and would work well for a day bag, because the interior capacity is fairly large, though the depth of this bag isn't that deep. However it could hold an iPad mini, among other day to day items. The shoulder strap that comes with the bag is also removable, and this bag would look great accessorized with one of Fendi's ever-popular straps.



The Fendi Teal FF Logo Leather Mini Baguette Bag retails for $2,100 while the Fendi Black FF Logo Leather Large Baguette Bag retails for $3,190. Both bags will be available in stores in the coming weeks, along with Fendi's other SS 19 bags, but you can pre-order your favorites now! How do you feel about the return of the Fendi Baguette?
Shot at the James New York Hotel – NoMad in New York City