A peek at the new bag love in my life
I'm not great at keeping any sort of New Year's resolutions, so I didn't set any personal ones. But it's easier for me to set them when it comes to bags (obviously I'm a true bag girl at heart), and one of my professional resolutions for 2018 is to bring you more Purseonals and overall bag reviews. What better way to kick off the New Year than with a new bag and an in-depth review?
Here's your first look at my new Fendi Peekaboo, a bag I have lusted after for more years than I can count. When this bag entered the accessory world, it quickly made it's way to the classic category. The Peekaboo is quintessentially Fendi, and will always be a staple for the brand.
1 / 6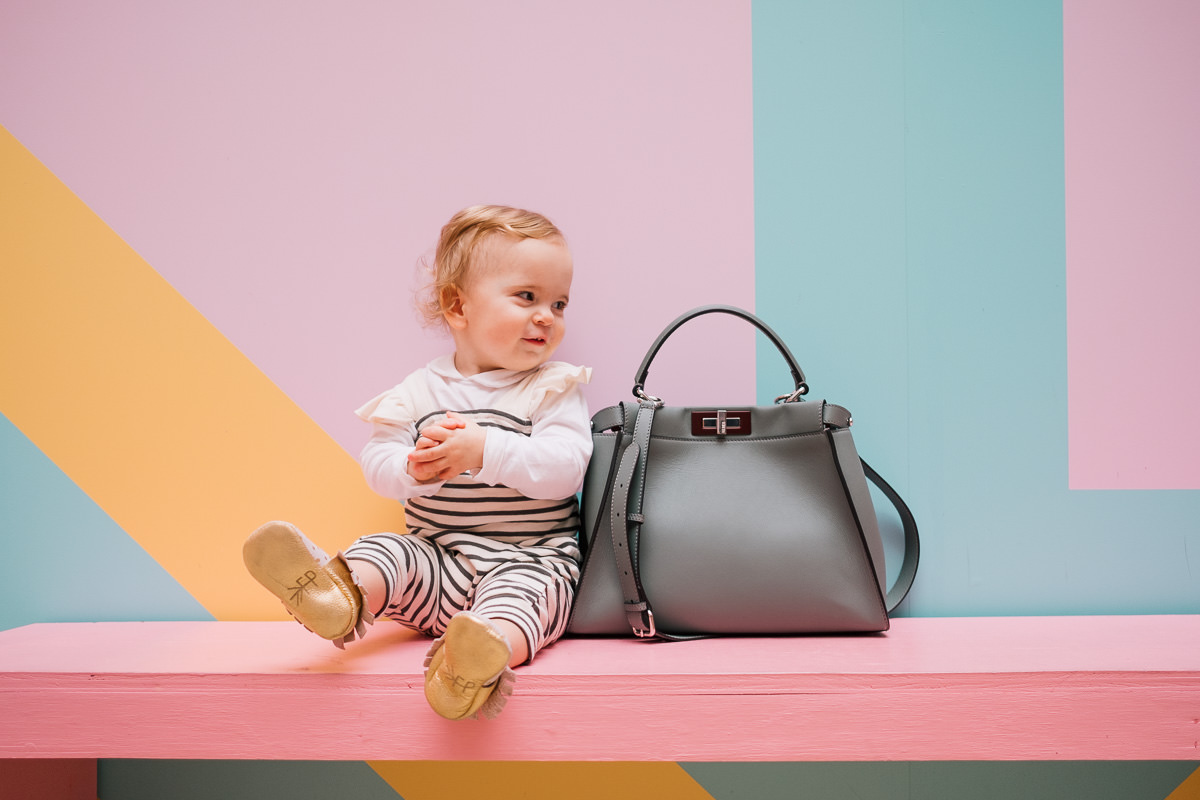 Aesthetics
I LOVE how this bag looks. It combines elegance with casualness in a way that many bags cannot, and because of that it fits my personal aesthetic so well. It's easy to lump bags into "dressy" or "everyday," and many do lend themselves to one classification or the other, but I find the Peekaboo to work either way. That's especially true because Fendi offers the bag in so many versions, from big and detailed to small and simple.
The understated trapezoid structure is instantly classic: it doesn't taper too thin to the top, but still offers a sleek, recognizable shape. There's a single top handle, which I appreciate over typical double top handles, and an optional shoulder strap (which doesn't add anything aesthetically, but is an absolute must-have). While the bag seems simple, it's all in the details; beautiful calfskin leather, intricate stitching, edge-painted sides. The hardware on the front of this bag is a bronze color (this changes with each bag's color combination) that somehow seems even prettier with every new light I see it in.
The Fendi Peekaboo got its name because leaving the bag unclasped offers peek at the interior. Most interiors offer offsetting colors, patterns, and the once incredibly hard-to-get monster eyes (that version is still available, and I still kind of love it—buy it here).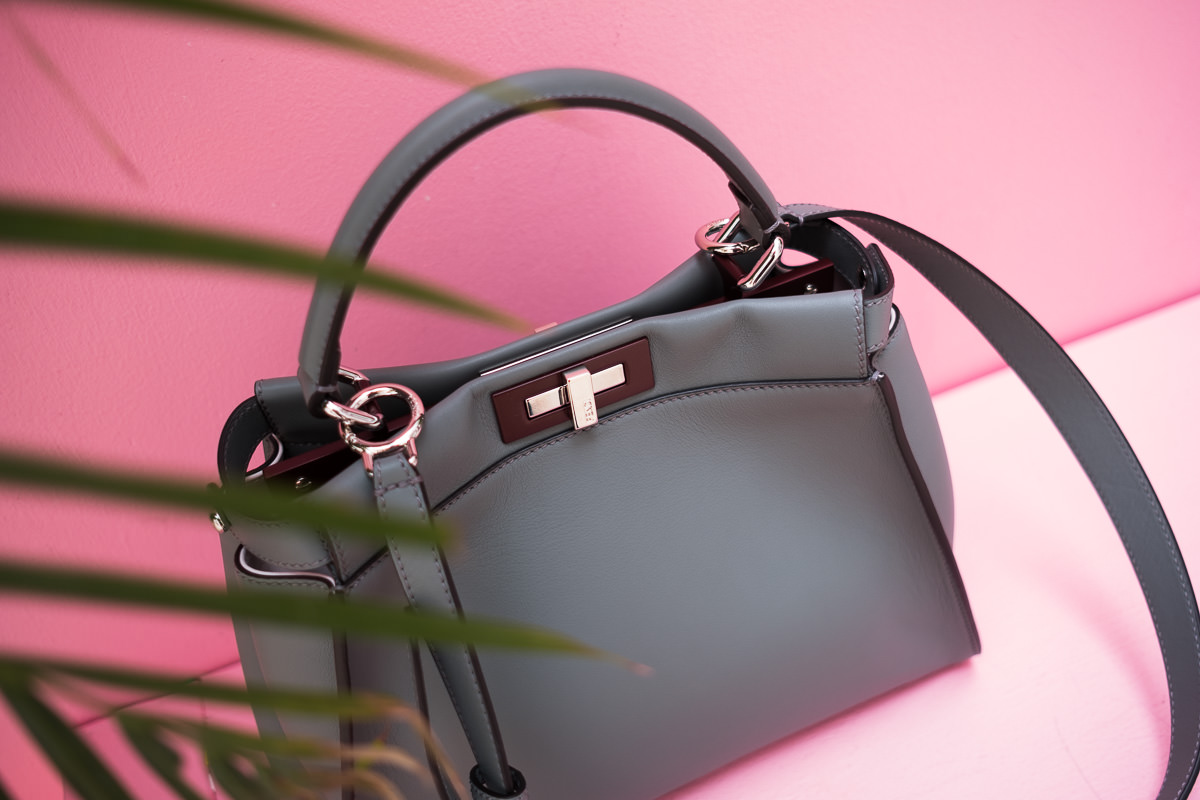 One of the best parts about the Peekaboo is just how many options there are - so many colors, sizes, materials, and combinations. This also overwhelms me a bit as I've wanted a Peekaboo for so many years and wound up not going for it because I kept waiting for the right one. Fendi gifted me this bag and let me pick the color, and this color is seriously so stunning, I don't even know all the right words to give it. It's called green on site, but it has just the right tone of green mixed with grey and hints of blue, and it makes me just want to curl up on the couch and hold this bag. Is that even normal?
2 / 6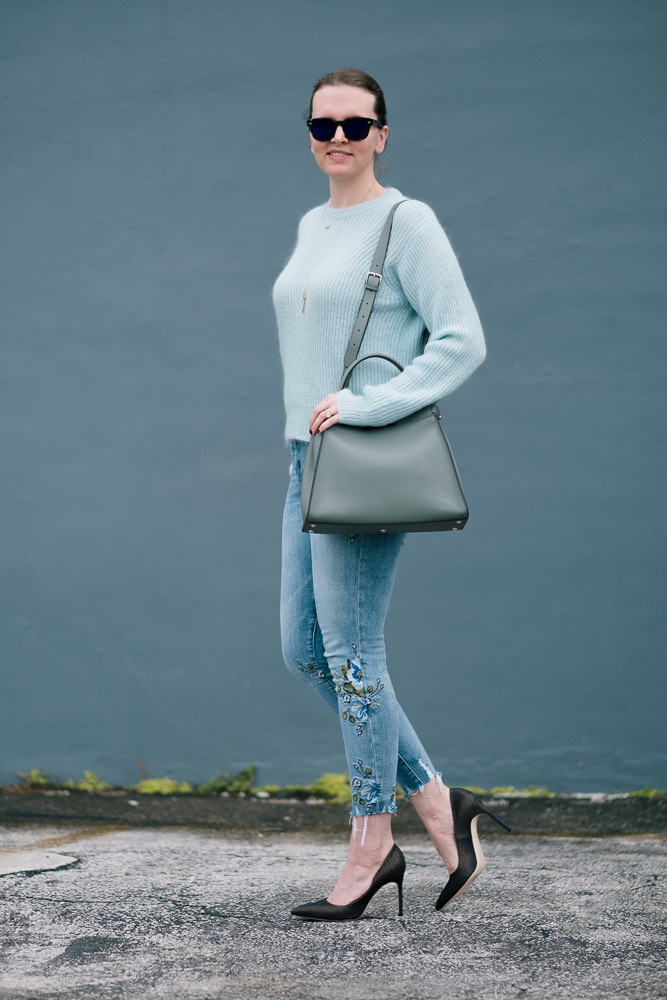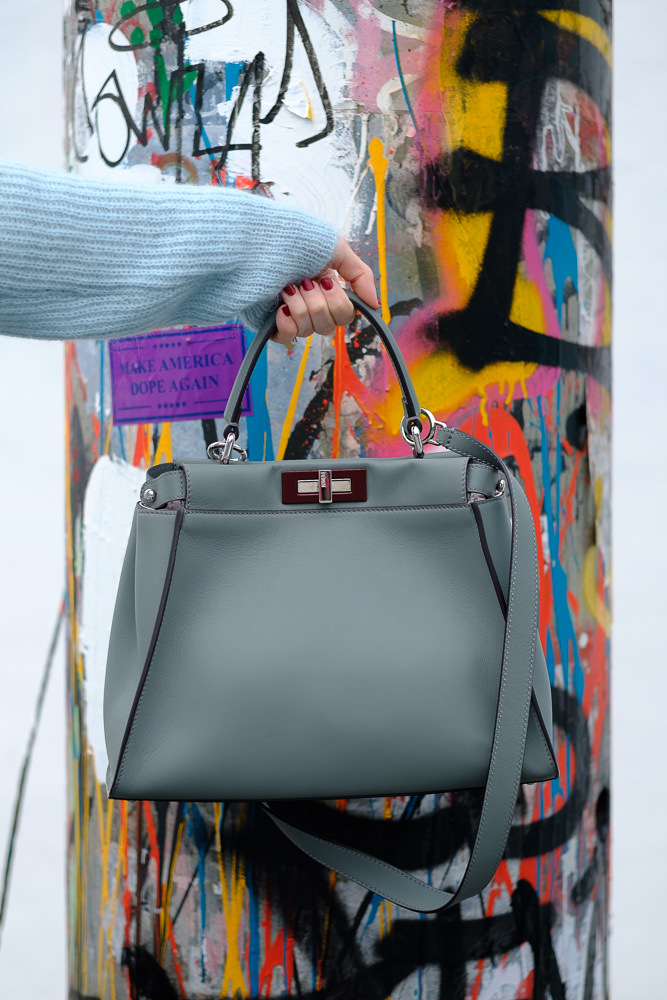 Usability + Functionality
While there are quite a few sizes, I opted for the regular, and I can say it is just right. Dimensions are 13"L x 10.2" H x 4.7"W. This is big enough to fit my everyday essentials (actually, I even put a couple diapers and a small wipe case in this bag and it worked perfectly) and not be too big. I have plenty of huge bags, but I didn't want my Peekaboo to be huge—I was looking for the perfect size, and this is it.
The bag is split into two compartments and separated by a stiff partition. The front of that partition has a zip pocket, but I find that pocket hard to get into. I haven't had the bag long enough, so it might give with more wear, but where the zipper pocket is located makes my hand hit the turnlock clasp closure, which sits right above the pocket. That's probably the biggest functionality fault with this bag. You could fit an iPhone+ in there, but it is only easy for me to get out if I put my iPhone in longways and don't zip the compartment. Another option for zip pocket (and truthfully, I don't love most small interior zip pockets) is to put something inside you may need but don't necessarily need to access frequently. For example, I carry an EpiPen for Millie, and it fits perfectly in that compartment and I actually really like putting it there—I can get to it if I need it, but I don't need it immediately available, like my keys and wallet.
The two main compartments are sizable and fit a continental zip wallet, which is my wallet of choice. The two sections are easy to get into, and because of the light tan interior (that's only on the center partition—the front and back of the bag are lined in microsuede), it's easy to see what's inside of each.
The bag sits nicely on my body, and I always use the shoulder strap. The cool thing is you can change up the bag with one of the many Fendi straps available, though any removable strap would work. The strap the bag comes with isn't too thin, so it sits nicely on your shoulder. Whether carried by the top handle or strap, the bag is still easy to get in and out of, and because of the perfect sizing, I haven't found myself having to dig around long to find what I'm looking for.
The only other downside is this bag is on the heavier side. I started paying more attention to the weight of my bags as I've gotten older - which I suppose is a sign of my aging as well. The center partition with the stiff top adds extra weight along with the microsuede and leather lined interior. The bag is crafted with thick calfskin, which while durable also weighs more. If I were to get a bigger size, I could see this being a problem, but in the regular size, it doesn't affect me or my use of the bag.
If you carry the bag with the turnlocks closed, they're super easy to open and shut, and easy to do so while on your body. So overall this bag is really functional and usable, which is why so many people love it and it continues to remain as loved as when it first came out in 2009.
3 / 6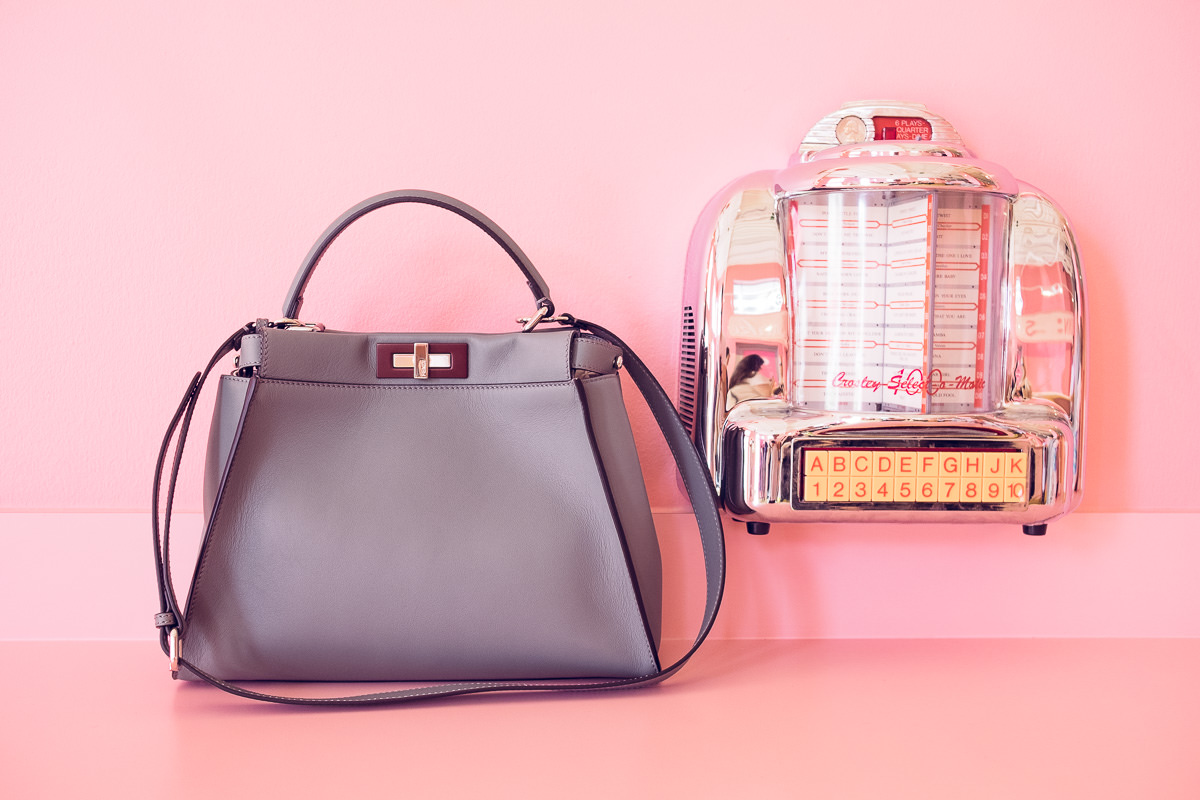 Quality + Construction
I watched a video on Fendi's Youtube channel of the making of a custom Peekaboo and it was mesmerizing (there's still that option, more info here). It's easy to forget that many designer brands still use artisans to create their leather goods, and when it comes to the Peekaboo, this bag is crafted and stitched by hand. Immediately upon opening the box, everything about this bag drew me in.
The quality of every single material, from the hardware, to the leather, to the interior lining, is as luxurious as any bag I own. When I opened this bag for the first time, I immediately smelled the leather, and I'd equate it to sitting in a new car. I also really appreciate the stitching on this bag, and the interior is just as well-constructed as the exterior.
The only thing I am still figuring out on my specific bag with the construction is the peekaboo aspect. There are leather tabs on the top of the bag that attach the front and the back with a metal pop-in. If you unlatch these, the front of the bag is able to give more to expose the center partition, which gives the peekaboo effect the bag is named after.
However, my bag doesn't easily show the center, as many photos show. I've tried to unlatch the sides to allow for extra give, but it hasn't really done the trick. I think 2 things come into play here: 1) my bag is still really new, so the leather hasn't had time to break in to drop down a bit and 2) the peekaboo effect works better on the large-size bag. I know for sure as the bag gets smaller the peeking effect doesn't happen as much, but it's something to keep in mind if you really want that to show.
With this in mind, I did reach out to the Fendi team and they confirmed some of my thoughts sharing that though the Peekaboo in regular size is highly structured, the leather will soften overtime and if you unbutton the sides you'll be able to further achieve the peeking effect. Fendi's Selleria (Cuoio Romano) leather is softer, and will naturally have a more distinct peeking effect, even in the regular size. It doesn't bother me much, because my bag looks really beautiful the way it is and I don't want the leather to sag.
4 / 6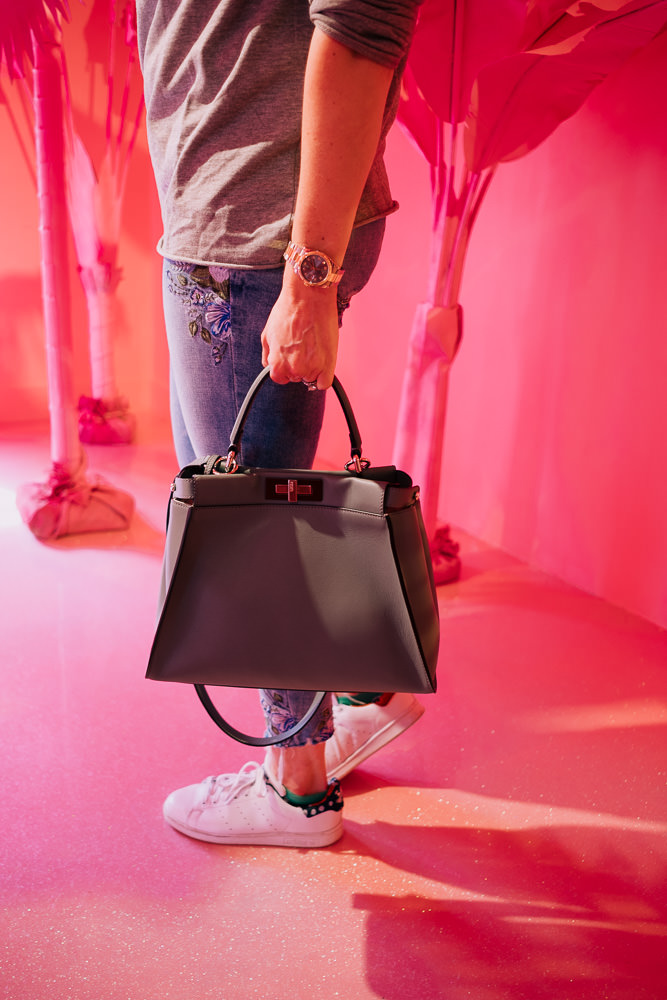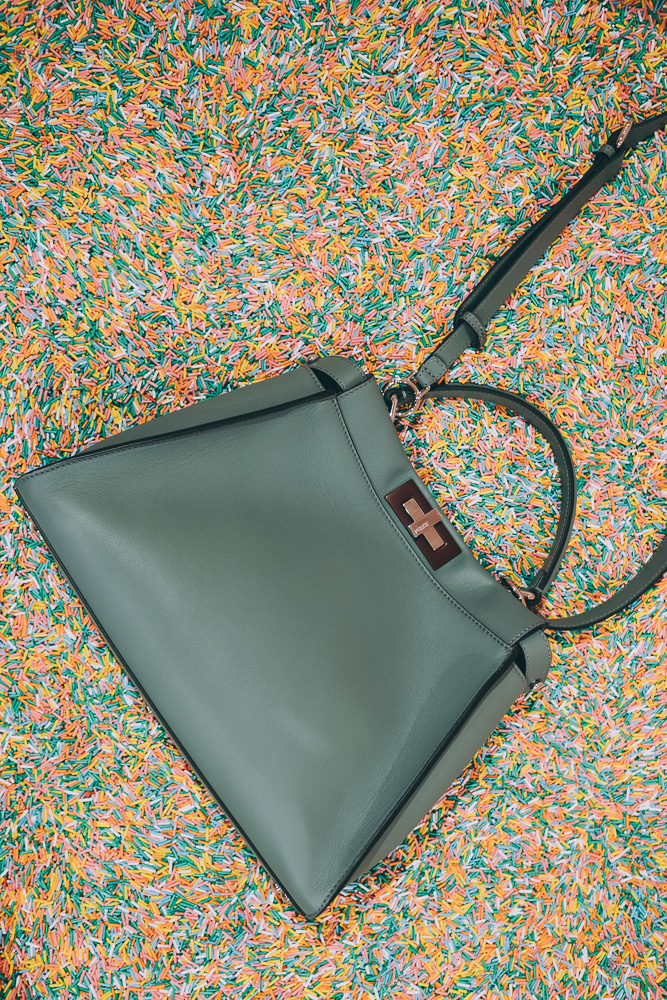 Value
The Peekaboo is the most expensive line of Fendi bags. This is because of the quality and craftsmanship that goes into the design. The regular Peekaboo in calfskin is $4,200 (that's the bag I have); the Micro version starts at $1,290, the Mini at $3,200, and there are men's bags as well (there used to be a large, but I don't see it on Fendi.com).
The price is high compared to the average designer handbag price point, but this is also a classic bag, made to be used for years to come. Because I've watched the video on how this bag is made and know firsthand how well it's made, the price isn't as jarring. Plus, I don't read many people having quality issues with their Fendi bags as I do with other brands at this price. All that being said, it's still one of the more expensive leather bags out there, so the value category comes down a bit for that.
5 / 6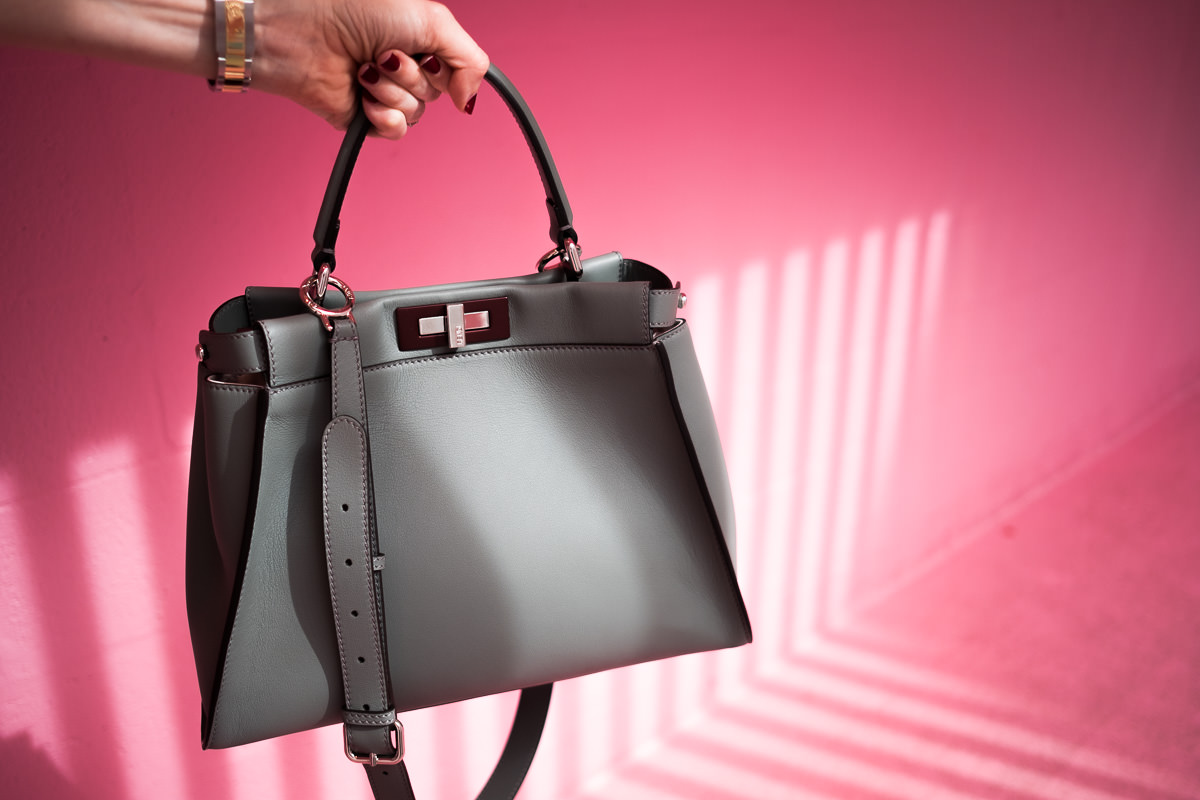 Staying Power
This bag easily gets a 5 for staying power; it's one of few bags that was able to jump onto the scene and make people go crazy, fade away a bit, and then come back and be as relevant as ever. This bag is a cornerstone for the brand and is now synonymous with Fendi bags. Though first introduced in 2009, the Peekaboo is still just as coveted as it once was, and it's not going anywhere anytime soon.
Each season countless variations of the bag are released so there's truly something for everyone and I am thrilled to have this bag in my handbag repertoire now!
6 / 6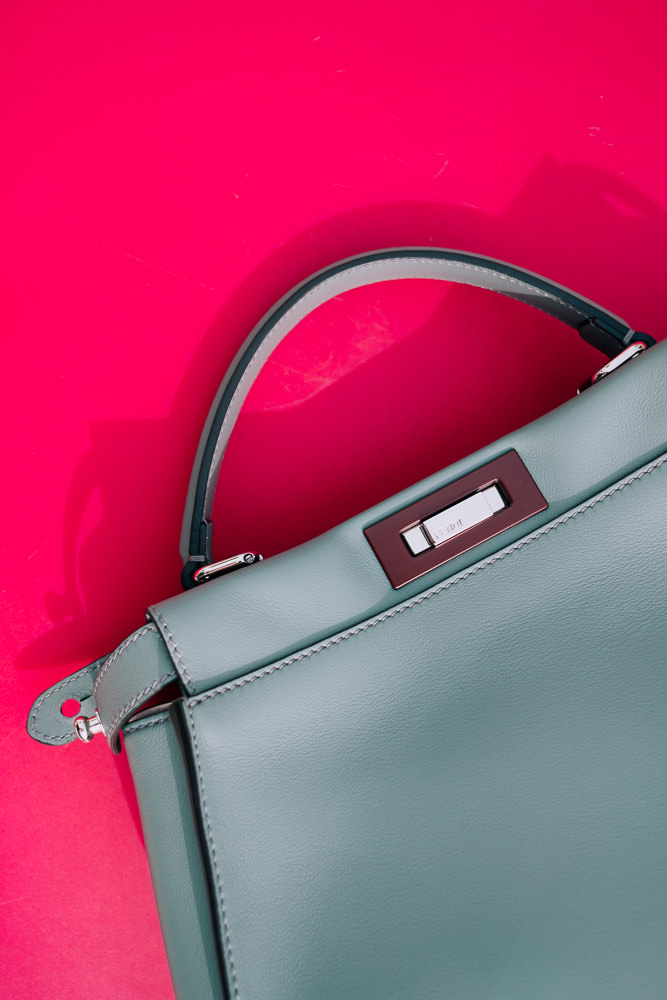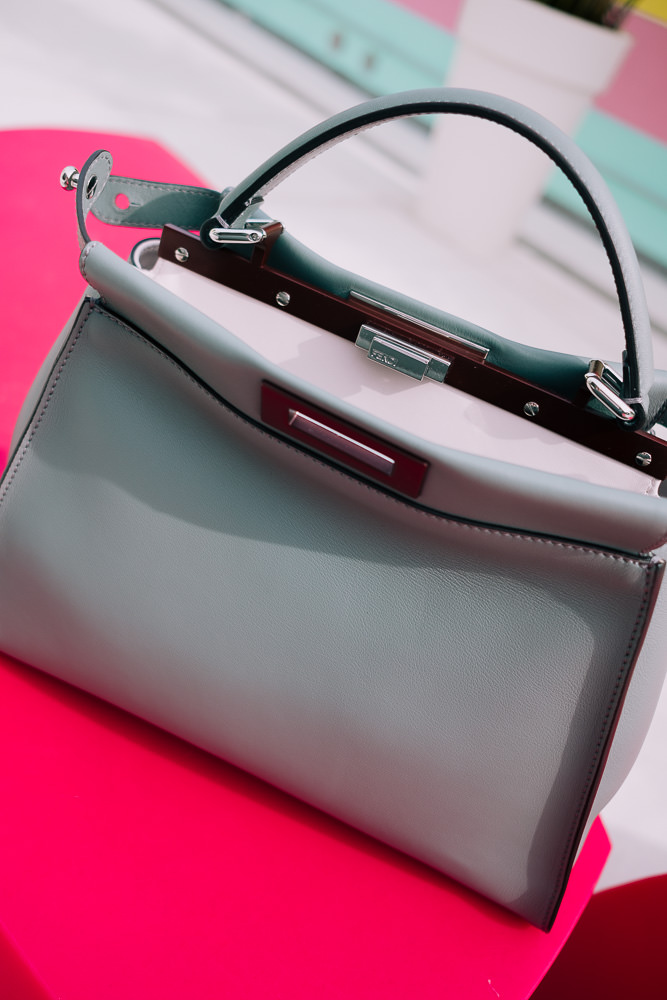 Total
Overall this bag gets 4 stars. The Peekaboo is perfect as an everyday bag, a work bag, a weekend bag, and beyond. I love the size I have (regular), and could not love the color more if I tried to!
If you want to know some of my other favorite Peekaboo bags out there right now, these all make the list: this black with gold studs is so fashionable, the white monster!!!, this classic men's version which many ladies opt for, this Micro version has always been a favorite, I love Fendi blues, and you can't go wrong with one of the classic regulars like mine.
Fendi has been focusing on the importance of this bag and looks to be keeping all Peekaboo sales to its own online store. I can't locate a Peekaboo on any other retailer, but there's a plethora on Fendi.com. And I can attest to the beautiful packaging the bag comes in: a great yellow Fendi box that opens up to show off your Peekaboo. I always love the experience of unboxing a bag (see my unbox my Peekaboo here) as it adds to the experience, and this bag is delightful from start to finish.
When I first wrote this post, my specific color (which they call green, but it's SO much more than just 'green') was sold out, but it's now back in stock!!! All other colors and options are available on Fendi.com, and the other Regular Peekaboo's are $4,200 at Fendi.com.