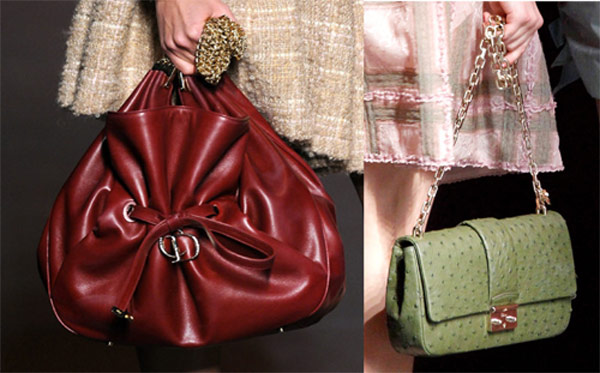 It's been an upsetting and sad week at the Christian Dior offices. Creative director John Galliano was arrested at a French café on a variety of charges including anti-Semitism, which saw him swiftly suspended from his duties at Dior. Once video emerged of a second public neo-Nazi tirade, his ouster from the brand was just as decisive. Galliano's Christian Dior Fall 2011 collection became an awkward and impromptu swan song, and the dark, moody lighting that might have looked cool under different circumstances just looked somber at the Rodin Museum in Paris.
Galliano likely had little to do with the collection's handbags, though, and that's what we're here to discuss. At a house as big as Dior, accessories and shoes are largely handled by a separate department, and although the head designer has creative input into their development, they're the work product of a set of people who toil largely in obscurity. And that's what this Dior show did exceptionally well – at the end, the brand honored the people behind the scenes whose livelihoods and careers were thrown into tumult by Galliano's cowardly words. If this set of lovely, luxurious bag is any indication, they were doing excellent work under a very troubled man.
Photos via Vogue.com.