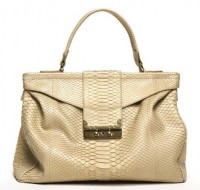 VBH handbags can be elusive little creatures. The brand has an extremely limited online presence, and when you combine that with limited in-store distribution in the US, it's easy to become envious of the numerous starlets who get to sport the brand's famous envelope clutches on the red carpet. Why should only starlets have unfettered access to such great evening bags?
The brand's Spring 2011 collection goes far beyond those familiar clutches, however. The slouchy python and structure crocodile pieces are the star of this line by far, and although there are a few missteps (hello, gold bedazzled bucket bag), the beautiful and straightforward use of exotics makes up for the rather meager sins to be found. And are those python iPad cases that I spy? It sure looks like it.
Photos via Women's Wear Daily.