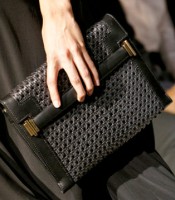 Even though Stella McCartney doesn't use animal products in her bags, that hasn't stopped her line from becoming popular among celebrities and other notable fashion-influencers. McCartney is perhaps most well-known in handbag crowds for the punky, chain-detailed Falabella Bag of Fall 2009, but it looks as though the designer has gone in an entirely different direction for the handbags of Stella McCartney Spring 2011.
With weathered "leather" and woven insets reminiscent of whicker furniture (and I mean that in the best way possible), McCartney took her handbag line in a decidedly traditional, 70s-inflected direction that called for lots of structure and intricate detail. What struck me the most, though, was the smooth, luxurious-looking faux leather – every time I look at these photos, I have to remind myself that these bags aren't made of the materials that we're all used to carrying. In that context, they're fine specimens indeed.
Photos via Style.com.