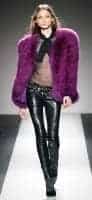 In a season where nearly every designer has put out clothes that are classic and subdued, it's almost a relief to know that Christophe Decarnin is still making clothes for rock stars and supermodels at Balmain. I mean, someone has to, right?
Decarnin's collection would look aggressively glam in almost any context, but the effect is only magnified a thousandfold when juxtaposed with the somber browns and midcentury shapes of many of the season's other high-profile collection. Where others were doing ostrich leather handbags and tailored suiting, Balmain brought us rich brocade, gold foiling, leather pants and ostentatious furs.
Several recent Balmain signatures, like bold-shouldered, glimmering minidresses, heavily detailed military jackets, and skintight leather made their requisite appearances, but I was most struck by the slightly out-of-territory aspects of the collection. In particular, the gilded brocade jackets paired with skinny pants reminded me again and again of Keith Richards, and several deep-v belted evening dresses made me wonder who would be so lucky as to wear them on the red carpet. A fitting collection for a culture that has replaced royalty with music and film stars.