The Bottega Veneta Knot Clutch is one of those bags that I'm admittedly surprised to still like. The shape is so normal and Bottega has made so many different versions that I probably should have tired of it long ago, but for some reason, I still love almost every version that the brand creates. BV's bag designers have a knack for the knot, to say the least.
With this utterly lovely matte black python version, though, I think that Bottega has really outdone itself. I have an overwhelming affection for almost anything matte black as it is, and when you apply that color and texture to an utterly luxurious exotic clutch, you have a match made in heaven. Or rather, a match made in Italy. Same difference.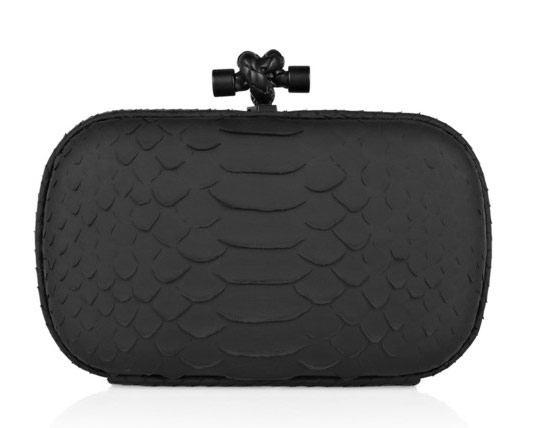 This clutch's appeal hinges largely on whether or not you like matte colors, but I happen to love them, particularly black. The matte finish gives the material an industrial look that juxtaposes nicely with the high-end feel of the python, and the result is a little black evening bag that looks and feels anything but ordinary. Bottega Veneta has done it again, against all mathematical odds. Buy through Net-a-Porter for $2500.