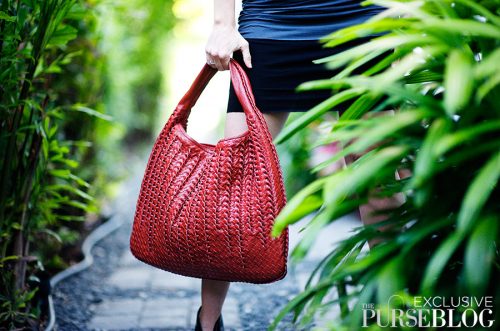 Updating the classic Veneta, the Bottega Veneta Tornabuoni Maxi Veneta is named after the technique used to create the dimension on this bag. The effect is created by carefully double twisting individual strips of leather. This technique is seen vertically across the entire bag. The process is time consuming and complex to accurately perfect and position. Bottega Veneta always finds a way to revamp their classic bags to offer a new interpretation that stays true to the original but brings new fresh innovation forward.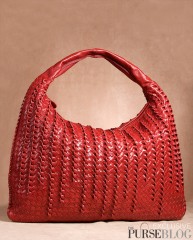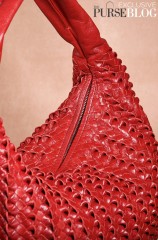 This bag and process, Tornabuoni, is named for one of the most elegant streets in Florence, Italy. Via Tornabuoni is located in the heart of the fashion district in Florence and dates back to the 14th century. The street and plaza remain the historic and luxury epicenter of the city.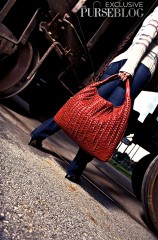 This bag is named perfectly. The weaving technique gives a scaled appearance, which adds dimension. The color, Uluru Red, has garnered attention from the Bottega Veneta crowd already. Uluru Red is an orange-red hue that fluctuates in different lighting with its glazed finish. In order to emphasize the effect, a firmer material is necessary, which is why Bottega prefers a shinier, tougher goatskin versus the supple Nappa leather.
Being a new Veneta interpretation, I basically have nothing to complain about with this bag. Fact is I am more of a Nappa lover. Keeping in mind that Nappa would not yield the desired Tornabuoni effect, I still wish there could be a way to get it done. One can dream.
The dimensions are 9.8 x 21.5 x 1.2 inches. If interested, buy through Bottega Veneta for $3380.