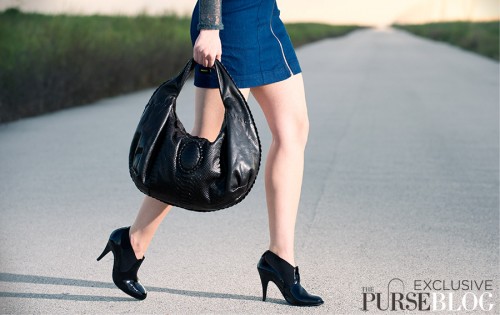 It took me a few minutes of looking at this bag and holding it to decide that I did not like it. Rather, I love it. The Bottega Veneta Python Belly Veneta has the classic Veneta shape, yet has been reworked into a shopper, which Bottega Veneta coined the Croquet. From the Fall/Winter 2009 line, the Croquet should turn out to be a hit.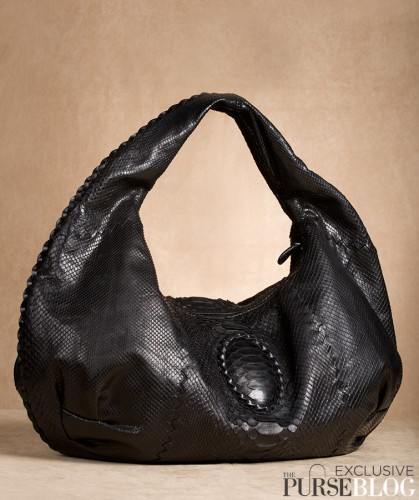 Bags made with python skin seem to be tricky for many to finish. It may be because the grade of skin Bottega Veneta uses is superior, either way Bottega perfects the implementation of python skin in this bag. Nothing about it felt scaly or like it might peel. It is smooth and luscious to the touch. The bag slouches pleasantly when you hold it or put it on your shoulder, it presents us the hobo shape we adore in the Veneta, but dresses it up with the iron colored python.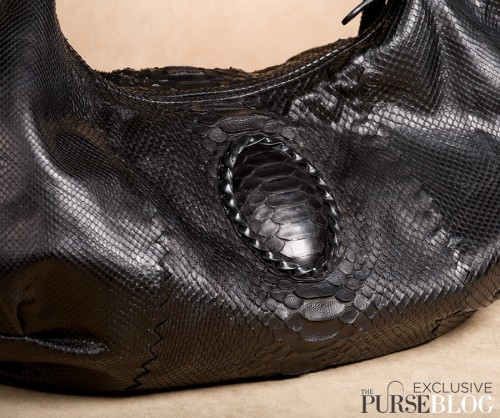 Another interesting fact about the Bottega Veneta Croquet is the oval in the middle of the bag. Dressed in python as well, the oval draws inspiration from old-time wrought iron gates. This addition adds a special touch to the bag, helps it flow, and gives a focal point without it drawing attention away from the overall shape.
Like many other Bottega creations, this hobo comes to life in natural light. Incandescent or fluorescent indoor lighting does not do the tone of the skin justice. The finish is not shiny, yet it radiates once the natural sun rays hit the python scales.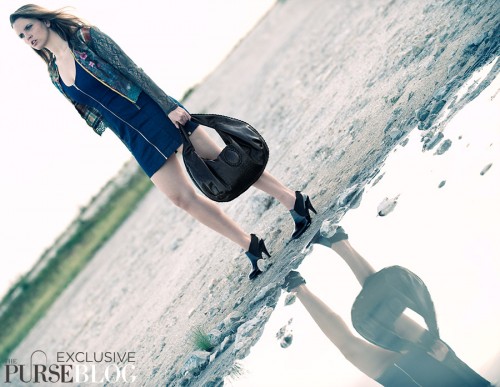 I started to fall for it more as Vlad was snapping photos. I was yelling to him how I wanted needed this handbag, which was, as usual, only reciprocated with a slight rolling of his eyes. Still, it is an absolute stunner and like many other Bottega Veneta bags, it truly will transcend for seasons to come. I have a hard time labeling any of the bags we shot as my favorites, as they truly all are magnificent; however, the Croquet has made it on my wish list.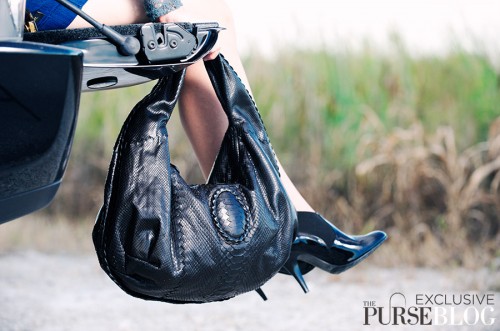 Price is $5,500. Call Bottega Veneta (877.362.1715) or purchase through Bottega Veneta Online.