There are plenty of designers whose entrance to the wedding-bag market might seem counterintuitive: Rick Owens, Maison Martin Margiela, Commes des Garcon. (Although I'd personally love to see what all of those companies would do with the genre.) Judith Leiber? That company definitely not among them. In fact, the question shouldn't be, "Why is Leiber entering the wedding market now?" but, "Why didn't it make this totally obvious decision decades ago?"
Exceptionally few people can rationalize the purchase of one of Leiber's tiny, crystal-encrusted minaudieres. Even some women who could potentially afford them don't go to the kind of events that would allow one to carry, say, a miniature, glittering dachshund. But a wedding, the most formal (and some would say most important) day in a woman's life, just might provide the perfect opportunity to purchase a very special little handbag.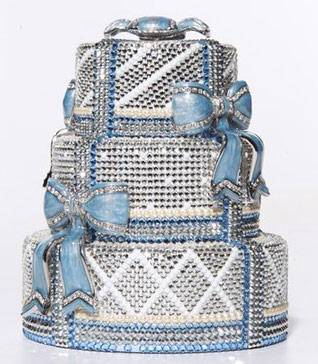 If you've seen any wedding photos recently (I'm in my mid-20s, I've seen enough on Facebook to last me for the rest of my life, thankyouverymuch), it's hard not to notice what a prominent place wedding shoes have taken in the visual imagery of the day. There's no logical reason that wedding bags can't gain some of that adoration, and with bags like this three-tier confection, brides will surely want them documented as part of their special days. According to Women's Wear Daily, Leiber's wedding bags will be lined in blue silk (something blue, get it?) and retail from $995 to $7000, with silk, crystal-hardware accented bags falling at the lower end of the range and full crystal pieces ringing in closer to the $7000 mark. The line will debut in February, in time for the spring wedding season.