So many of you said the Diane von Furstenberg Stephanie was too big. That bag is super-sized and super fabulous. But if you still think it is too big but you liked the look, DvF has come to the rescue. The Diane von Furstenberg Stephanie Clutch is the baby sis to the larger Stephanie and is the perfect size. We are obsessed. The body of the clutch features the chain-link metallic leather design, which is truly a technique I have not seen on another bag EVER. Dimensions of the clutch, 5.5″H x 11.5″L x 3″D, are tiny when compared to the large hobo [$395 via ShopBop].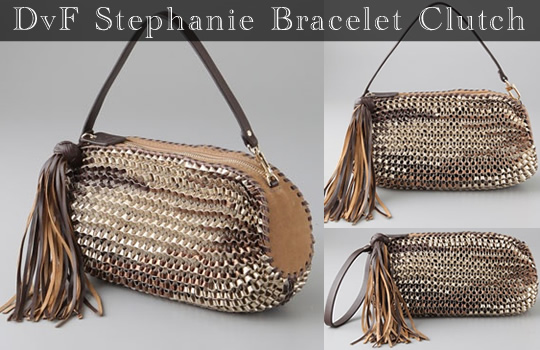 Now Diane has taken over the handbag world, continuing to bring us DvF Handbags that we can not get enough of. Not only does Diane understand a woman's body and how to make the perfect dress among other clothing items, but she also understands the handbag world. Therefor we adore Diane von Furstenberg and look forward to seeing many more of her bags.
Read our full review on Purse Blog Savvy HERE.