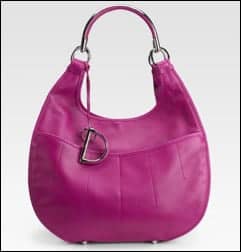 I have been actively eying this bag for about two weeks now, and I can not contain my loving of it any longer. No need to keep this a secret love oh Dior Tote, I shall tell the world of my love for you. While I can not remember the last time I truly loved a Dior Bag (the Dior babe was nice but I was not in love and it was totally over hyped), the absolute simplicity of this bag has my undivided attention.
Pink soft grained calfskin leather graces the overall elegant and effortless Dior Medium Dior 61 Tote. The only reference found to Dior is the classic Dior charms, namely a dangling small C and big D, which I can easily handle. The silvertone hardware goes perfectly with the pink leather.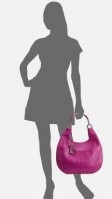 The double handles have a 9″ drop, which leaves plenty of space between your shoulder and the opening of the bag. And the outside of the bag is accessible and practical, with two pockets.
I don't know about you but I am pleasantly surprised with this bag. It is as if Dior finally popped back in to say hello and let us know that they did not loose their oomph completely. Sure there are some hap-hazard designs floating around, but the Dior 61 tote is the perfect hobo that speaks to the masses and will look smashing for fall. There is a brown Brandy color available as well, but that is too plain, too expected, too blah compared to the pink. Buy through Saks for $1850.